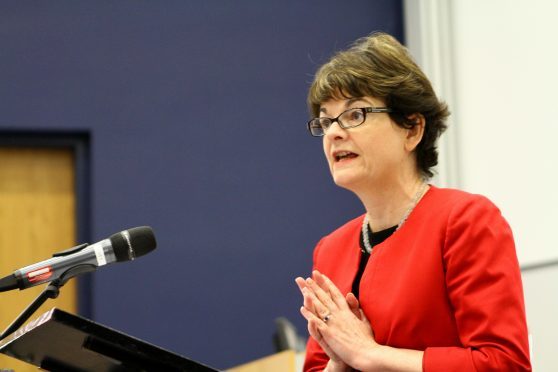 St Andrews University has accused Spain of engaging in a politically-motivated attack against Catalan exile Clara Ponsati.
Principal Sally Mapstone said she is "deeply concerned" by the extradition bid against the economics professor, who fled to Fife to avoid arrest over her part in the region's independence referendum.
Earlier, the former St Andrews rector Catherine Stihler attacked Spain's "political" use of European arrest warrants against the former Catalan leadership.
The Labour MEP accused the Spanish Government of abusing the system by issuing them to settle scores rather than as the anti-terrorism tool they were designed for.
St Andrews professor Clara Ponsati, the former education minister at the Catalan Government, is due to hand herself in to Edinburgh police in the coming days.
Her lawyer Aamer Anwar says she is the victim of a political campaign to "criminalise the desire for independence" and that she will fight extradition.
Prof Mapstone said: "Clara is a valued colleague and we are committed to protect and support her.
"As her employer and an institution committed to the defence of free speech, we are deeply concerned by recent developments, their motives and potential consequences.
"In the current circumstances, we believe there are legitimate arguments that Clara is being targeted for standing up for her political beliefs.
"That is anathema to us, and we will continue to offer her every appropriate support, while respecting due legal process."
Ms Stihler, who stepped down as St Andrews rector last year, said European arrest warrants must be "proportionately used where there is a significant risk to the public, such as terror related incidents, and not with the intent to settle domestic political disputes".
The Spanish courts reactivated the European arrest warrant for members of the Catalan government on Friday, including ex-leader Carles Puigdemont and Ms Ponsati, who are accused of rebellion.
Police Scotland say they have been in negotiations with the fugitive professor about how she will hand herself in.