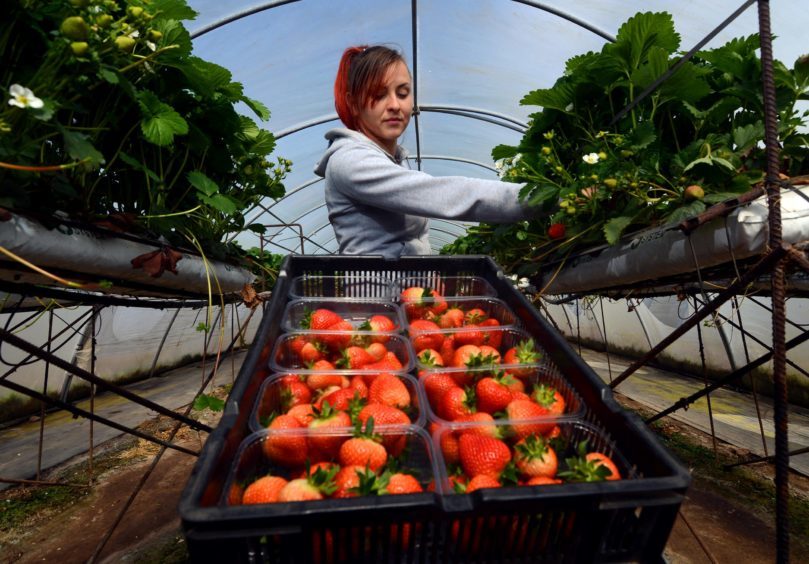 A no deal Brexit could be a "catastrophe" for Scotland's £100 million soft fruit industry with the worst case scenario being that 90% of the 4500 seasonal workers required to pick the crop in Courier Country next summer could disappear overnight.

The warning has been sounded by William Houstoun, general manager of the soft producer organisation Angus Growers Ltd, who said many of the company's 18 growers in Angus, Perthshire and Fife had seen fruit left rotting on the bushes due to a labour shortage this summer – and with six months to go until Brexit, most businesses had put the brakes on future expansion plans amid fears the situation could get much worse.
Angus Growers Ltd is a soft fruit producer organisation based in Arbroath in the heart of the traditional Scottish berry growing area.
The company is owned and managed by 18 growers, the majority in Angus, Perthshire and Fife, who grow a variety of fruits and other crops. It markets their strawberries, raspberries, blackberries and blueberries and specialises in producing fresh fruit for the major supermarkets, shops, restaurants and food and drinks manufacturers.
For the past 15 years or so, the majority of the fruit has been picked by East European seasonal workers from within the European Union.
However, in an interview with The Courier to mark six months until Britain leaves the EU on March 29, Mr Houstoun said that with so much ongoing uncertainty, it was proving incredibly difficult for fruit farmers to plan ahead.
"Farmers are paying up front now for fruit plants and grow bags they normally import from mainland Europe later on – so if there are any issues we are covered," said Mr Houstoun. "That impact is on cash flow really. We are having to pay for things a month or two earlier than we might otherwise have to do.
"But the thing we don't know about and can do nothing about is the people issue. A lot of our pickers who have been here this year want to come back – but they don't know if they'll be able to."
On Tuesday the Government announced its hope that EU citizens would be on an 'equal footing' with people from outside the EU after Brexit.
Mr Houstoun said that if a Brexit deal was agreed, then a transition period should make fruit farm labour issues "manageable" as efforts are made to potentially bring in workers from outside the EU in future years. But if there isn't a deal, he said, farmers just don't know if anyone will be able to come from abroad full stop – and this would be catastrophic.
"Outside Brexit, Eastern European economies have been picking up – there are more, better-paid jobs at home for people so fewer are coming anyway," he said. "So we need people to come from outside the EU. The Government have just announced that 2500 will be allowed in 2019/2020 which the industry doesn't think is enough. But trying to be optimistic, at least it's a start."
Mr Houstoun said Angus Growers need 4500 people next year to pick fruit. In recent years, 97% of these have come from Eastern Europe – latterly Romania and Bulgaria mainly as Poles have found better opportunities elsewhere – with around 90% being seasonal migratory workers.
Mr Houstoun said in an ideal world more people from Scotland would pick the berries – perhaps as things were done decades ago.
But he said the reality was there aren't enough people in the UK to do the work needed. The work is skilled, it takes physical fitness and it takes training, he said, and if a no deal Brexit vote happened, he fears the right kind of workers could simply not be found from home in time.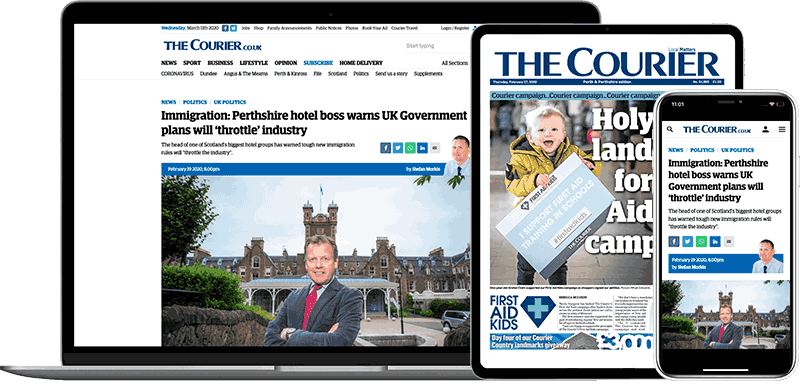 Help support quality local journalism … become a digital subscriber to The Courier
For as little as £5.99 a month you can access all of our content, including Premium articles.
Subscribe