A plane has crashed at Malta International Airport in a "massive explosion", killing all five people on board.
The Fairchild Metroliner, a twin-propellered aircraft, crashed on take-off at around 7.20am at the island's main airport in Luqa.
"We can confirm that the five crew on board the aircraft are deceased. Our thoughts are with families of people involved in this accident," Malta International Airport said in a statement.
"An investigation is currently ongoing and we are working with all the authorities to provide them with any assistance necessary."
The airport said its aerodrome had been closed in light of the accident and asked passengers to check its website for updates.
It is understood the plane tilted towards the right and crashed into the ground soon after lifting off, which is when it burst into flames.
Part of the burning wreckage ended up on a road outside the perimeter of the airport. The plane was on its way to Misrata in Libya.
Actor Edward De Gaetano was on his way home back to London when he witnessed the aftermath of the crash.
Captured this moments after #Luqa plane crash;all shocked pre take off.sharing this via data @pinkdixie22 @rebeccagyeo @BBCBreaking #Malta pic.twitter.com/PxpErWH8yX

— Edward De Gaetano (@eddydeg) October 24, 2016
"We were about to take off; moments before we did from our windows we could see a massive explosion – at first we had no idea what caused it," he said.
"We quickly realised an aircraft carrier had crash-landed. That is when everyone got a bit anxious."
He added: "Then there was a second explosion and I thought 'Oh my God, this is not just a fire'. We are all a bit stunned."
About to take-off and what seemed to have been a military plane crashes & burst into flames! #Luqa #airmalta @rebeccagyeo pic.twitter.com/8XcBliAu2g

— Edward De Gaetano (@eddydeg) October 24, 2016
Mr De Gaetano said it was "definitely not a military plane" which had crashed – with flames from the explosion "engulfing" a nearby tree.
Before the crash he said everything seemed "very, very normal".
"I just hope they find out what caused the crash and if there are any survivors they are OK," he told the Press Association.
Federica Mogherini, high representative of the EU for foreign affairs and security policy and vice president of the EU Commission, tweeted, saying that no EU officials were involved in the crash.
"The flight was not related to any of the EU activities," she added.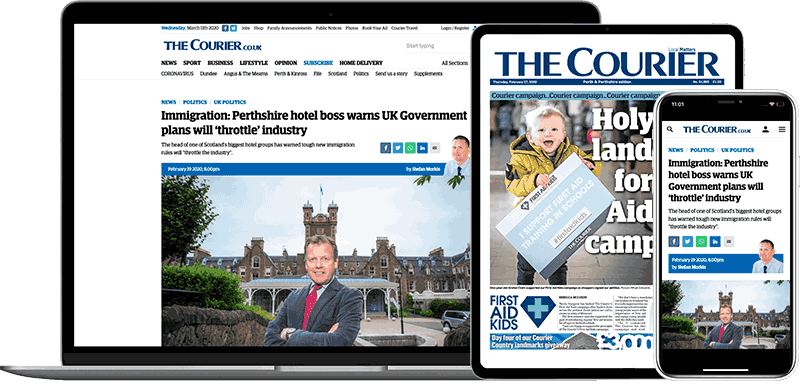 Help support quality local journalism … become a digital subscriber to The Courier
For as little as £5.99 a month you can access all of our content, including Premium articles.
Subscribe