Dr Matthew Ward, Senior Lecturer in History, at Dundee University, gives his take on Donald Trump's forthcoming inauguration as US President.
Certain presidential elections have proven to be turning points in America's history.
The 1860 election of Abraham Lincoln led to the Civil War, abolition of slavery and Lincoln's assassination while the 1932 vote saw Franklin D. Roosevelt sweep to power on a pledge to reform the American economic system with the introduction of his 'New Deal'.
Will the election of 2016 be such a turning point?
Will Donald Trump transform American politics and leave a lasting legacy, like John F. Kennedy, or will he disappear into the depths of history like presidential pygmies such as Millard Fillmore and John Tyler?
Trump faces many challenges.
He is not the first president to be elected without winning the popular vote but few, if any, have been so unpopular at the outset of their presidency. Domestically, the legacy of his campaign and politically incorrect rhetoric is a house divided against itself.
Globally, he has promised to build literal walls and tear down metaphorical ones while repatriating millions of manufacturing jobs.
There is a tendency to look upon the events currently unfolding in the US as unprecedented, but there are historical parallels to be drawn with other fractious times in America's past.
The 2016 election was no more fraught than many that had gone before it.
The election of 1968 was set against the backdrop of Vietnam, and the Democratic Party Convention in Chicago was the scene of dramatic rioting. Richard Nixon eventually emerged victorious but was forced to resign after his aides broke into the Watergate Building to bug Democratic Party telephones, hardly a good omen as rumours about the hacking of emails continue to circulate.
Trump is also not the first president to come to office describing himself as a political outsider and pledging to reform a corrupt and incestuous political system. In 1828 Andrew Jackson swept to power vowing to reform American politics and defeating one of the most qualified and experienced candidates in American history, John Quincy Adams. Jackson consciously created an image of himself as a man of the people, even though he was a wealthy slave-owner.
He was the first president to invite the public to attend his inauguration and celebrated his victory with a huge barbecue on the White House lawn. Drunken crowds thronged through the White House, shocking contemporary observers.
Trump resembles Jackson in several ways, both styling themselves as champions of the common man when being amongst the wealthiest people in America. Jackson remains one of the most contentious figures in American history, but he transformed American politics.
The current political system is his direct legacy. But part of his legacy is also racial division. Jackson championed slavery and his presidency saw the forced removal of Native Americans from their ancestral homelands in the east. Another bad omen for the Trump presidency?
Where Trump does stand out from all previous presidents is in his lack of political experience —something the man himself has been quick to make a virtue of.
The outsider Jackson actually had over 20 years in politics behind him while other presidents such as Ulysses Grant and Dwight Eisenhower who lacked direct political experience were military men who had worked extensively with politicians.
Because the president makes so many appointments, from civil servants to ambassadors, Trump's lack of political experience may be the feature that most defines his presidency.
Whatever happens when Donald Trump takes up residency in the Oval Office, his presidency will not be dull and is certain to provide plenty of material for historians to pore over in years to come.
Bookmakers are currently offering odds of 4/1 on Trump being forced to resign before the end of his first term. Considering the omens and the challenges he faces perhaps this is a bet worth a few dollars.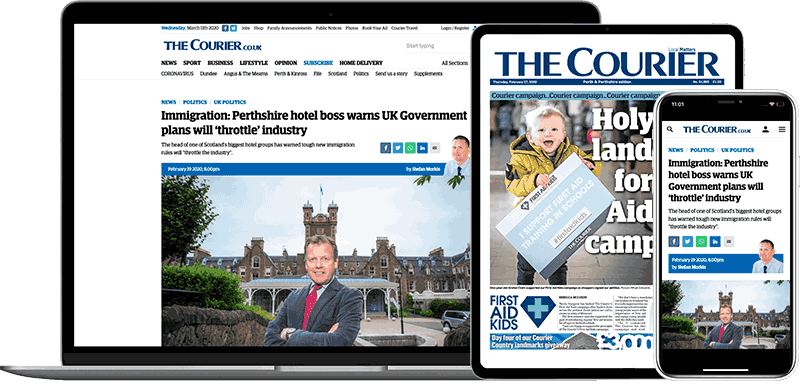 Help support quality local journalism … become a digital subscriber to The Courier
For as little as £5.99 a month you can access all of our content, including Premium articles.
Subscribe