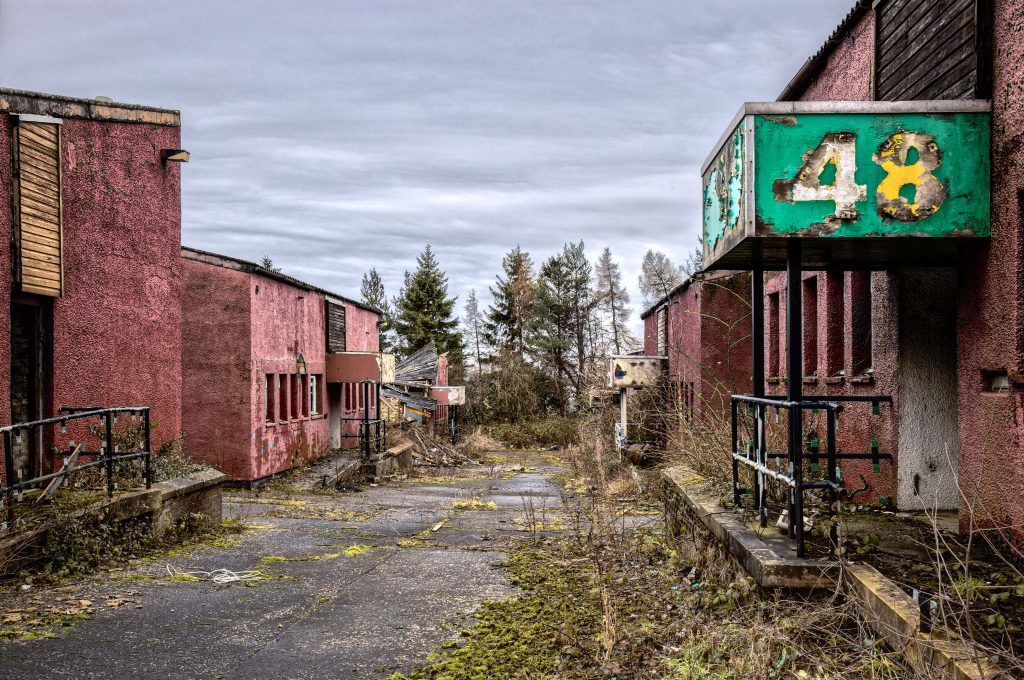 Old hospitals, forgotten castles, derelict houses – there's a growing cultural fascination with abandoned buildings. With backup from three intrepid explorers, Gayle Ritchie discovers some of Courier Country's finest.
Shafts of sunlight cascade through holes in the roof of the decaying art deco cinema, once an integral part of the town's cultural scene.
A draught from a rusty ventilation fan sends a shiver down Lynn Smith's spine, and she hugs her jumper tightly round her.
A price list for hot dogs, popcorn and drinks, dated April 28, 2000, lies crumpled inside the old ice cream kiosk, and a schedule of films on show in December that year is tacked to the wall.
Walking down desolate hallways with paint peeling from the walls, you pass posters advertising films released in 2000 – Meet the Parents, Wonder Boys, Beautiful Creatures, and Dinosaur, to name a few.
Dumped unceremoniously on the dank, rotting carpet, is a gold lighting fixture, possibly dating back to the early 1900s, sculpted into the shape of a crown.
Popcorn cartons are scattered on the floor by the soft drinks machine, and a cardboard box filled with straws is dotted with mould spores.
Upstairs, in a projection room, metres of film reel lie discarded on the floor, and a calendar, open at December 2000, hangs on the wall. It's as if the cinema has been frozen in time.
Once a place where pleasure-seekers came in droves, the ABC in Kirkcaldy has stood derelict since December 2000 and now, ravaged by the elements, the stench of damp and rot pervades.
Along with photography student Lynn, I've been permitted entry to the crumbling four-storey building by Grant Foster, who recently formed a social enterprise to regenerate the site and transform it into Fife's biggest live theatre, arts and music venue.
The B-listed building opened in 1906 but plummeting ticket sales forced its closure in 2000. Since then, various applications have been lodged to turn it into a pub and entertainment venue but none have come to fruition.
However, Grant and three friends hope, with the aid of serious amounts of funding, that their bid to breathe new life into the dilapidated site could soon become a reality.
Until this happens – and the team reckon they'll need millions to make it happen – the building's doors remains firmly closed to the public.
Lynn, an HND photography student at Fife College, became one of the few exceptions after she got in touch with Grant to see if he would allow her access to the cinema to take photographs for a project on derelict buildings in Scotland.
It's among many places she's explored – Strathmartine Hospital in Dundee, Thornton Fever Hospital in Fife, The Grange mansion house near St Andrews, Castlebridge Colliery near Alloa and Whitehill Industrial Estate near Glenrothes, are just a few examples.
She is among a growing band of so-called "urban explorers" who devote their free time to investigating and documenting Scotland's abandoned and neglected landmarks.
Many post their adventures on websites and through social media, and there's a huge appetite for their discoveries.
During  Lynn's "explores", as she calls them, she's stumbled on all sorts of unusual items, from a 1965 copy of The Glasgow Herald, children's playthings, books, old cheques and menus to the rusting remains of Fairey Gannet XG882 – a long grounded Royal Navy aircraft, retired from service in 1976 and now crumbling amid the undergrowth at Errol airfield.
What's the fascination? Is it because she likes to imagine the people who inhabited these places, who played with the toys and read the books?
Is it because the promise that accompanies these items – they seem to embody life and daily habits – resonate with something deep inside her?
"People like myself love exploring abandoned buildings – often we are the last people to care about them," says Lynn, 38.
"People once lived, worked or played in them, but now they are forgotten. I believe they ought to be documented, before they are lost forever. I want to capture the essence and raise awareness to places that most people wouldn't give a second thought to. Exposing the unseen and resurrecting life where it once existed is my photographic passion."
It was during her first "explore" at Thornton Fever Hospital in Fife three years ago that Lynn became addicted to visiting abandoned places. Most of the rooms were scattered with debris, along with furniture, toys, books, kids' shoes – and even an old gas mask.
"The items gave an indication of the life of the place and provided clues of what the building was once used for," she recalls. "There were cheques dating back to 1988 and invoices and menus from the former adjoining hotel. The photo opportunities were endless."
A trip to derelict units at Whitehill Industrial Estate on the outskirts of Glenrothes also yielded a series of stunning photos. Although it was only built in the 1960s, many of its businesses, such as printers and publishers, shoemakers and technical companies, had long closed or relocated, and the decay soon set in.
With every explore comes a degree of risk, but Lynn says being scared ensures she keeps her wits about her. "You need some self-preservation along with fear, otherwise you'd probably find yourself falling through rotten floorboards or trapped under a pile of rubble," she laughs.
Most of the locations she explores, she finds via the Buildings at Risk Register for Scotland, which highlights properties of architectural or historic merit considered to be under threat.
She also gains information from a variety of Urbex (urban exploration) websites and forums, plus fellow explorers on social media.
It's often the case that vandals will have visited the site before Lynn does, so entry can be gained via broken windows or open doors, but she always attempts to gain permission from the owner before venturing inside.
"An urban explorer never breaks in anywhere," says Lynn. "I only enter a site if there is a way in that avoids damage, no matter how small. I respect and care for buildings I visit and want to preserve them as best I can."
Lynn enjoys all aspects of her hobby, from the many hours of research that go into finding sites, to the explore itself.
"It's about the knowledge you gain from researching sites, the excitement you feel, and the adrenaline rush you get when you first walk into an abandoned building. It's like stepping back in time – inside is the past, and outside is the present. You find yourself visualising what these places would have been like."
Thanks to vandals and arsonists, buildings often become unstable and, over time, end up being demolished, which is terribly sad. Either that, or they succumb to the elements. And once they're gone, they're gone.
Hidden gems
Brothers Jag and Bro Betty are clambering up a precarious spiral staircase within the faded 18th century beauty that is Crawford Priory. A tree is growing half way up, and they need to duck down to avoid being poked in the eye with its branches. Sharp, rusty nails protrude from the rotting balustrades and Jag yelps as one nicks his wrist.
Once at the top, they're confronted with a thick swathe of stinging nettles, but that's not going to stop them.
I've come with the brothers – John Andrew Gordon, aka Jag, and Bro, aka Stuart – to this imposing ruined mansion house near Cupar for a recce.
As founders of Strange Places in Scotland (SPiS), researching, locating and exploring abandoned and strange places, filming their expeditions and putting them online has won them an army of cyber fans – almost 13,000 since they started it in 2012.
Their popularity is testimony to the huge interest in exploring "strange" places, but also, because fans love the way the 51-year-olds present their videos. They are likeable chaps, injecting their own offbeat style of humour into their films, and coming out with wacky phrases like "crikey" and "whoops a daisy" and very often locating "secret" rooms, doors and towers.
They also use what they call a "Spisometer" to rate trips, and today's visit to Crawford Priory gets eight out of ten, Jag tells me.
"This was the place that piqued our interest in finding weird places," he says.
"It's got so much history. It was built in 1758 by the Earl of Crawford and remodelled in the early 19th century by Lady Mary Lindsay Crawford. She was quite a character, followed around the grounds by her beloved deer."
The priory had no religious history but was built in a gothic, ecclesiastical style with buttresses, turrets and pinnacles. Lady Mary died in 1833, the last of her line, and the priory came into the possession of the Earls of Glasgow and the Cochranes.
Like many country houses, Crawford Priory was hugely expensive to maintain. After the death of the 2nd Baron Cochrane of Cults in 1968, it needed an expensive and major restoration.
Despite plans to find a use for it, alas, it went to rack and ruin. It now seems well beyond restoration, its fate to sink back into nature.
Once renowned for the opulence of its interior, now weeds sprout from turrets and chimneys, ferns shoot through old flooring, and trees have firmly taken root within its walls. Yet it radiates a sad, silent beauty.
As we're exploring, we stumble on some fascinating features – original tiles, panelled wallpaper, old light fittings and fuse boxes, the ornate spiral staircase and the gravestone of Lady Mary's deer.
In the midst of our expedition, we hear voices. Four teenage lads look shifty when they spy us and we probably look equally shady.
Then they recognise Jag and Bro, and it turns out they follow their SPiS site online.
"We've found the secret elevator," one boy exclaims, clearly delighted to be meeting his heroes. They're given SPiS badges for their efforts and the lads go on their merry way.
Often, Jag and Bro will set challenges online, leaving SPiS mugs in places for fans to find. "It's a mini treasure hunt," says Bro. "We left one at Boddin Cemetery near Lunan Bay last week. It was found in an hour!"
The brothers spend a great deal of time researching locations to explore in old maps and books they've bought online and in recycling shops.
Their hobby is a far cry from their day jobs – Jag is a bingo caller at Mecca Bingo in Dundee and Bro manages three Thomas Cook shops.
"The aim of SPiS is to seek out, explore and document on film these unusual and historic places before they fall victim to vandalism, neglect or demolition," says Jag.
"We cover everything from myths, legends, ruins, dungeons, churches, caves, graveyards, mausoleums, Pictish stones, hill forts, castles and more."
The brothers love the fact there are so many "hidden gems" on their doorstep that people don't know about. "To be able to share that with our 13,000 subscribers is really exciting," says Bro.
"Walking through history and time and knowing that you're standing somewhere where possibly a former king of Scotland or a rich deluded recluse once stood is fascinating.
"When we get comments back like 'I never knew that was there', 'thanks for sharing' or 'we must go and visit', it makes it all worthwhile.
"People genuinely seem interested in unusual and quirky things in the area. Whether it's a hidden castle or a mirrored statue on a loch, the feedback is brilliant."
Like Lynn, Jag and Bro get very excited about stumbling on unusual finds. "I once found an old newspaper with the headline about the Profumo affair used as a shelf cover," laughs Jag.
"In Strathmartine Hospital, I came upon loads of old LPs from the 1970s. In the old abattoir at Market Mews in Dundee, I found loads of files and diaries. There was a book with slides of animal experiments and a pig getting dissected – creepy! But no matter what we find we never take anything."
One of their best finds was the elusive Temple of Guynd, near Arbroath. The first time they went looking, they missed it by a matter of 100 yards. "We found it on our second attempt….amazing to think we were the first to see it in about 20 years," says Jag.
The world is full of buildings lost to time and the elements, through neglect, changing society or financial issues. Our hunger to explore these fading, crumbling relics and the discarded possessions of strangers shows no sign of diminishing. Is it because we regard them as pseudo museums, unencumbered by sterile curation or stuck in glass cases?
It it a sadness, or a curiosity within us for what once was? It is because we like to imagine the lives of those who inhabited these places and wonder what became of these people and their discarded personal effects? Is it because we fear that like them, we ourselves could be forgotten?
Or is it just that there's a thrill, a buzz and an adrenalin shot of excitement when we enter these places, partly fearful of being caught, partly fearful of what we'll find – an innate fear of the unknown?
Whatever it is, we can only hope such buildings remain for future generations to enjoy and documenting them via photographs and film goes some way towards preserving them.
Info
Check out SPiS at www.facebook.com/strangeplacesinscotland
See more of Lynn's photography at www.facebook.com/urbandecayphotos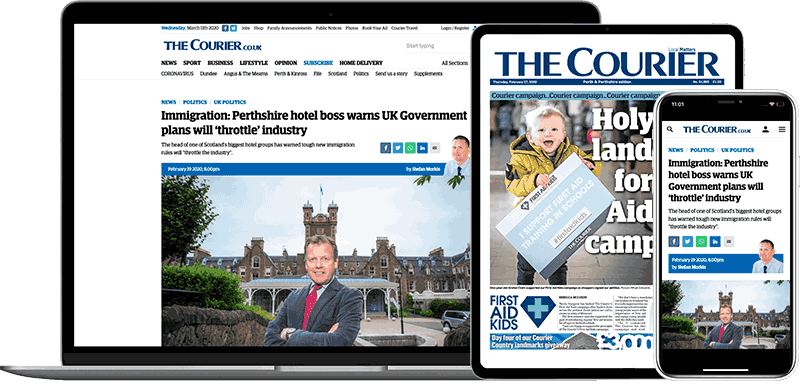 Help support quality local journalism … become a digital subscriber to The Courier
For as little as £5.99 a month you can access all of our content, including Premium articles.
Subscribe