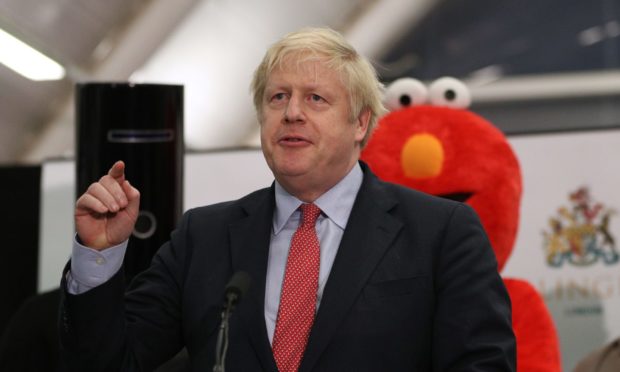 Sir, – If the general election in the United Kingdom has highlighted one thing, it is that we are far from being a united kingdom.
Scotland voted overwhelmingly to reject Brexit, to lock Boris Johnson out of Downing Street and for the right to hold a second referendum to decide the nation's future.
South of the border a totally opposite path has been taken.
In Scotland the Tory appeal to block a referendum, their only campaign message, was roundly defeated by the SNP and seven of their MPs lost.
As nations we are on two very different journeys and yet Mr Johnson is responding to events north of the border with his usual contempt.
Nicola Sturgeon has now won four elections on a manifesto commitment to hold a second independence referendum.
Indeed, in simpler times, that great hero of the Conservative Party, Margaret Thatcher, famously commented that a majority of SNP MPs would be a mandate for Scottish independence.
The SNP victory across Scotland eclipses that of the Tories across the UK, with the former securing 81% of seats north of the border while the Tories only secured just 56% of seats across the UK.
Despite this, while Unionists bizarrely argue there is still no mandate for the holding of a second independence referendum as the SNP did not secure a majority of the votes, it is somehow okay for Mr Johnson, in very similar circumstances, to pursue a damaging Brexit agenda.
Circumstances have changed since 2014 and it is difficult to see how Mr Johnson, who suffered such a crushing defeat in Scotland, can continue to deny the Scottish people the democratic right to decide on their own future.
Alex Orr.
Flat 3,
2 Marchmont Road,
Edinburgh.
Paisley-esque in approach to SNP
Sir, – I read a few letters from the usual right wing unionist suspects in Saturday's Courier.
They appear to be finding it very difficult to accept that the people of Scotland at the election spoke in a clear voice that they will put their trust in the SNP to look after Scottish interests.
If unionists have any sense they should at least stop all this talk of we will never negotiate or agree to anything the SNP propose.
By acting like this they are beginning to sound like some sort of Ian Paisley from the bad old days in Northern Ireland with his no surrender speech.
It is now quite obvious to the majority of Scots that Scotland is politically different from the rest of the UK and heading in a different direction from a very right wing British Conservative Party.
By adopting this unhealthy attitude they may well bring about the very thing they seek to protect.
My advice to right wing British Conservatives is to at least come into the middle a bit and talk about the constitution instead of just saying no, never.
The people of Scotland spoke with a very clear voice on Thursday in an electoral system administered from Westminster.
The SNP won fair and square and that voice rejects Conservatives, Labour and the Lib Dems.
Bryan Auchterlonie.
Bluebell Cottage,
Perth.
Conciliatory tone from Boris
Sir, – Love him or hate him, Boris Johnson's speeches on Friday morning and again later that day were conciliatory.
He expressed his gratitude to those who voted with a wavering hand over the ballot paper and there was recognition of just how difficult for some that must have been.
He further assured UK voters from other parties that his mandate as prime minister was to govern for all, not just those who voted Conservative.
The electorate will hold him to account on that, and rightly so.
I can hear the cynics amongst the readers pooh poohing loudly the contents of his speeches.
To the cynics I say, compare Boris Johnson's assurances to the UK voters, to the rhetoric emanating from the first minister of Scotland.
There are 1,468,194 Scottish voters who did not vote for the SNP, while 1,242,380 did. The majority are waiting patiently to hear even the slightest sign the first minister is to be taking their interests into account.
All we have heard are her demands for Indyref2, ad infinitum.
Jonathan Brown.
Waterloo Cottage,
Longleys,
Meigle.
Unbecoming behaviour
Sir, – The way our first minister behaved by dancing around laughing and punching the air when she learned Jo Swinson had lost her seat at Westminster to an SNP candidate was unbecoming.
Her assumption that winning 48 seats at Westminster gives her the right to demand a Section 30 permission to call a referendum does not follow, there was nowhere on the voting form to put a cross against a referendum.
I heard her say our GDP showed we could afford to become independent and even one of the six wealthiest nations in the world.
This is a gross misunderstanding of statistics – our GDP puts us somewhere in the middle of a list of world nations. The UK Government gives Scotland around £10.5 billion annually, this is more per person than the rest of the UK.
There are 2,600 foreign-owned businesses with a combined turnover of £86 million in Scotland employing 330,140 people mainly coming from Europe.
I do not believe independence will benefit Scotland.
A A Bullions.
6 Glencairn Crescent,
Leven.
One nation Conservatism
Sir, – Scotland, Wales and Northern Ireland have elected a combined total of 20 Conservative MPs to Westminster, while England now has 345 Conservative MPs.
This huge imbalance will make it easy to neuter the devolved administrations.
For example they will have no say in how repatriation of powers from the EU is managed and they are likely to lose some of their existing powers to make it easier to reach trade deals with the USA and other countries outside the EU.
The mantra Get Brexit Done destroyed the Red Wall of Labour voters in the north of England.
With appropriate sweeteners, many of these voters might be persuaded to vote Conservative again.
Boris Johnston describes himself as a "One Nation Conservative." Does he mean England, or are we all included? To make sure that Scotland gets a fair deal, maybe we should just get advice from Ruth Davidson on how to handle Boris.
Andrew Masson.
Monorgan,
Longforgan.
Time to heal divisions
Sir, – It is over.
Can we just get back together as one people at peace getting on with our lives.
In five years or so there will be another election and Labour will probably win if they get themselves sorted.
Then we will have Indyref2, which seems a fair compromise after 10 or a dozen years.
So let's abandon hatred, have tolerance not enmity, mend not break.
Return to the decent compassionate people we used to be, for goodness sake.
Robert Ramsay.
Home Farm, Kinblethmont,
Arbroath.