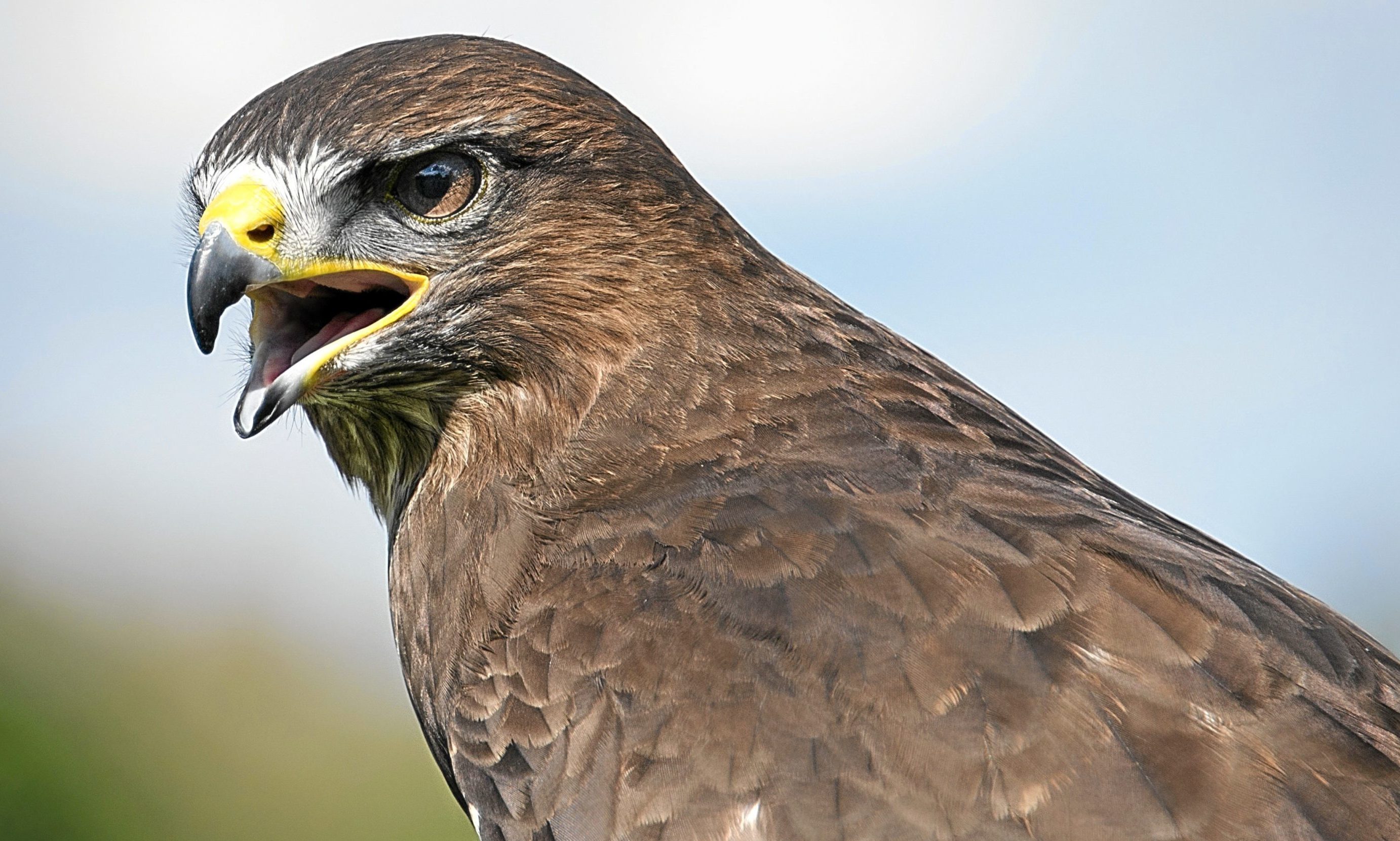 Sir,- If Andrew Murphy (June 9) had looked a little deeper, he might have found that the police released an image of dead birds of prey chicks after suspected illegal activities at buzzard and goshawks nests in almost exactly the same area (Moy) as the osprey which was killed by a wind turbine.
That failed to make news coverage, never mind the front page.
Four buzzard nests and a goshawk nest failed in the month of May, leaving the nestlings to starve to death.
The reasons for the disparity in publicity might be simply because it is so unusual for an osprey to be killed by a wind turbine, while the persecution of birds of prey is relatively commonplace and thus not as newsworthy.
No prosecution will take place as no intent to kill or main the osprey was present, unlike when raptors are purposely targeted for sporting or economic reasons.
George Murdo.
4 Auchcairnie Cottages,
Laurencekirk.
Staying in EU will help East Neuk
Sir, – I could not foresee that my letter about the East Neuk and its fishing grounds would provoke such a reaction from Derek Farmer.
I cannot argue with his detailed history of the demise of the fish stocks in the North Sea.
I am not as well informed as Mr Farmer on the subject, but have seen what has been happening in the East Neuk over the years and am concerned as to what will happen to the East Neuk and its inhabitants if we leave the EU.
Improving East Neuk communities with EU grants would seem to make more sense than returning to an uncertain past. The answer would seem to be: stay in the EU.
If Brexiters want to reinvigorate an ailing fishing industry then we need representatives capable of representing Scottish fishing within Europe, rather than letting Westminster call the tune.
Bob Harper.
63a Pittenweem Road,
Anstruther.
No guarantee of new powers
Sir, – It is intriguing to note the Vote Leave campaign advocating that Brexit will somehow see the flowing of powers back to Scotland.
Putting aside the issue that many of those same individuals fought tooth and nail to prevent not only the Scottish Parliament get any more powers, but also prevent the establishment of the parliament in the first place, it is a little naive to be putting forward this argument.
It is, of course, a constitutional nonsense, and I refer to the recent Westminster parliamentary answer to the question whether all powers currently held by the EU will revert to the Government and Westminster Parliament in the event of the UK's withdrawal.
The answer from the Europe Minister, David Liddington MP, stated that: "the process of withdrawing from the EU is untested, and would contain numerous elements, including the outcome of the negotiations, about which there is currently little clarity." So, not terribly decisive on that matter.
It is the United Kingdom, not Scotland that signed the EU treaties.
Scotland is not a party to these treaties.
If the UK were to leave, all the obligations contained in the treaties would return to the UK Parliament.
It would then be for Westminster, after negotiation with Scotland, Northern Ireland and Wales to decide which of these returned powers should be devolved.
In the event of Brexit we would be at the whim of Westminster as to what powers, if any, would be returned to Scotland.
We would also be at the whim of Westminster, which benefits Scotland more than the UK as a whole, as to how much EU funding will be passed to Scotland on Brexit.
Relying on a Tory Government at Westminster to pass these powers back to the Scottish Parliament, as well as the similar levels of EU funding we currently enjoy, is more than a little naive.
Alex Orr.
77 Leamington Terrace,
Edinburgh.
Curb power of multi-nationals
Sir, – Both sides of the referendum campaign are producing so-called facts which are opinions based on assumptions which may or may not turn out to be accurate.
One of the facts which is not receiving a lot of attention is that the proportion of British businesses owned and controlled from outwith the UK has been increasing over the past few decades. The number of foreign owners has increased in every sector form whisky to railways and football teams.
One apparent anomaly in the referendum campaign is that many of the people now saying that the UK should take control of its own decisions were members of the same political party that allowed key sectors such as transport and energy to be sold off to companies based abroad.
It would be helpful if both sides in the referendum campaign would state how they would control the power of multi-national companies and how they would work with other countries in this regard.
Robert Potter.
44 Menzieshill Road,
Dundee.
Scots can run own affairs
Sir, – I must correct Allan Sutherland's erroneous suggestion (June 7) that those supporting independence have a "deep, emotional dislike of England".
As a prominent member of the Yes campaign, and an Englishman, I can confirm again that the vast majority of Yes supporters have no problem with the English.
As for England, it is going nowhere and my journey to meet family and do business in England will be exactly the same after independence as it is now. The Yes campaign is based on the belief that the best people to run Scotland are the people who live and work in Scotland.
It astonishes me that there are people out there who think the Scots are less capable of running their own affairs than a old Etonians who only think of Scotland in the shooting season.
If there is any "dislike" it is by the Tories in Westminster who have punished Scotland by cutting renewable subsidies and introduced a sugar tax to damage the Scottish drinks industry.
Andrew Collins.
Ladyburn House,
Skinners Steps,
Cupar.
Great show by Nicola Sturgeon
Sir, – Despite being a strong UK unionist I have to say that your political correspondent Andrew Liddle was unfair (June 10) in saying that Nicola Sturgeon failed to make the case for Europe in the televised debate last Thursday night.
In particular, her final statement was very clear and strong and I hope it persuaded viewers, SNP and otherwise.
Anthony Garrett.
1 Royal Terrace,
Falkland.
Real debate was sideshow
Sir, – The Nicola and Boris show was remarkable for the wrong reasons. Two politicians argued opposing views but did not focus on the case in point, namely in or out of the EU, but rather sought to further underlying ambitions.
One made no secret of her priority being to undermine the UK, while the other tried to hide his aim of getting his hands on David Cameron's job.
Ms Sturgeon's debating experience served her well, but she could not disguise the juxtaposition of urging people to remain in the EU, in order that she can break apart the union of nations closer to home.
The whole exercise had the feel of political game show about it, with both such consummate performers that they could surely have swapped podiums during the debate and equally convincingly argued the other case.
Keith Howell.
White Moss,
West Linton.
Litter to blame for gull menace
Sir, – I have a grudging admiration for seagulls.
They operate in family units and they protect their young.
It is also enjoyable to watch them by the sea but very few seem to go anywhere near the coast these days.
But why should we blame them? There are richer pickings on shore than they could ever find at sea or on the coast.
Fast food is discarded on town and city streets at night by drunks.
Others throw away food during the day and rubbish bags are left outside catering establishments.
Residential wheelie bins are often left out overnight and not properly secured. It is not uncommon to see up to 20 birds fighting over the contents of a wheelie bin.
If we were cleaner and tidier, the seagulls would return to the shore.
Bob Stark.
Mill Street,
Tillicoultry.