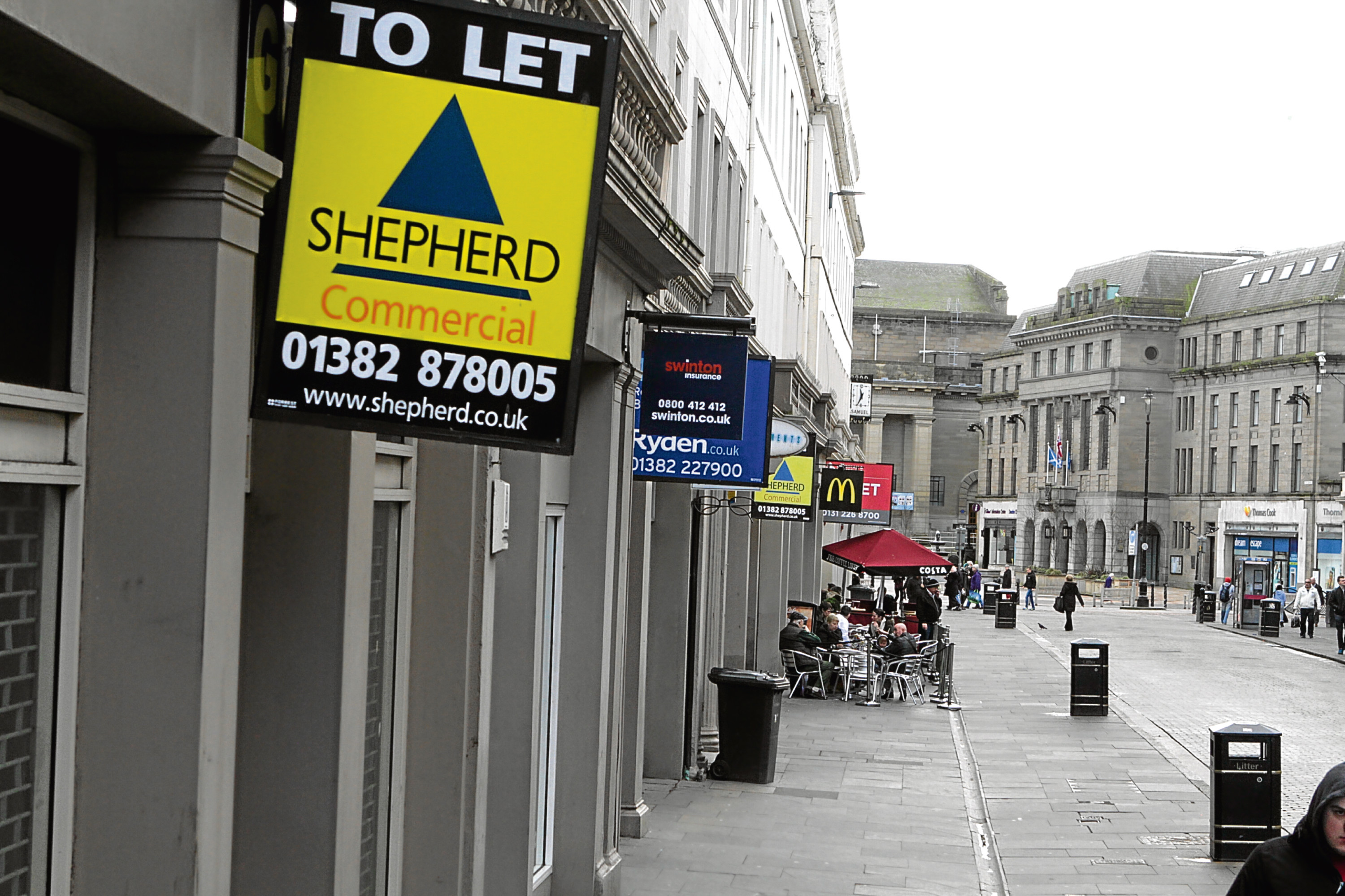 Sir, – I recently read that there are more empty shops in Dundee city centre now than at any other time in the past five years.
Shoppers in Dundee have said they are turning their backs on city-centre stores in favour of retail parks due to lack of easy parking, expensive parking and disruption to city streets due to the waterfront project.
Many other people blame the high business rates for having empty retail outlets in the centre of our city.
Dundee's director of city development, Mike Galloway, said a recent economic development survey showed 16.8% of city centre shops are currently empty.
I often walk along Reform Street and I recently counted six retail units lying empty and displaying For Sale or For Let signs.
There is no point bad mouthing Dundee's councillors about this issue as such negativity solves nothing.
The fact is Dundonians no longer require so many city centre shops.
This is due to the large amount of online shopping done nowadays and the huge impact the internet has had on our nation's shopping habits.
Within the next few years even more retail outlets will empty as most people categorise their general shopping needs into those items that are more convenient – and cheaper – to purchase online, and those that may require a trip outdoors.
For example, it is much more convenient to buy heavy items of furniture and other things such as electrical goods, gardening equipment online and then have it delivered to your home than to go to the city centre, struggle to find an expensive parking place, then struggle to transport your purchase home with you.
However, there will always be a need for outlets to be kept open for services such as hairdressers, barbers, dentists, fast food, entertainment and social gatherings of various kinds.
Although clothes can be purchased online most people want to try on some items of clothing, especially expensive garments, before they make a purchase.
The same goes for fresh foods – most people want to have a good look at what is being offered before they buy.
I suggest that instead of constantly looking to attract and retain new shops to our city centre our councillors should seriously consider a feasible way to fill these beautiful buildings before they go to ruin.
I believe these vacant shopping outlets could be turned into high-class flats and having a ground floor entrance would appeal to many people who have a lot of money to spend even if they had a high rateable value.
Kenneth Brannan.
42 Greenlee Drive,
Lochee,
Dundee.
'Shocking' lack of compassion
Sir, – It was quite shocking to read a letter so lacking in compassion from a self-professed Christian and former minister, Rev Dr John Cameron (August 1).
His call for a "mandatory immigrant resettlement programme" sounds suspiciously like the racist repatriation policy of Britain First and the BNP, which would involve the illegal mass deportation and ethnic cleansing of non-white citizens and residents from the UK.
The Bible could not be a clearer rebuke to those who tell refugees fleeing war and oppression, both Muslim and non-Muslim, there is no room at the inn.
Leviticus 19:34 reads: 'The foreigner among you must be treated as your native-born. Love them as yourself.'
In Matthew 25:35, Jesus says: 'I was a stranger and you invited me in… Truly I tell you, whatever you did for one of the least of these brothers and sisters of mine, you did for me.'
Perhaps Dr Cameron should remind himself of these verses, for as St Jerome wrote: "ignorance of the scriptures is ignorance of Christ".
David Kelly.
17 Highfields,
Dunblane.
Referendum is not SNP's to call
Sir, – Recent polling shows a majority of Scots have little interest in enduring another referendum in the near future.
Nevertheless, Alyn Smith, SNP MEP, one of the contenders for the SNP deputy leadership, has said his party should consider including European Union membership in any referendum question on independence and that all options on the wording of any future ballot proposition should be discussed.
Clearly, Mr Smith regards the arrangements for any future referendum as an internal party matter that should be decided by the SNP.
Whether this is the view of the SNP leadership is not clear.
Mr Smith, and anyone who thinks as he does, needs to be told in no uncertain terms it is not up to one side of the argument to choose the question for any future referendum.
The Electoral Commission is the competent body.
The Supreme Court mentioned "totalitarian regimes" in its ruling on the named person scheme last week.
I would prefer to allude to the authoritarian tendency that has been evident in the SNP for some time.
Its leadership needs to be reminded that Britain is a democracy and its elections/referendums are not and should not be subject to partisan gerrymandering.
Jill Stephenson.
Glenlockhart Valley,
Edinburgh.
Time to legalise pesticides
Sir, – Regarding the articles on agricultural chemicals by Nancy Nicolson and Peter Stewart (July 27).
Prior to the EU referendum, I contacted a senior Leave campaigner to enquire whether, if they were successful, they would repeal all the EU directives that blight our daily lives.
Agri- and horti-chemicals were on my list along with other topics.
Eventually, I received a reply from one of their minions stating that should the UK leave the EU, the Government would examine these directives and keep what they considered to be the good ones and ditch what they considered the Bad.
Over the years all the useful agri- and horti-chemicals have been taken off the market, making the task of food production more expensive and labour intensive.
Waste levels have increased.
However, the EU cannot be solely blamed for this situation, as past UK governments didn't have the grit to ban chemicals, but brought about circumstances whereby the production of such chemicals were no longer viable.
Why were such excellent products taken off the market?
The only reason I can think of was to appease the woolly-hat brigade.
If anyone disagrees with me then they are more than welcome to do the back breaking work in my large vegetable/fruit garden.
I sincerely hope the agricultural and horticultural communities dig their heels in and say enough is enough, insisting on the return of these valuable chemicals.
Bob Thomson.
5 Kinloch St,
Ladybank.
The many years of Broxdengate
Sir, – It is good to see others stepping forward with Broxden Roundabout concerns.
My own worst Broxden experience was taking 50 minutes to get from Crieff Road Tesco to the Broxden.
Traffic lights would have reduced this to somewhere in the region of five to 10 minutes.
If you have experienced long tailbacks at the Inveralmond, Roy Moffat, I would say it may have been caused by inefficient sequencing of the traffic lights, not the lights themselves.
Traffic lights are only as good as those who control them.
Having the mini-roundabout just yards away at the Triangle could be a contributing factor in all this queueing you encounter.
David Roche, on this page, seems to agree, citing the sequencing problem he appears to face day-to-day on Atholl Street.
There should always be a slight bias shown to traffic leaving a city, not those entering, and lights at the Broxden would ensure this.
Bill Fairweather accurately states that Broxden rears it's head again.
This statement in itself cries out that nothing is being done.
With major developments on the way at Broxden, traffic lights are needed more than ever.
I have already received written support from a lady in Auchterarder and momentum is growing for our cause.
"Broxdengate" began 20 years ago – however, the powers-that-be did not sit idly by as things grew worse but set about solving the problem by installing a huge metallic grouse so those stuck in traffic would have something to look at.
Edward Burns.
Westbank Farm,
St David's,
Madderty.