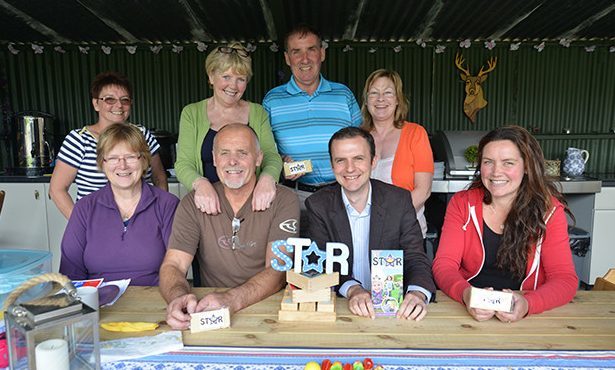 A charity which brings together brothers and sisters who have been separated in care is celebrating a lottery boost of more than £100,000.
STAR (Siblings Together and Reunited) received a grant from the Big Lottery Fund which will allow around 500 children and young people to visit over the next three years.
Founder Karen Morrison said: "This is a phenomenal amount of money and we are just so excited."
The former foster carer runs the centre in farmland at Flisk, Newburgh, with a team of volunteers.
STAR brings together brothers and sisters from Fife, Tayside and Perth for quality time enjoying activities such as caring for animals, growing food, story-telling, music and drama.
The aim is to prevent emotional bonds from being broken and to help children overcome the trauma of family splits.
Among the children who attend regularly are three teenage siblings who had no contact whatsoever for over six years despite living close to each other and siblings whose contact sessions had been abandoned as they were not engaging.
Karen said: "Normally we just keep our heads above water thanks to donations but this means we can take the pressure off fundraising and really focus on what we are here for, to bring siblings together.
"The lottery funding will cover our costs and let us also forge ahead with projects like creating a wildlife and sensory area which will be great for the children."
North East Fife MP Stephen Gethins is supportive of the charity and congratulated it on the success of its application.
He said: "I am absolutely delighted STAR has received this money which will ensure its volunteers can continue to provide a fantastic service to children from across Fife, Tayside and Perth.
"Having visited STAR recently with my SNP Westminster colleague Dundee MP Chris Law, I know just how important the work is that they do and it's great that the lottery money will allow children who have been separated from their brothers and sisters because they are in care, or adopted, or who are living with kinship carers, an opportunity to visit the STAR farm, and spend quality time with their siblings each month."
Mr Law, who as a child was adopted and separated from his brother due to a family split, said: "It was a very difficult time for us and I really wish there had been something like STAR in existence at that time.
"I hope people in Dundee will take advantage of the facility and I congratulate the team on their success with getting this funding."