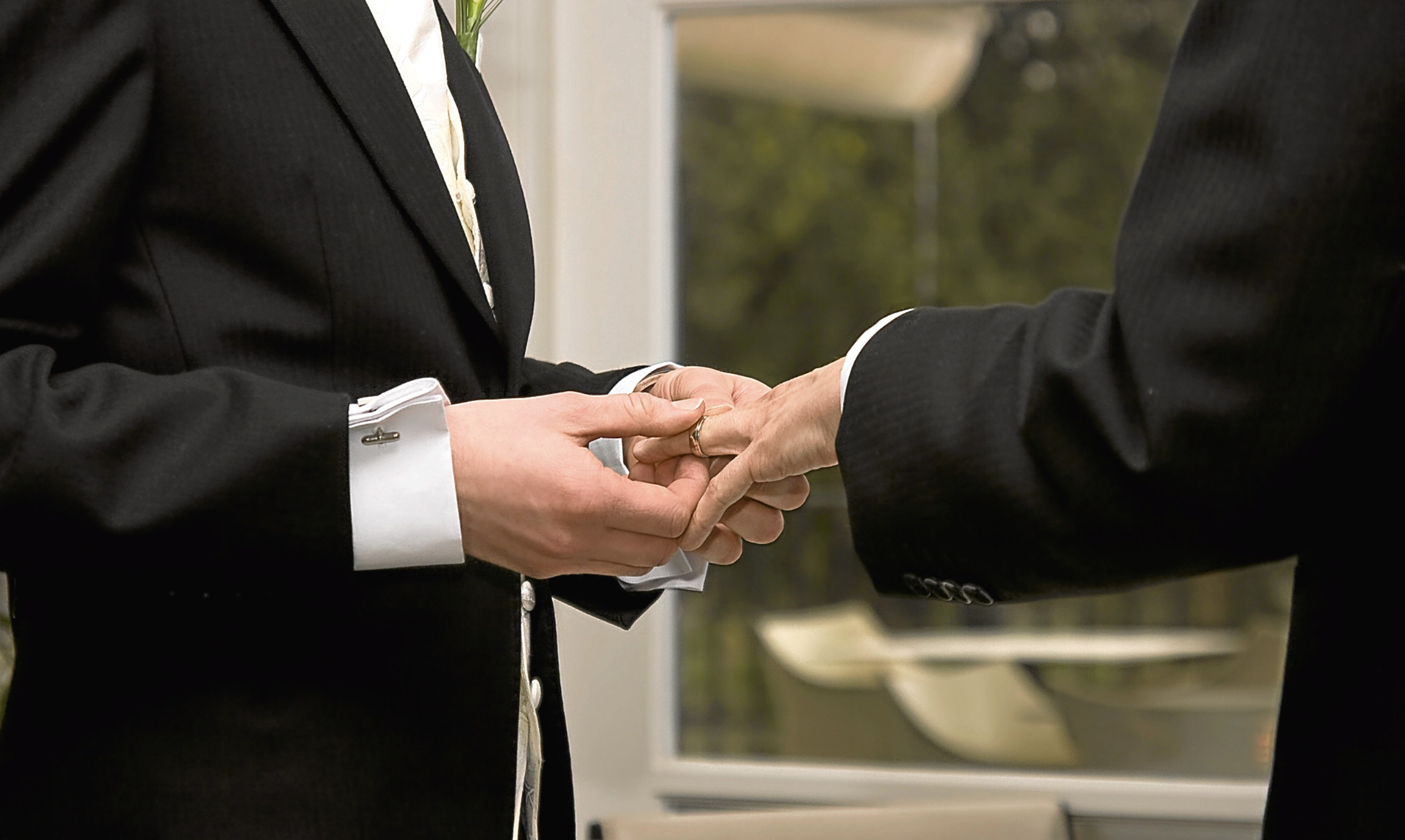 Sir, – Leslie Thomson of Secular Scotland (July 14) is correct in saying the Marriage and Civil Partnerships Act was the most comprehensive act in marriage law in Scottish history.
That is why it would have been good if we had had some of the much-vaunted democracy Mr Thomson suggests we need to live with.
Knowing that "consultations" (which find out what the governing party want it to find out) and a petition of 1,000 people were hardly the basis for the most radical change in that most basic of human institutions – marriage.
Gordon Wilson and I asked that we should have real democratic act and that the matter be put to a referendum.
One wonders why the politicians were so reluctant to let the people decide?
And yes, we are coming under increasing pressure to permit and perform same-sex marriages within some quarters, with threats of charitable status being removed from us if we don't.
Jesus did teach about marriage and sexuality – he taught explicitly that marriage was between a man and a woman.
Meanwhile, the Rev Dr John Cameron seems a wee bit confused about his faith.
Apparently the Old Testament can largely be written off and Jesus' teaching about marriage being between a man and a woman is hubristic!
He reminds me of Augustine's saying: "If you believe in the Bible what you like, and leave out what you don't like, it's not the Bible you believe, but yourself".
With such an attitude towards Christ and his scripture it is little wonder Dr Cameron belongs to a church that is in freefall!
Speaking of the word "free" in the Free Church of Scotland – it has nothing to do with North Korean dictatorships (Dr Cameron does seem to have a rather fertile imagination), but it refers to being free from state interference – which, given the increasing tendency of the state to tell us what we should believe, teach and do, seems even more apposite in the 21st Century than it did in the 19th.
David Robertson.
St Peter's Free Church,
4 St Peter Street,
Dundee.
What about jobs for Lochgelly?
Sir, – The announcement of new civil service hub in Edinburgh is surely proof, if any were needed, that the governing classes have simply lost the plot.
Quite apart from the fact that physical proximity is an optional luxury in an age of electronic communication, concentrating such a critical mass of jobs and associated economic benefits in one place, let alone the overheated capital, defies belief and logic.
With more than full employment, a skills shortage and escalating property prices, Edinburgh is probably the last place any rational decision-maker would choose to provide an economic boost.
There are many urban areas, like Levenmouth a conurbation of 38,000 people up the Fife Coast, which would derive much greater benefit without associated costs – and there is no need to concentrate all in one, especially the most expensive location.
Levenmouth residents will struggle to obtain any of the 2,900 jobs on offer since we have no public transport to Edinburgh other than a bus route that takes two-hours.
Move some of these jobs here and I'm sure our rail link would be reinstated pronto.
Instead, this crass development will exacerbate pressures in Edinburgh, already one of the most congested cities in the UK, which will no doubt in turn generate powerful demands to improve its transport connections.
Having observed London's dominance from afar, you might hope lessons about balanced development might have been learned.
Why are our elected representative so shortsighted, and why is there no significant pressure to decentralise "moveable" public sector jobs across in Scotland?
Dr Allen Armstrong,
Levenmouth RailCampaign,
28 Viewforth,
Buckhaven.
Police should focus on day job
Sir, – It is interesting to note that Police Scotland is to initiate another of its campaigns in Fife – Operation Path (July 12).
This is intended to tackle violent crime through enforcement and community engagement activities.
Do they not normally tackle violent crime through enforcement?
As part of this initiative, officers will be involved in high visibility patrols, target known offenders, conduct bail checks and enforce warrants.
I must be very naive – I thought these were some of the basic functions of the police service.
The easy answer to all of the basic policing problems in Fife, and elsewhere in the country, is to introduce another initiative.
Might I suggest that if Fife still had some 1,200 officers, as it had pre Police Scotland, instead of the present staffing level of 700 officers, these basic policing issues would not be arising on a regular basis.
Surely an extra 500 officers, along with pro-active, as opposed to reactive, policing would go a long way to solving the problems.
Unfortunately, the Scottish Government thinks otherwise.
Jack Harley.
9 Mackie Crescent,
Markinch.
Look south for control freakery
Sir, – Jill Stephenson (July 13) criticises, in lurid language, NHS Scotland's conduct over an audit report, and on the basis of no evidence beyond "we presume" insists the SNP are responsible.
What she described was standard audit practice.
Auditees always see a draft report so they can confirm or contest its accuracy.
They invariably ask for changes.
Auditors stick by their factual findings unless they are shown to be mistaken, but may amend some wording in the interests of diplomacy.
There is no evidence anything different happened here.
From my experience in big corporate audit I can say the language cited in press reports was tame.
Perhaps things are more blunt in the private sector. That does not faze good auditors – they are strong and independent.
It is ironic that Ms Stephenson's letter was published on the day the Great Repeal Bill was unveiled.
If she is concerned about control freak politicians seizing power for the executive and avoiding scrutiny, she should turn her attention to Westminster.
James Christie.
2 Dryburgh Crescent,
Perth.
No evidence of global warming
Sir, – One of the largest icebergs on record has broken away from an ice shelf in Antarctica.
Before the global warming brigade get too enthusiastic and blame this event on mankind they should consider what the scientists said.
"Although the iceberg weighs a trillion tonnes, it was already floating before it calved away, so will have no impact on sea levels".
Dr Martin O'Leary, a glaciologist, said "we are not aware of any link to human-induced climate change".
Scientists concluded that even if glaciers flow off the land in future there could be an eventual impact on sea levels but at a very modest rate over many years.
Bang goes another green theory.
Clark Cross.
138 Springfield Road,
Linlithgow.
Not quite so rosy on jobs front
Sir, – In response to your article (Jobless rate falls to 25-year low, July 13), her are less positive facts:
In April 2017, according to Unison, 78,000 workers were on zero-hours contracts, with no guaranteed income;
Self-employment is on the increase (which fails to pay "self");
Social security now amounts to no security as almost no one is eligible.
Dundee is known as sanctions city, which explains why it has the highest use of foodbanks in Scotland.
Moira Brown.
142 Gray St,
Broughty Ferry.
Scotland can't defend itself
Sir, – No doubt I am not the first to agree with Bob Duncan (July 8) that if Scotland became a separate country by leaving the sanctuary of the UK, all military bases and armour would move to England.
One thing would change, though – there would be serious reservations about the ability of Scotland to defend itself from aggression in this increasingly volatile and dangerous world.
Alarmingly, whatever would remain as a defensive presence in the country would not be sophisticated enough as a deterrent to make Scotland a sustainable and secure nation able to defend itself.
Peter Stewart.
Westwood,
Kenmore Road,
Aberfeldy.