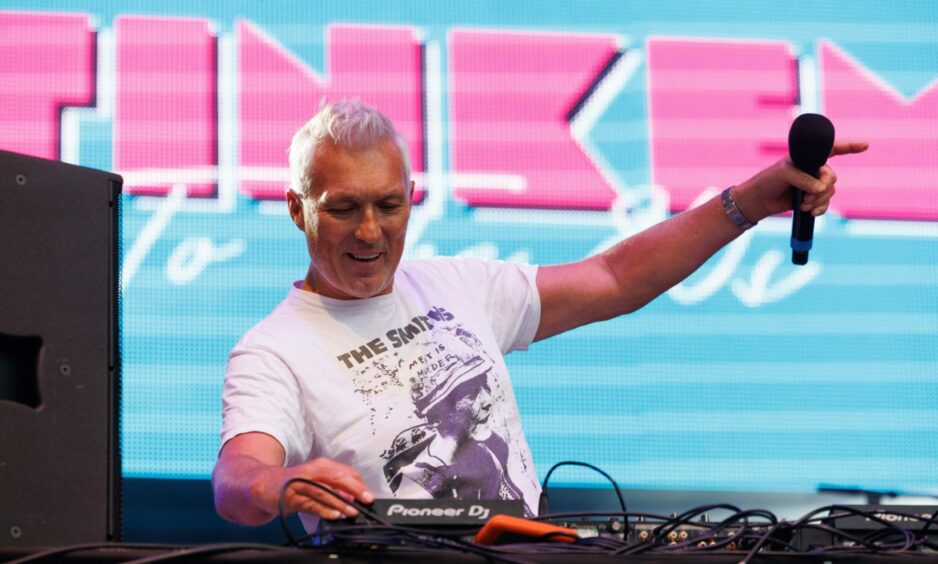 Martin Kemp has seen and done it all since finding fame with Spandau Ballet in the 1980s.
The New Romantic band enjoyed 23 hit singles and sold 25 million albums.
He also starred in The Krays alongside brother Gary in 1990 and Martin's biggest TV role was as legendary villain Steve Owen in EastEnders between 1998 and 2002.
Then there was Celebrity Big Brother in 2012 and Martin remains a familiar face on our screens in 2023 watching the telly alongside son Roman on Celebrity Gogglebox.
But for him, the 80s remains the highlight decade.
Martin will swap his bass guitar for the decks at Duck Slattery's Showbar in Dundee on Friday September 15 when he brings his 'Back to the 80s' DJ set to the city.
He went down a storm when he spun all the best hits from the 80s at the Rewind music festival at Scone Palace in July and he's looking forward to returning to these parts.
"I've been doing these DJ sets for four or five years now," he told me.
"Forget Spandau gigs — this is the most euphoric atmosphere I have ever been in.
"You know when you go to see a band — as much as you love them — there is always a point in the show where they play some tracks that you don't really know; or like!
"If you come to a Back to the 80s night, you are singing along to every song, because every song is your favourite song — there's no fillers.
"It's almost like a gig and we get everybody in the crowd singing.
"I think we forget how good it is for people to sing — it's good for your soul and it creates adrenaline and endorphins.
"That's why people go to the football and sing or go to church and sing.
"They come out feeling great — because they are singing!"
How was Rewind at Scone Palace?
"We always loved playing in Scotland with Spandau Ballet," he said.
"We kept playing bigger and bigger venues on each visit and people in Scotland really appreciate the fact you've come up there to play because it's a long way from London.
"Scottish audiences have always known how to have a good time.
"Rewind in Perth was no different and looking out and seeing thousands of people singing at the top of their lungs to their favourite songs was just wonderful.
"I also got a chance to meet up with my old pals from the 1980s but it's also really scary because everyone is now 40 years older and not exactly how you remember them!
"So we stand there checking each other out!
"But it was nice to see them again — I've known those guys since I was starting out at 17; we've been rivals; we've been best mates; we have a lot of shared experiences."
So what makes the 1980s so special?
"I think it was a decade of good songs that people still remember," he said.
"It was a decade when everything sprang into colour — before that almost everything you read was in black and white including magazines like NME and Melody Maker.
"Most people — even me — still had a black and white telly!
"Then the 80s came along and we had Smash Hits and the Face magazine and it seemed to explode into colour because everything was glossy and larger-than-life.
"Not just the shoulder pads and the big hair but everything else in between.
"When you think back to the people and the bands that were around in the 80s and the songs that were written you realise this was a very special period of time.
"Fashion was as important as the music.
"It was a great decade to be around in popular culture."
Spandau Ballet the poster boys of designer pop
Spandau Ballet were global superstars.
The band formed in Islington in 1979 and included Martin on bass, Gary on guitar, Tony Hadley as vocalist, saxophonist Steve Norman and John Keeble on drums.
Spearheading an era of new music, their dress sense was equally experimental.
Outfits included silk tartan suits adorned with brooches, billowing shirts, waistcoats and scarves draped flamboyantly over their shoulders.
And who could forget the mullets and slicked quiffs?
The band would be mobbed by screaming fans wherever they went and they enjoyed huge success with classic hits like True, Gold and Only When You Leave.
Their signature dandy look played a key role in defining New Romantic before the band's look moved into suits around the time of True topping the charts in 1983.
The group's enormous success was cemented by their appearance on the Band Aid record and their performance at Live Aid to 72,000 people at Wembley in 1985.
After 10 years playing sold out concerts, Spandau played their last gig of their 10th anniversary tour at Edinburgh Playhouse and announced they were taking a break.
Martin said: "We were 20-something boys on top of the world, in the biggest band in the world, and we had fun with it.
"The older you get, the more you realise how important it is to appreciate things.
"It was a fantastic period but it was also quite stressful.
"When you are starting off in any young band you are trying to keep that success rolling from that first album to the second album and things are always on a knife-edge.
"It can all disappear as soon as it has started.
"So it was great in retrospect but if I went back to that time back in the 1980s I'd also remember how stressful it was as well by trying to keep that success rolling."
Would he return to Albert Square?
After the band split, he and Gary enjoyed success in the hit movie The Krays in 1990.
But in 1995, he was diagnosed with two brain tumours after discovering a lump on the back of his head, and over the next three years had treatment to remove them.
In 1998, still not totally recovered, he jumped at the chance to play Steve Owen on EastEnders, aware that his prolonged health battle had stopped him from working.
He was immediately given a hard-hitting storyline when he was accused of killing former girlfriend Saskia and won five British Soap Awards for his work on EastEnders.
His character was killed off in a car blaze following a feud with Phil Mitchell, although there were suggestions he didn't die 21 years ago and might even return to the Square.
It wouldn't be the first time a character has returned from the grave on the soap although Martin was keeping tight-lipped about whether he would play him again.
He signed a contract with ITV in 2002 and starred in several TV dramas, although one real-life soap opera was to be given another airing towards the end of the decade.
Spandau reunited in 2009 after 19 acrimonious years apart, releasing a new album – Once More – and hitting the road again before singer Tony Hadley left in 2017.
It was over but the songs will always live on.
So what can Dundee expect when Martin Kemp arrives at Duck Slattery's on September 15?
"Expect non-stop nostalgia and an unforgettable singalong," he said.
"And of course I will spin a few of the Spandau classics — how could I not?"