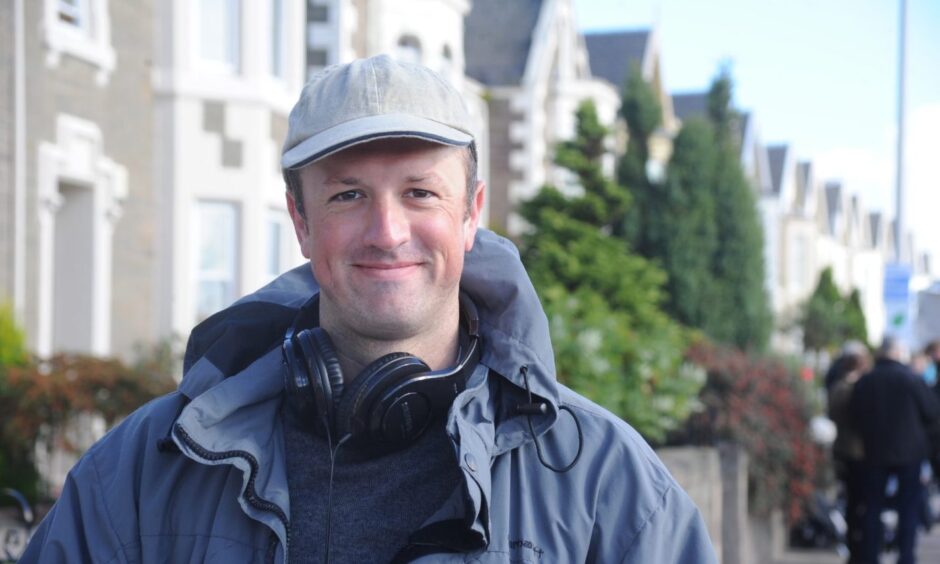 Neil Forsyth had two dreams growing up: to be a writer and play centre-forward for Dundee United.
He achieved his ambition of becoming a published author before making the leap to television and has since picked up a spree of Scottish Baftas for his screenwriting.
Neil is one of life's glass-half-full personalities but he admits his chances of running out at Tannadice in the number 9 shirt are looking less likely these days.
Not that you'll find him unhappy with his lot.
There's a pinch-me quality about his comments which remind you of a star-struck youngster who has seen all his Christmases come at once.
It's a "preposterous" journey which has taken him from Broughty Ferry to Brink's-Mat and a television career he puts down to "a lot of moments of serendipity".
Neil Forsyth enjoyed idyllic childhood
Neil, who is 45, grew up with his parents, big brother Alan and and little sister Carol in a house in Strathearn Road before moving to Ellieslea Road in the 1980s.
"Dawson Park was a big place for us," he tells me, when we catch up by phone.
"Me and my brother and a group of pals would be there for most of the day during the summer holidays, playing football and generally messing around.
"We were always getting chased by the poor parkies!
"We felt we ruled the park until one day when some boys from Douglas climbed over the fence and we broke the Dundee Schoolboys' sprinting record getting home!
"It was great fun and I still remember the delirious excitement when we found some pornography in the bushes beside the tennis courts – a great moment for teenage boys.
"They've chopped them all down now for reasons like that."
Neil would spend the weekend playing tennis at Forthill Sports Club under the watchful eye of Dave Gordon, who was something of a legend in Broughty Ferry.
"He used to tell us these incredible stories from his life of playing football in Austria and working in Monte Carlo where he was squash coach to Prince Albert," he said.
"He was a complete eccentric.
"Dave would also strut about in alarmingly tight shorts all year round.
"He did a huge amount for the local kids in Broughty Ferry and probably kept a lot of us out of trouble elsewhere.
"There were shades of Bob Servant about him.
"He died in 2021 and is very sadly missed."
Neil enjoyed playing tennis but football — and Dundee United — was his true love and the Tannadice romance runs through the heart of his success story.
"Dundee United was a huge part of my childhood," he said.
"Alan was two years older than me and a United fan from an early age so my mum and dad let him take me with him — I was standing in the Shed at the age of nine.
"It was amazing.
"One of my first games was watching us beat Barcelona in the Uefa Cup in 1987 and when that happens you think that's how it's going to be every week.
"The highlight of the week for me was going to Tannadice.
"Dundee United played a key role in my career because the first writing I ever did was for a United fanzine.
"The biggest was The Final Hurdle but I didn't really have the confidence to get in touch with them.
"The Falkirk Arabs had a fanzine which was funny so I wrote to them and put down some stories and they printed them.
"I think I was 13 and that was my first published work."
Coming up against Jim McLean aged 13
The artwork might have looked familiar, though.
"I was basically taking Roy of the Rovers comic strips and would Tipp-Ex out the speech bubbles and write in fairly libellous comments about Dundee players," said Neil.
"But I'll never forget the feeling of seeing my name in print for the first time.
"That never left me."
Neil then got a job selling the United matchday programme where he would make 5p for every copy sold and the added bonus of getting free entry to every home game.
"The corner of North Isla Street was where you wanted to be," he recalled.
"You could make a clear tenner there. You went up at 1pm to collect your bundle and you got to wander around the ground. It was incredibly exciting on matchdays.
Jim McLean said 'come with me'
"I remember once being in the dressing room with another programme seller and United manager Jim McLean caught us.
"He asked us what we were doing there with the odd expletive thrown in for good measure!
"He said: 'Come with me'. We both feared the worst.
"But he took us up to the trophy room and showed us round and talked us through some of those games which brought us silverware.
"That really was the mark of the man.
"Funnily enough, the first interview I ever conducted was with Jim McLean for a school project.
"My great-uncle, Bill Wood, played bowls with Jim and he arranged for me to go to Tannadice to interview him. I met him – again – in the trophy room.
"I turned up and he said: 'Give me your questions'.
"I did. He scored half of them out and handed them back to me.
"One question I asked him was if United should spend more money on transfers and he called me 'incredibly naïve'. I was 13-years-old."
Neil also got a Sunday paper round at the West Ferry newsagent, which served to further strengthen his already encyclopaedic knowledge of all things United.
"I'd go there at 6am – and this was in the pre-internet days – and I used to read the United match reports in every newspapers while I was marking them up," he said.
"Grove Road, Albany Road and a fair whack of Strathearn Road.
"It was a two-bagger, which was monumental on a Sunday.
"It seemed to take you a week."
How Irvine Welsh changed everything
Neil went to Edinburgh University to study politics after Dundee High School, and he moved to London and worked for two years in advertising before going travelling.
Did he still believe he would achieve his goal of becoming a writer?
"I basically wanted to do two things in my life which was be a writer and play centre-forward for Dundee United," he said.
"Genuinely, these are the only two career goals I have ever had.
"It was writing I really enjoyed doing at school – I loved telling stories.
"We used to sit down to tea as a family and cut to an hour later and my dad was doing the dishes and everybody else had gone.
"I'd still be sitting with half my tea in front of me because I'd just talked and told stories for the whole time.
"I always enjoyed hearing stories and telling stories.
"It was one thing daydreaming of being a writer but when you are sitting in Broughty Ferry it seemed a preposterous idea.
"Pre-internet, the rest of the world seemed incredibly distant and the idea of being a published author or writing scripts or getting into production seemed a pipe dream."
Neil moved back to Edinburgh after travelling and got some freelance work.
He started writing match reports for The Scotsman, which gave him the confidence to start pitching features for newspapers and magazines – especially true crime.
One of them, the story of the credit card fraudster Elliot Castro, would become his first book, followed by two novels, before he wrote a book about a certain Mr Bob Servant.
Delete This at Your Peril was a collection of genuine email exchanges Neil swapped with internet spammers where he pretended to be a Broughty Ferry cheeseburger vanner.
The book came out of a tiny publisher in 2007 and appeared to sink without trace.
Then everything changed.
In 2009 Trainspotting author Irvine Welsh chose Delete This At Your Peril as the funniest book he'd ever read for a poll in Esquire magazine.
What he said was enough to get it republished.
It was this reprint of the book that was picked up by BBC Scotland, first for radio and then for two series on television, with Brian Cox taking up the lead role.
Neil never looked back.
He wrote four Playhouses for Sky in 2016 and his one-off drama about Morecambe and Wise was shown on the BBC in 2017 and was nominated for a host of awards.
Was that his biggest break?
"I think Guilt in 2019 was the real big creative breakthrough," he said.
"Eric, Ernie and Me edged me into the world of TV drama but I think Guilt was a significant step into a different world of writing that I feel most at home in.
"Guilt was the first time I really felt this was a distilled version of my head."
Guilt won a number of Scottish Baftas before Neil wrote and created The Gold, which followed Happy Valley in the BBC1 primetime Sunday evening 9pm slot in 2023.
The Gold was a huge success and was a dramatized version of the 1983 Brink's-Mat robbery with plenty of 1980s nostalgia including characters wearing United shirts.
It has seen him nominated for another Scottish Bafta.
Neil Forsyth is never a stranger to these parts
"I feel more and more confident with the writing and I've now got a decent grasp of the craft of screenwriting," he said.
"As long as I've got the time, I can write a script which I think is a good representation of the kind of TV show I'd like to watch.
"It's far more important to be an improving writer than a good writer.
"If you have that frame of mind I think the work will get stronger."
Neil lives just outside London with his wife and son, but regularly comes back to Dundee.
"I come back home to see my parents in Broughty Ferry, and Dundee United," he said.
"I should stress, in that order!
"I love coming home. As you get older you appreciate just what a special place it is.
"You become more appreciative of the place you grew up.
"It remains home and I'm very proud to be a Dundonian."
---