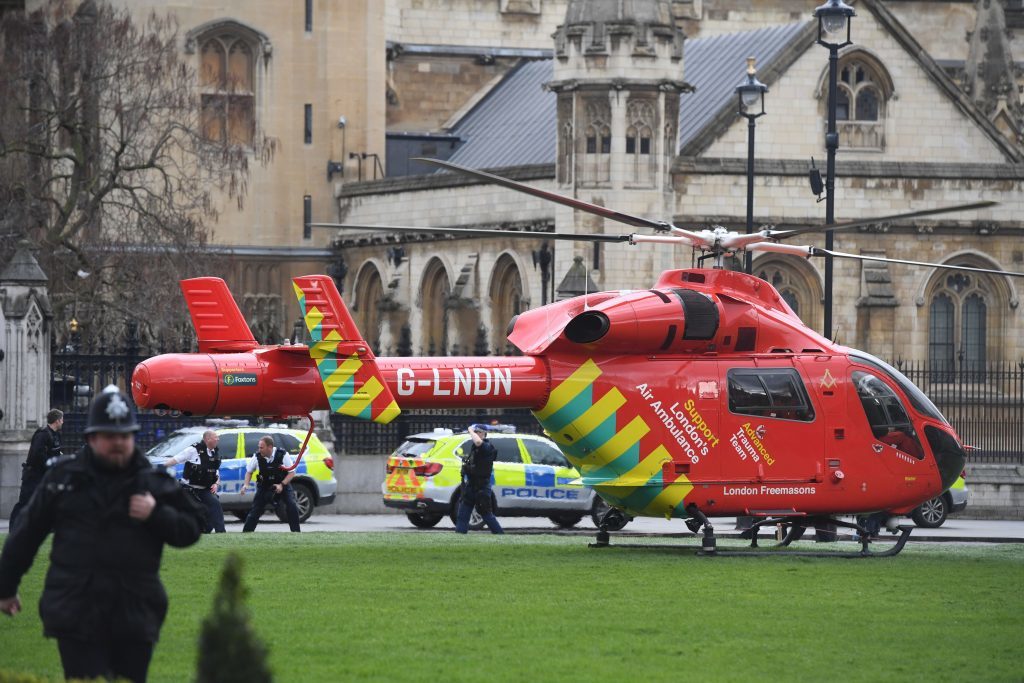 There are fears of multiple fatalities after a suspected terrorist attack near the Houses of Parliament in London.
It is thought at least one attacker collided into pedestrians on Westminster bridge before crashing into railings outside Parliament.
Reports say he then made it into Parliament grounds before stabbing a policeman.
It is understood the attacker was then shot.
North East Fife MP Stephen Gethins heard what sounded like "scaffolding collapsing and someone screaming" as the attack happened.
The SNP politician is currently in lockdown in the debating chamber of the Commons, along with what he estimates is up to 300 MPs.
https://www.thecourier.co.uk/fp/news/uk-world/392106/live-updates-suspected-terror-attack-outside-houses-parliament-articleisfree/
Mr Gethins said: "It looks like a clear terrorist incident. The leader of the house has been good at keeping us up to date with factual information.
"I heard something on the way over here. It sounded like scaffolding collapsing and someone screaming. That must have been it happening."
His parliamentary staff have now locked themselves in his Westminster office as a precaution in case there is another attacker on the parliamentary estate.
Stewart Hosie, the Dundee East MP, is in the Members' Lobby with around 200 fellow politicians. He described the atmosphere as "subdued" as details emerged.
A member of staff for Fife SNP MP Roger Mullin, said he saw the grim aftermath of a man being hit a car that had driven over Westminster Bridge.
"I heard the man screaming so I went over to the window and saw the car sliding along the road and crashing," he said.
"Then I heard two loud bangs. At that point I moved away from the window and urged others to do the same.
"I can see the man lying on the ground, he's clearly seriously injured."
"We've been told to lock our doors and keep away from the window. Everyone's trying to keep level-headed but we have no idea what's going on."
The SNP's Tasmina Ahmed-Sheikh, a  Perthshire MP, is being held in the Commons chamber with her colleagues.
"All of us have been asked to stay in the chamber and we do not know what is going on. We are locked in here," she said.
"There is a huge amount of concern, a policeman has been stabbed, people have been injured and we are very worried about what's happening, but there's not much else I can say."
Chris Law, the Dundee West MP, and his Perthshire North colleague Pete Wishart were diverted into Scotland Yard having missed the incident by minutes.
They were part of a group of nine who were about to move back towards Parliament Square but were directed into the safety of the Met Police headquarters.
Mr Law said: "I'm a bit shaken at the moment. For a long time people have been saying the terrorist threat is at severe for some time. There are more MPs coming in here just now."