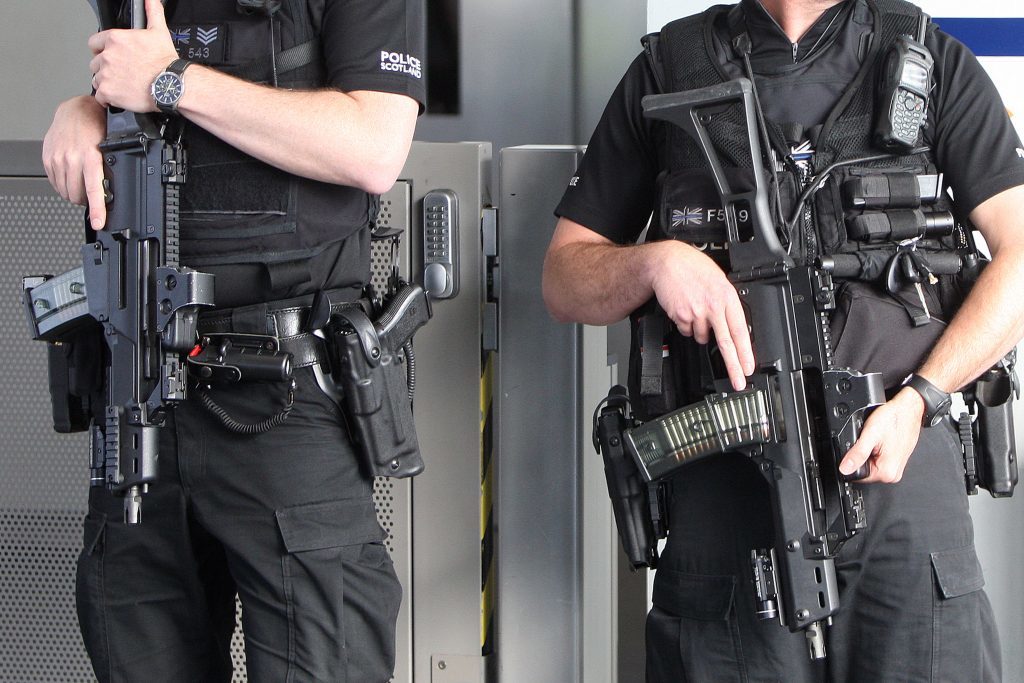 Police officers are "considered expendable" by being pitched against armed terrorists without the means to protect themselves, says a union boss.
Calum Steele, general secretary of Scottish Police Federation, said unarmed officers are usually the first to respond to terror attacks, where they are expected to deal with weapon-wielding extremists.
"The simple fact is that we have police officers in this day and age that are facing guns, knives, extreme violence and they do not have the capability of protecting themselves," Mr Steele told the BBC.
"How many police officers have to be killed, maimed or injured for that to be considered an acceptable price for what we're dealing with?"
He added: "We have to make sure we don't have police officers in a situation where they are likely to be considered expendable because they do not have the personal, protective equipment to look after themselves."
The number of armed officers in Scotland is increasing from 250 to 374, although that relates to giving existing officers firearms training.
Mr Steele warned we should not "kid ourselves" by thinking that amounts to extra armed officers.
Stewart Hosie, the SNP candidate for Dundee East, said the party was listening to the police federation.
"Clearly the police and intelligence services require, I think given the increased threat, as many resources as they can have," he said.
"And I am absolutely confident that the justice secretary will listen very carefully to everything Calum and the police federation has said."
Justice secretary Michael Matheson says police resources are under "constant review", while the deployment of armed officers is for the chief constable.
Mr Hosie said allowing Police Scotland to reclaim VAT from the Treasury would be a "good start".
That would put Scotland's police service on a level footing with other territorial forces in the UK.
The Scottish Government has been trying to end the discrepancy since it emerged before the creation of the single force that doing so would lead to a tax bill of about £35m a year.
Willie Rennie, the Scottish Liberal Democrats leader, echoed calls for a VAT exemption for the police and fire and rescue services north of the border.
He said a £55m funding boost, including £35m from the tax rebate, would give Police Scotland the resources it needs.
"It would allow the police to have more conversations in communities, with more information being passed on and more knowledge about who's who, and who needs to be kept under surveillance," he said.
Asked about the prospect of Scottish emergency services being relieved of paying VAT, Mrs May said: "First of all I think that you should be very careful when you look at what the Scottish Nationalists did in relation to VAT up here.
"What we have done in the rest of the United Kingdom is protected counter terrorism policing.
"What we have done is ensure that we have put an increase into the number of armed policing."