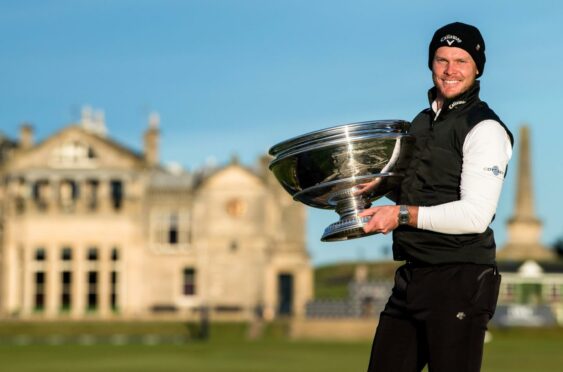 Danny Willett only seems to win the big ones – the Masters, the DP World Championship, Dubai Desert Classic, BMW PGA – and he added the Alfred Dunhill Links Championship to his impressive list with a peerless performance on the Old Course.
The 2016 winner at Augusta came back from a bout of Covid and appendicitis this summer to claim his eighth career title in emotional fashion, on his 34th birthday to boot. He finished with a four-under 68 for an 18-under total of 270.
He had a two-shot advantage on Sweden's Joakim Lagergren and – yet again – twice winner and now twice runner-up Tyrrell Hatton.
'This is a very special one'
"It's a good one"@Danny_Willett was visibly holding back the emotion after his win.#DunhillLinks pic.twitter.com/5UKnaeqL3Q

— The European Tour (@EuropeanTour) October 3, 2021
"This is a fabulous place," said Willett, after being more than a little emotional as he took possession of the huge Dunhill trophy. "To win here, to be British and to win at the home of golf, this is a very special one – especially after how the last kind of year and a half has been for everyone involved."
Three shots clear going into Sunday but with blustery winds whipping across the Old Course, Willett never really gave the chasing pack a sniff after he birdied the first and third.
There was a mild jolt of excitement when he took five at the fourth. But once he made the turn and chipped and putted for a birdie at the tenth, it seemed safe. A string of eight pars on the way home were good enough.
No tournament at St Andrews is ever safe until the 17th is negotiated. But a beautiful "back-foot six-iron" second shot from 197 yards left absolutely no terrors for Willett on the most feared hole in golf.
'Things seemed to have knocked me back'
From off the green for a birdie to regain a two shot lead.

What a timely three that is @Danny_Willett!#DunhillLinks pic.twitter.com/kRC213TNUb

— The European Tour (@EuropeanTour) October 3, 2021
"I've struggled a little bit with things," he admitted. "Every time the game feels like in a nice place, there's been things you can't really avoid.
"Covid, wisdom teeth, appendix – things seem to have knocked me back a peg or two.I never really have been able to get the momentum going."
He admits that he's struggled for consistency really since 2016, while still occasionally firing up wins at the bigger championships. And while he's not setting any major future goals, that little event in Wisconsin last week sparked his interest.
"It's interesting, it's the first time I watched the Ryder Cup and been bitterly disappointed I wasn't there," he said. "It wasn't nice to watch the guys get beat when you know that you think you can add something to the team.
"I wasn't playing well enough to get on that team. But, yes, I think it will be really nice now to try. I very rarely do long-term goals. But I would definitely love to be on that team in two years' time to try and help out."
Strong form pointers for next year's Open
Hit the pin! 😲

Joakim Lagergren is oh so close to a hole out eagle at 15.#DunhillLinks pic.twitter.com/DKiw7W2GE6

— The European Tour (@EuropeanTour) October 3, 2021
Willett famously led the 2015 Open at St Andrews the halfway point. He played with eventual champion Zach Johnson in the final round before finishing sixth.
He will no doubt take some money for next year's 150th Open. As will Hatton with just one finish outside the top two in the last five Dunhills.
Lagergren will also get some attention, having finished in the top three for the second successive time. Other than his win in the Sicilian Open in 2018, the 30-year-old's best finishes on tour have come in this event.
But Hatton has a clue why it's not always wise to compare this with an Open-spec Old Course.
"This is real quality… this is superb quality"

Some touch from @TyrrellHatton#DunhillLinks pic.twitter.com/Kw2AxhiMeS

— The European Tour (@EuropeanTour) October 3, 2021
"It's been a great week," he said. "Obviously I was quite tired after the Ryder Cup. If you told me at the start of the week I'd finish tied second, obviously I'd be happy with that.
"Generally I've always putted well (at this event). Obviously the pin positions are a lot kinder compared to what we normally face throughout the year.
"With the amateurs we're playing with this week, it needs to be a little bit easier. I guess I'm just being able to take advantage of that."