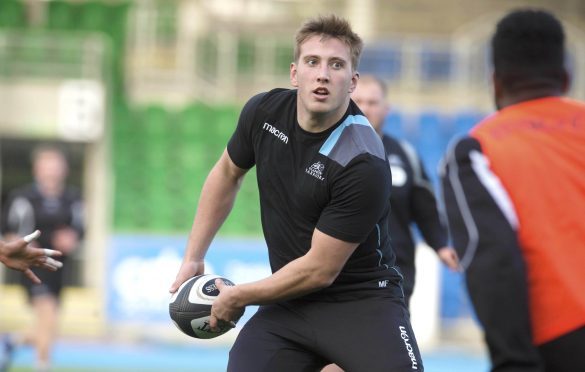 Zander Fagerson used to get a room on his own at the family home in Kirriemuir but at Scotland camp he has to camp down with younger brother Matt once again.
The 21-year-old is back in camp and straight into the matchday 23 for the Guinness Six Nations meeting with Italy in Rome after missing the first two games with a cracked rib.
That came on the back of a three-game ban for his first career sending off, and also narrowly missing out on the Rugby World Cup means it's been an odd sort of season for the young back-rower.
"There was about six weeks during the World Cup when I had games for Glasgow and that was great fun," he said. "Then came the ban, then the injury, and I was a bit frustrated at not being able to play.
"I couldn't play against Sale away and all the boys did so well, and while you love seeing that you're kicking your got heels because you just want to be out there. It's been a bit stop-start, but it's been really important to keep positive all the time and making sure you don't dwindle off and put on kgs. I was losing my mind a bit but coming back has been good.
"It was weird being off for that long in mid-season but I just sat down with the S&C boys and planned out what I needed to do, and what I wanted to achieve."
The time spent in the gym was adroitly chronicled by team-mate Gordon Reid on social media, showing Matt leading the Warriors weights group in a spirited rendition of "Let It Go" from Frozen, but there was serious stuff to be done as well.
"We targeted the Zebre game so that came out quite well," he said. "To get a run on Friday for 50 minutes and score a try, just to get a rugby ball in my hands again and get a lot of contact in, that was good, and then I got a text from Gregor after the game telling me to report on Sunday."
The "unlucky" part is that he has to share with Zander, but he finds his first camp since the summer warm-ups for the World Cup to be a pretty positive place despite the two losses in the championship so far.
"My rib injury came just as the squad was getting announced," he said. "Really, there's a much better vibe in camp and everyone's really positive.
"They might have been two losses but they were really close and the boys played really well. It's not like anyone's heads are down, everyone's just focused on Italy and not looking back to what happened over the last two weeks.
"There's been a few tweaks since the World Cup.  We've a different sort of defensive system and it just seems like a breath of fresh air with Steve (Tandy) coming in. He speaks really well with the boys, always gives positive feedback around helping them out when they do something wrong and everyone has clearly bought into it."
Scotland are confident heading into Rome, he stressed, believing they are on the cusp of a win to start forward momentum going.
"I think if you fear failure then you are waiting for it to happen, so I don't think anyone is thinking: 'what if we lose'," he said. "It's more that we're going out to do a job and if we all get our roles right then that should be enough to get the result, and show what we are all about."
The Fagersons are big on mutual support, and Zander helped his brother come through the frustrations of the sidelines even while focusing on his own performances.
"Having Zander and seeing (baby niece) Iona all the time has been a great help to me," he said. "I'm massively proud of him this year.
"When it comes to Scotland, I think his performances have been up and down, and he's been quite tough on himself when he's played.
"So, it has just been really good to see him get two games under his belt and been able to bring his form playing for Glasgow to Scotland. I knew he could do it, and it has just been really nice for him to finally realise is as well."