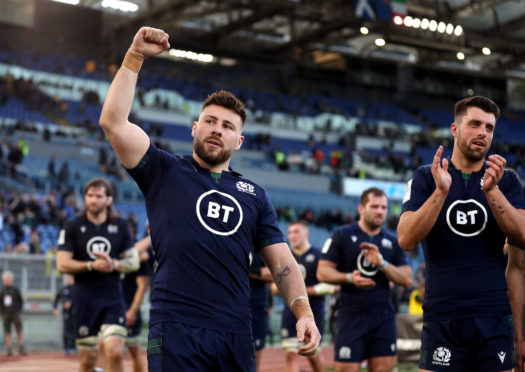 Scotland are building resilience and patience this season – however frustrating that might be to supporters seeking attacking rugby, says scrum-half Ali Price.
The Scots ground out a 17-0 against Italy in Rome to get their Guinness Six Nations campaign in 2020 off the ground at last, and Price believes they're now building towards better things, while conceding Scotland haven't exactly been easy on the eye, even in perfect weather conditions like a spring Saturday afternoon in the Stadio Olimpico.
"People can get frustrated with the kicking that's involved in these games, and the areas you play the game, but you have to build pressure on a team and get into the red zone," he argued.
"We still knocked on or messed up three or four other opportunities to score, and it's really a patience thing. The best teams in the world, when they get in the opposition 22, they come away with points.
"But we ended up scoring based on patience (Chris Harris' try after 17 phases at the Italian goal-line) and that try was nice. We've worked on it so hard. The last two weeks we've coughed the ball up cheaply in that area and you can question 'what are these guys doing at training?'
"But we practice it, we know what we need to improve, and it's nice to get a try on the back of some of the stuff we've highlighted ourselves.
"Sometimes that's what it takes. If you're not scoring first or second phase, or off counter-attack like Hoggy's try was, that's what it takes to break down these teams, regardless of who you're playing."
Captain Stuart Hogg was Price's roommate during the Italian trip and he gathered the team on the pitch before going in at half-time just 5-0 to the good despite having plenty of chances to put the game away.
"I'd actually coughed the ball up two metres from the line just at the break, and again it was a one-score sort of half," said Price. "We talked then and went back in the changing room and the message was just 'focus, we're 40 minutes away here from an away win in the Six Nations, which doesn't happen all the time.'
"It was about coming out in the second half and keeping that focus."
Price paid tribute to captain Stuart Hogg, who marled his first win as skipper with a glorious solo try.
"I had been rooming with Hoggy in Italy and that's the kind of guy he is. Things haven't quite gone right for him so far this tournament at certain times, but he's got these world class moments in him.
"He always goes on about not chasing highlights moments for yourself, that whole 'contribute to the team' thing. But that was a pretty good score."
He also feels half-back partner Adam Hastings came through a tough game smiling.
"I thought again he did really well," said Price. "There was a lot of pressure on him but so far he's stood up to every challenge.
"It falls on both the half-backs, I think. In parts in the first half, we maybe got away from what we've done quite well, especially in the Ireland game, in terms of where we want to play the game.
"I'm delighted for him scoring his try. It shows you the kind of character he is. Off the tee he didn't have his best day, and it would be easy for someone to go into their shell after that."
Lock Scott Cummings thought the team's defence came of age in Rome, shutting down the Italians and recorded a zero on the scoreboard.
"Steve Tandy has brought in a couple of new systems and everyone is getting on board with it really quickly," he said. "In the past three games we've only conceded 32 points in total, so we're happy with that. And we're keen to keep that going.
"There were a lot of momentsin Rome, Jamie Ritchie holding the guy up, Chris Harris stripping the ball, even Adam and Grant Gilchrist getting steals at the breakdown. Everyone is buying in and we're definitely getting that edge.
"As good as we were, we could have been better. We probably left a couple of tries out there. We've got something to work on.
"Keeping teams to so few points is great. There are still one or two things to work out in attack."