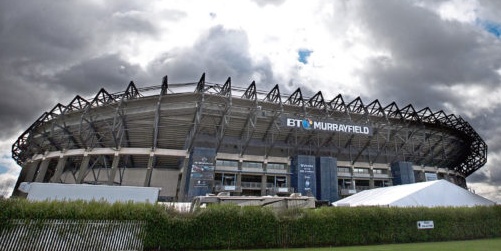 Scotland's professional rugby players will be invited to restart individual training inside a BT Murrayfield "bubble" from June 22 if the Scottish Government move to Phase Two of easing the COVID-19 lockdown next week.
Glasgow and Edinburgh players will been invited to "voluntary fitness sessions" in a controlled environment at the national stadium with social distancing with a view to building up conditioning and fitness for a return to contact rugby at the end of August.
In the meantime, Scottish Rugby are still keen to provide Murrayfield as a base to re-start football in line with the proposed August 1 deadline, with discussions continuing with Hibs and Hearts to use the plentiful space inside the stadium boundaries and the stadium itself.
Chief Executive Mark Dodson said that bringing players back into training was "the most welcome sign of change" and they would remain on furlough in the first phase of reconditioning.
"We've taken soundings from HMRC and they're very comfortable with this approach of voluntary training, an invitation to train," said Dodson. "Probably not all of our players will come in one group into BT Murrayfield at this stage.
"The fact of the matter is this is our first step on the way to getting our players fit, because as (SRU chief medic) James Robson said, this is the longest period of de-conditioning ever for some of these players. We're going to have to get them back aerobically fit and take our time to get them back into condition."
There were still key elements such as the relaxing of social distancing for the Autumn Tests which would play a major role in the game's health coming out of the pandemic.
"We're working really hard to make sure we get through this crisis in good shape, but the longer that this situation goes on without income for our business, the more fragile the situation becomes," he said.
"The issue around the Autumn Tests is crucial to us. The reason everyone is talking about social distancing reducing from 2m to 1.5m to 1m to zero is that it has a significant impact on how many tickets we can sell, how many people can come through the door and enjoy whatever Test schedule we can put forward.
"From where we stand at the moment, our presumption is that those Tests will go ahead behind closed doors until we're told different from government. We're hopeful that we'll be able to play with crowds for the Autumn schedule but we're not convinced and we've budgeted for the worst case scenario."
Moving to Phase Two of lockdown easing – expected to happen on June 18 – was crucial for forward planning, he added.
"Every time the variables move the revenue opportunities for the pro 14 or the autumn internationals, the easier it is on our finances and the less we have to refinance. That's going to be key," continued the chief executive.
"We haven't got our arms exactly round that yet – as you've seen over the past two or three weeks, things are changing very rapidly. Hopefully, on 18 June we will get the Scottish government to take us into phase 2.
"If that doesn't happen then all our plans move backwards."
Scottish Rugby's resources were not finite and redundancies within the organisation were possible, he agreed.
"We are looking at all of those options because we have to. We have to look at every single option to reduce our costs and get us through this issue.
"It is not something we want to rush at. These are people who have worked with us for a long time and they are highly skilled individuals. There is a cost both in terms of people and families and also in making redundancies. There is also a cost to the union in its ability to bounce back from wherever we are.
"All those things are been taken into consideration. You would expect us to look at every possible tool that we have to deal with this crisis."
The hope is to finish the Six Nations this autumn, followed by "some sort of Autumn Tests" schedule and for next year's Six Nations to be played as normal, as playing that behind closed doors or not all "is in a different world and a different level of fragility in terms of the finances – that takes us into the sphere of £40m losses," added Dodson.
Difficulties with international travel meant that the Autumn Tests might be against Six or Home Nations countries, he added.
"It's under consideration," he said. "It wouldn't be a full Six Nations but it would be a competition with the home nations and potentially all the Six Nations countries.
"It's not an exact science but 2m social distancing makes it very difficult to get more than 10,000 people into BT Murrayfield. You could probably get up to 30,000 into the stadium with social distancing being relaxed."
Discussions with Hearts and Hibs were at an early stage but Dodson believes Murrayfield is the perfect venue for re-launching all kinds of sport.
"We've got lots of room and we're practiced at putting on big events. We have the biggest stadium in Scotland and it's only natural that if you're going to have to be socially distant, the bigger stadium you have, the more chance you have.
"We've had conversations with Hibs and Hearts – they are at an early stage. Our intention is to work with the government and play a role in getting sport back being played. If BT Murrayfield can become a bio-bubble where we can safely get games played, we're very happy.
"Our pitch is designed to take multiple games. Our view is that it could do games on Saturday and Sunday, or a Friday and Saturday, it would easily be able to withstand that. We know the pitch is in outstanding condition and we think it could cope with pretty much anything you throw at it."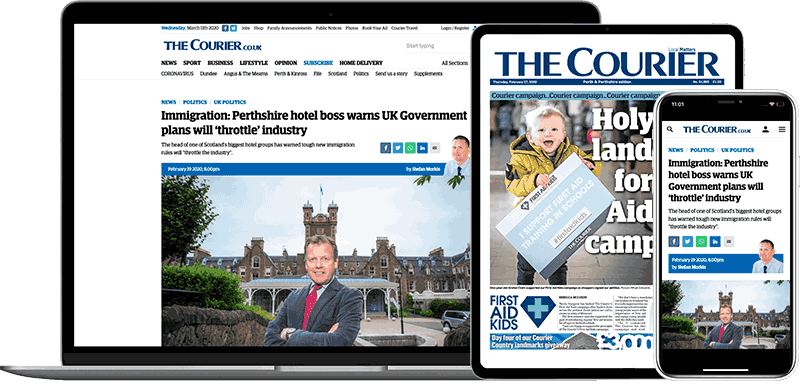 Help support quality local journalism … become a digital subscriber to The Courier
For as little as £5.99 a month you can access all of our content, including Premium articles.
Subscribe