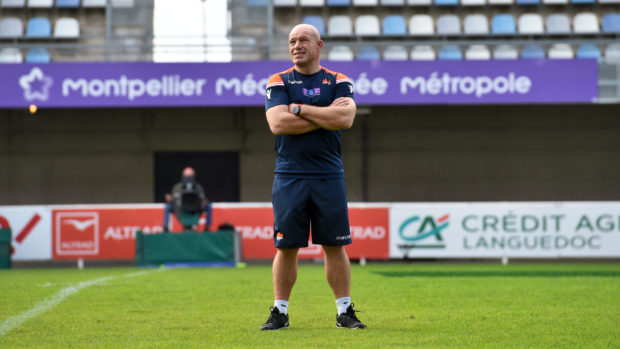 Richard Cockerill is not worried at being 0 for 4 in knockout games with Edinburgh, but he accepts that it's a record that has to change quickly.
The capital side still have something left in their 2019-20 season with Saturday's European Challenge cup quarter-final against Bordeaux, but the tremors of defeat at home to Ulster in the PRO14 10 days ago are still going through his squad.
Breaking their record of losing sudden death games in south west France is a tall order, but Cockerill still thinks it a development process – although he admits he thought and hoped his team were further down that path that they actually are.
"We've played good teams in those things," he said. "The first three we were still learning. Ulster was one we were good enough to win, and expected to win – or at least expect to turn up and perform and do what we say we're going to do, which we didn't.
"Am I worried? No, not really. I just think, clearly, we've got to get better. We're still on that path.
"When is that path ended, when we win a trophy? Well, we're 140-odd years old as a club and we haven't won one yet, so we're busting our balls to make that happen.
"I want to win now. I wanted to be in a final to give ourselves a chance at Leinster, who are obviously one of Europe's best teams. But it wasn't to be, because we weren't good enough. We've got to keep knocking at the door, and that's just what we're going to do."
They'll do that with as strong a team as they can muster in Bordeaux, where they lost in a pool game earlier in the year.
"You would obviously want to win the Heineken Cup rather than the Challenge Cup, personally I would rather win the PRO14 than the Challenge Cup. However, there are some very good teams in it. Bristol and Bordeaux – the best in France for the past 12 months – are the two stand-outs, Toulon are a pretty good team as well.
"If Bordeaux were in the Heineken cup quarters they'd be as good as any team that are there. I don't think we've ever underplayed being in Europe, whether it is the challenge cup of the premier competition.
"We have always wanted to do well in Europe and always wanted to win. I don't think we are a good enough team historically to start picking and choosing competitions. We are in this one and we want to go as far as we can.
"I will pick the best team that is available and I think is ready to win the game. We have some positions of depth, but I will pick what I think is the best team of guys to play in the quarter-final."
The style of the team won't change, but they won't be invited Bordeaux's runners on to them like they did to Ulster, he stressed.
"If you are 12-0 up under your own sticks do you need to force the game?" he continued. "I am still happy for us to counter attack and off turnover ball, but against a big French side away from home we can't overplay and waste our energy on something that does not work.
"When we played well at Montpellier and won at Toulon away from home, tacticallly we were very good and frustrated the opposition and we end up with positive results.
"Maybe this weekend we won't be favourites, so we just go and play and anything is a bonus so maybe we play with a little less fear and we don't worry."
Edinburgh are looking at short-term loans for second rows with Fraser McKenzie out for several months, Lewis Carmichael having concussion issues and the November test series likely to strip them of their frontliners Grant Gilchrist and Ben Toolis.
"It's going to be a challenging time, because we have a recruitment freeze, and we're going to play more Test matches, and Super6 is kicking in and all various things," he said. "It's going to be a test of the resources of Scottish rugby for both pro teams around what's left over.
"I get that the Test arena has got to be the priority for obvious reasons, because it's the Test team and financially. Hopefully we can create some revenue through that stream."