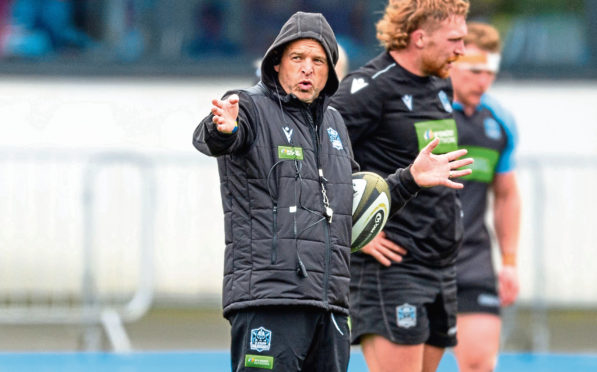 Just before Glasgow's less-than-stunning first win over Edinburgh at Murrayfield in eons last month, a journalist colleague of mine said to me about the Warriors, "Yeah, they're going to struggle this year, aren't they?"
This would seem to be the consensus about the club for the season starting next week – in Connacht, as usual. There's not been enormous enthusiasm – misguided, I would say – about Danny Wilson's appointment to the head coaching job.
A swathe of experienced campaigners have retired or moved on, and Jonny Gray, the last homegrown totem of the 2015 PRO12 champions, has departed southward for more reward, like Stuart Hogg and Finn Russell before him.
Covid-19 hasn't allowed Wilson to recast his squad exactly the way he'd want it. Warriors fans waited with growing impatience throughout the lockdown for news of signings, and in the end they got the welcome retention of Leone Nakarawa, who will probably be unavailable to the club until December, and an Argentinian prop.
Wilson's been unable to sign a full-back, or really bulk up the pack like many believe to be necessary. Like Richard Cockerill along the M8, he's going to to have to lean on the academy this season with an extended international programme taking away many of his top players for long periods.
In a Q and A with my friend Stuart Bathgate for The Offside Line website, Wilson didn't commit his side to aiming for the PRO12 title but said the play-offs were, as they have been since 2010 or so, the minimum target. No change there then, if slightly modestly presented.
But I'm not entirely convinced by this general acceptance or assumption of regression from the Warriors. This is still a significant squad.
We all know that Leinster are likely to retain the title again even at this early stage. They've been blooding their academy players as a matter of course for the last two seasons, and recent games have suggested their IIs are actually a more effective unit than their supposed first XV – a lengthened international schedule isn't going to hurt them.
But it will to every other squad in the league, and the financial restrictions that apply to Edinburgh and Glasgow also apply to the Irish and Welsh clubs. The other clubs in the league are facing the exact same personnel problems as the Scottish ones, and maybe from not quite as solid a financial foundation.
And what has changed anyway? The nature of the PRO12/14 – qualifying for the playoffs, anyway – has always been about how the team performs in fixtures during the international windows in November, February and March.
Glasgow are in case in point. Whenever they've had a positive record in the windows, barring the truncated season just passed, they've been a playoff team. The one time they didn't, in Gregor Townsend's last year, they missed out.
There will be an element of step-up for the Warriors fringe players. But they're actually in a decent place there, the likes of Ryan Wilson, Rob Harley and Peter Horne are coming to the end of their international careers. That's a strong backbone of experience and leadership.
I think the move of Huw Jones to full-back will hamper his international prospects with Stuart Hogg and Blair Kinghorn having that area sewn up – he doesn't agree, for what that's worth – but a player of his vision and pace in more open space seems to be positively exciting for this campaign.
Also, we'll see more of Jamie Dobie, of Stafford McDowall, of Robbie Nairn and other young emerging players who didn't get as many looks as they perhaps should have under Dave Rennie.
Glasgow have been handed a tough tier ranking for the shortened European campaign, but when their internationals are all present this is a formidable team.
The Fagerson brothers will now take on full leadership roles, Scott Cummings as well, and I'd always been kind of puzzled why Fraser Brown didn't get more of an official role as team leader in the past. Well, now he has.
The excellent scrum-halves Ali Price and George Horne – with Dobie coming up fast – pair up with Adam Hastings at half-back. We're still waiting for Adam to develop into a consistent international 10 but has all the tools and on his day he can be devastating.
Add in Sam Johnson, Nick Grigg, a full season of Tommy Seymour, the athleticism of Ratu Tagive and the wildcard that is Nakarawa when he settles back in, the Warriors should be fearing no-one.
A struggle this season? I really don't see why it should be.
A mess of their own making
With no end in sight to spectators bans, the RFU and English Premiership clubs have sounded the alarm bells.
The SRU had always budgeted for no fans at the internationals in November, but it seems this will break the RFU, the richest and best-resourced organisation in the world of rugby.
The Prem clubs, with one or two exceptions, have been paying ludicrous salaries to players for years. They got a massive financial influx of millions from CVC less than a year ago, and yet they're going cap in hand to the government?
Covid hasn't helped, but this financial mess is largely their own making.