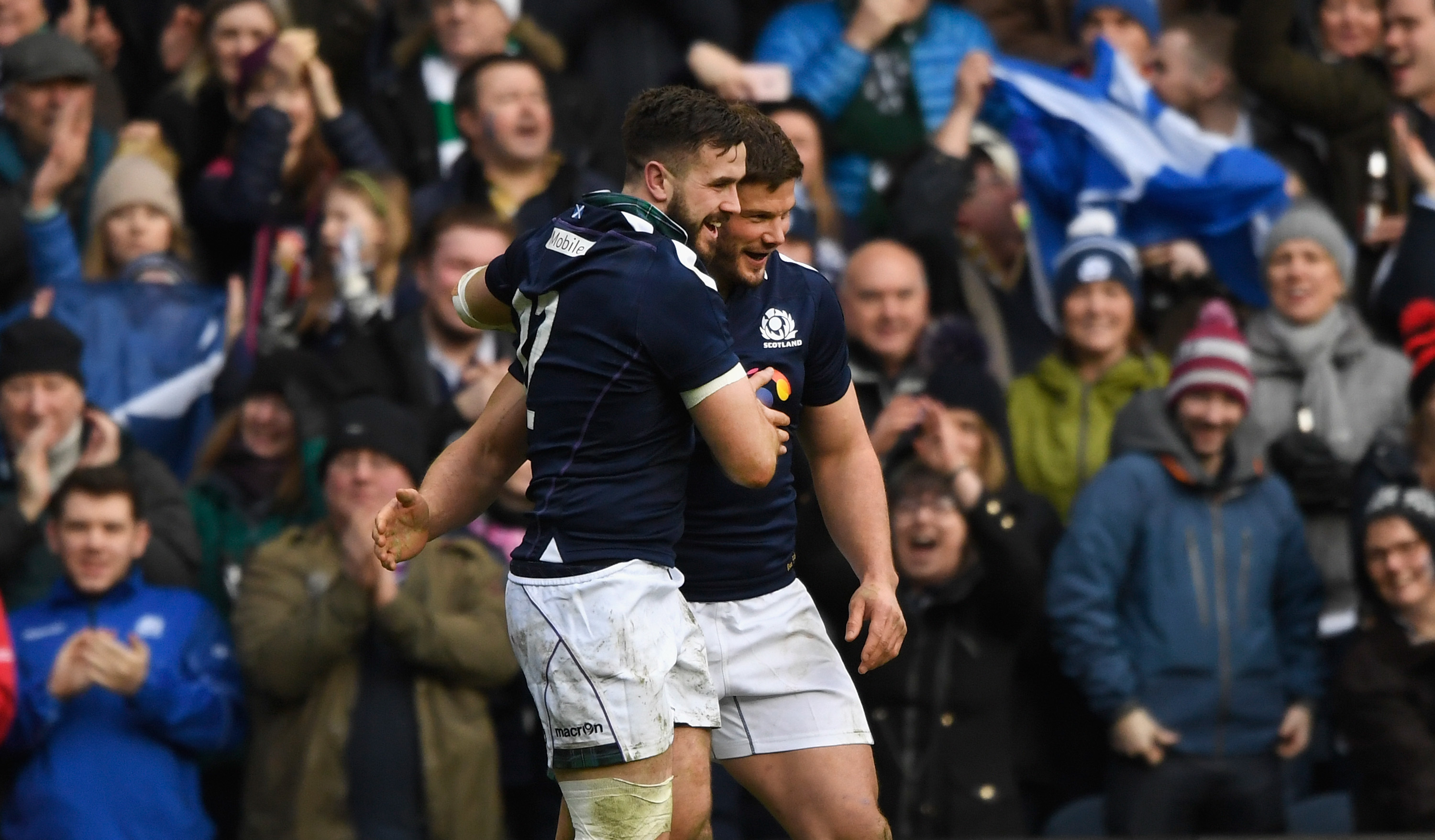 Scotland's most innovative move of the victory over Ireland was formulated in the mind of forwards coach Jonathan Humphreys, although the sight of backs in the lineout was not a complete surprise.
Glasgow Warriors have on occasion brought in Alex Dunbar or a scrum-half at the front of the line, although they've never thrown to him or any other back for a try like Saturday's.
"What can I say, I've been trying to get among the forwards all my days," joked Dunbar, who detailed the pre-planning although whether the ball came to him or not depended on how Ireland reacted to his presence in the line.
The Scots got into position because of a botched exit between Conor Murray and Rob Kearney creating a turnover, and a deft grubber kick by Finn Russell forcing Simon Zebo to concede the five metre lineout.
Then they brought out some of the innovation that has been much more visible since Jason O'Halloran became attack coach last year.
"Jason's making a claim, but it's one of Humph's," said head coach Vern Cotter. "He's been dying to bring it out. I wasn't that sure whether we were going use it or whether we should have."
The man who made the onfield call was lineout captain Jonny Gray, and it formulated with Greig Laidlaw, Tommy Seymour and Dunbar as the unlikely trio at the front of the line.
"Me and Tommy were marked at the front," said the skipper. "It's what happens when you bring the backs into the forwards. A wee bit more brains in there, you become very dangerous!"
Ireland initially lined up marking the front men, but just before Ross Ford threw they switched. Irish skipper Rory Best was left at the front marking Laidlaw and Seymour, while crucially Tadgh Furlong turned his back on Dunbar to prepare to lift Iain Henderson, and the ploy was on from that moment.
The Scots had their regular lineout men stacked at the middle and tail of the line and Ireland bought it, expecting the catch and drive that is their own attacking staple in the position.
Instead, with their personnel looking to get Henderson and Devin Toner up in the air to defend, Ford threw a quick flat one straight at Dunbar, who wasn't even touched until he dived over with Zebo and Conor Murray too late to stop him.
"It was a move we'd worked on a little bit," said Dunbar. "They set up to defend my bit and as Jonny made the call they moved, so there was no one marking me.
"The throw always depended on how they marked it up."
"It worked out pretty well, but I'm not planning to do too many in the future."