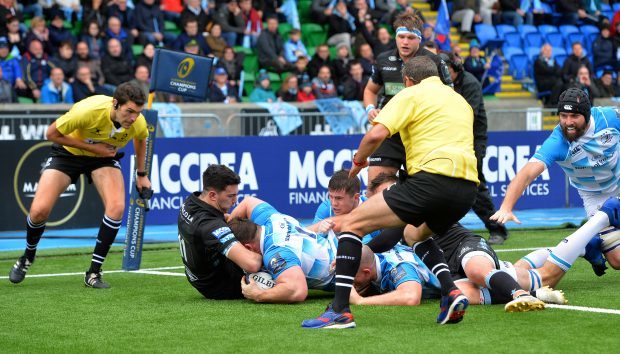 Even by the bi-polar standards of Scottish Rugby optimism, this has been a chastening two weeks.
On the crest of a six-game winning streak to start the PRO14, with new head coach Dave Rennie impressing with his philosophy and – it appeared – adding a sharper physical edge to the team, Glasgow entered the European Rugby Champions' Cup in great order. Some observers – no less a figure than Brian O'Driscoll for one – had them as dark horses to win the thing.
Two weeks later, following the 34-18 loss to Leinster on Saturday, the Warriors are all but out of the competition – it will take four bonus point wins to make the quarter-finals, and even then it's still a long shot.
Pessimism – and more injuries, this time to the entire starting back row of Callum Gibbins, Ryan Wilson and Adam Ashe – has returned swiftly, even perhaps overlapping into Scotland's Autumn Tests campaign, the squad for which is named by Gregor Townsend today.
Glasgow were after all the standard bearers for Scottish rugby, but in 14 days Rennie has learned the underlying truth of the Northern Hemisphere game at the very top level; it's all about brute power.
To be fair, a coach as good as Rennie would have known this all along. It was interesting to hear his lieutenant Jason O'Halloran last week make the point that while the last three champions of the PRO12 have played open, running rugby, European rugby was a whole different ball game.
Still, even knowing that, the deficiencies that caused Glasgow's rapid demise in this event are the same that caused their premature exit two years ago, and ultimately their departure at the quarter-final stage last year. A bigger, well organised pack mauled them into submission, like Northampton did in 2015-16 and as Saracens did last year.
This had the same depressive feeling as the Northampton losses rather than the pragmatic acceptance of last year. Leinster are a pretty good team – better than the Saints were by far – but probably still not of the very top physical order represented by Saracens or Clermont-Auvergne.
It shows how far Glasgow have to go, which both Rennie and O'Halloran tacitly conceded, the head coach with his admission that come the next round of ERCC fixtures in December the Warriors may be thinking pragmatically about the league rather than their remaining four European games, now effectively dead rubbers.
In any case it doesn't seem he can truly compete with his present personnel. Some of us hoped that Rennie had an enlarged squad to fight on two fronts but a couple of injuries and the underpowered front five were exposed.
Glasgow have a clear deficit of dominant ball carriers, compounded by the fact they let a very good one in Josh Strauss leave in the summer. The very promising lock Scott Cummings could be one, but where do you put him without sacrificing Jonny Gray's enormous industry or Tim Swinson, the only Warrior who seems to know how to stop a driving maul?
Zander Fagerson, George Turner and Jamie Bhatti need many more miles on the clock before they can match with the likes of Cian Healy, Sean Cronin and the outstanding Tadhg Furlong, much less even more seasoned and savvy front rows in Europe.
Finn Russell might come in for some criticism this week for his increasingly outlandish attempts to generate some kind of forward momentum in the late going, but that was because a point-to-point game was getting Glasgow nowhere. There's no point castigating Russell or Peter Horne for trying something when everything else is floundering.
And the margins are gossamer-thin. Stuart Hogg lit up Scotstoun with a brilliant run and a great try on his return, but at 10-3 ahead what looked like a magnificent clearance kick from his own five-metre line went touch in-goal at the other end.
If it had skewed to the sideline Leinster would have a defensive lineout in their own 22 and probably have to kick out and surrender possession in their own half. Instead, they had a scrum near the posts and a platform to attack and the points that inevitably accrued gave them the foundation to exert their gameplan.
Many pointed to Leinster's decision to keep playing deep into red-time at the end of the half, where they eventually scored for undeniably the key counter in the game. But without that critical if marginal error of Hogg's kick, they wouldn't have even attempted it.
Once the disappointment of this last fortnight subsides, the interesting aspect is how Rennie copes with the next six weeks, when he has to juggle players on Scotland duty while finding a solution to bridge the obvious power gap. The likes of Ulster, Ospreys and obviously Leinster themselves will have taken detailed notes from Saturday's game.
December, as Rennie indicated, might be a testing ground for a solution. In the meantime, expectations have lowered considerably at Scotstoun, and as far as Europe this season is concerned, there are none remaining at all.