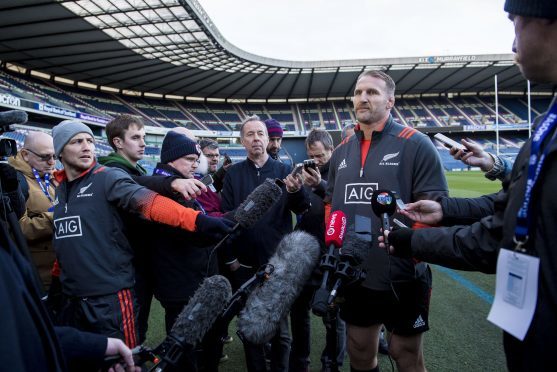 In 112 years, Scotland have tried everything to beat New Zealand short of tripping up their captain, although the present one suspects that might have been the plan nine years ago.
Kieran Read has fond memories of BT Murrayfield as it was here he made his international debut in 2008, his first experience wearing the famous All Black jersey before seven years later he was to succeed Richie McCaw in the distinguished lineage of captains stretching back through Sean Fitzpatrick, David Kirk, Andy Dalton, Tane Norton, Ian Kirkpatrick to Colin Meads.
What he remembers most is that it went "pretty quick", swapping shirts at the end with Jason White – "an awesome man" – and the start.
"Firstly I was trying not to fall over because it was pitch black out here when we ran out," he said speaking to the media at the side of the Murrayfield pitch before New Zealand's final training run. "That wouldn't have been a good look in my first test."
The atmospheric dimming of the Murrayfield lights will probably be tried again tonight, although it's never been any more successful than anything else Scotland have attempted. The only blatant tripping done in the fixture was however by an All Black, the legendary Meads, who was sent off in 1967 for it – and of course that did no good either, as the depleted New Zealanders still won 14-3.
New Zealand have been doing their usual humble thing this week, much talk of respect for Scotland's improvement since they were last here three years ago and got away with a 24-16 win, the closest contest since 1991.
The fact that they've picked indisputably the best XV available for the first time since 2010 – when they gave Scotland a 3-0 start and then scored 49 unanswered points with Sonny Bill Williams running riot – is evidence of that new respect.
It's perhaps too readily appreciated by Scotland, however. Assistant coach Mike Blair strained credulity yesterday when he said the Scots were "chuffed to bits" with strength of the New Zealand team.
"I think it's great for Scottish rugby, and I think it's particularly great for the players," he said.
"They get to face the best team, a lot of the best individuals in the world, and it's great for our crowd to get to see them.
"But it's also a fantastic opportunity to mark ourselves up against them. To see exactly where we are."
Everyone agrees if Scotland are where they were last week against Samoa, it could be another of those occasions you watch through the fingers and stare at the match clock trying to make it go faster.
Zinzan Brooke, who was given to a bit of flash himself in his day, described the 82-point Scotland-Samoa clash last week as "like a Barbarian game" and predicted that the All Black might score 80 on their own if Scotland played such an open game.
Blair, however, and the rest of Scotland's coaching team are sticking to their stated aim of playing at a fierce tempo even though that might be pouring oil onto the flames against the team who do that better than anyone.
"We'll try," he answered when asked if the Scots could match New Zealand for pace of game. "There's a balance. You can't play the fastest tempo rugby in the world the whole time.
"We feel we've got a squad capable of playing that type of rugby and other types if required.
"They've got a pretty strong set-piece and maul game as well, so it's mixing up our game. It might be that New Zealand come out in the first five minutes defensively and do something differently from what we've seen previously and we'll have to adapt to that.
"So we've got a few things up our sleeve and that's up for the game managers, Ali (Price) and Finn (Russell) and John Barclay to choose the right options."
This isn't the All Blacks first XV – Dane Coles has gone home after injury against France last week and Brodie Retallick, the extraordinary second row, has not toured. But it's a long way short of being weakened the way the All Blacks were in recent defeats to Ireland in Chicago, or to Australia in Brisbane, and even to the Lions in the second test in the summer.
There's been an inkling in those matches that with certain key players absent – Read, either one of the front line locks, the playmaker Beauden Barrett or the "glue" in the defensive backline, the criminally underrated Ryan Crotty – the ABs could actually even be vulnerable.
But it's just an inkling. Scotland were competitive and nearly won three years ago because they made almost zero errors and Richie Gray gave the All Blacks fits at the lineout the same way Ireland did when Retallick and Sam Whitelock were absent in Chicago.
No error rugby and a cutting edge – with Finn Russell coming out of the shell he was in against the Samoans absolutely essential – is what Scotland have to do to even get close today. And even then, so practiced and efficient at their speed game are the All Blacks that it's probably not going to be enough.
The other option is of course Scotland not regaining the defensive excellence they showed in Sydney when they beat Australia, but lapsing into the hapless state they were against England in the Six Nations and Samoa last week.
And they're about to face an attack far better than either of those opponents. The respect Scotland have gained even in New Zealand eyes could yet be obliterated by the most ruthless outfit in world sport.