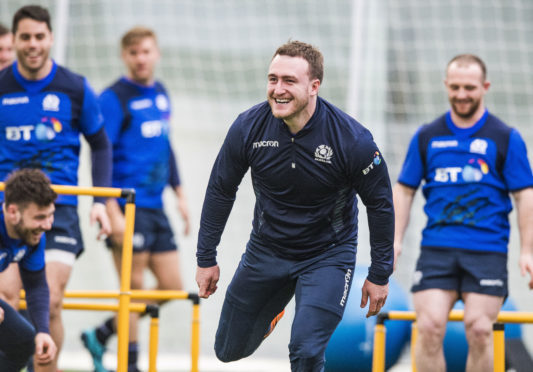 Even equalling a record Scotland have achieved only once in more than 90 years will not satisfy Stuart Hogg from this 6 Nations season – the title is the only aim.
If Scotland can beat Italy in Rome on Saturday, they'll have won three games in the 6 Nations in successive seasons for the first time, and the first time in the championship since 1995 and 1996. Before that, you have to go back as far as the legendary teams of the Roaring Twenties who won three or more games in 1925 (Scotland's first Grand Slam team), 1926 and 1927.
Hogg however dismisses that historic milestone, and believes the team should be aiming higher to the title that's eluded Scotland since 1999.
"I think we're going in the right direction," he said. "The way we try and play – quick tempo, keep the ball in play for long periods of time, back our fitness – we're going to win games.
"We're on the right track but it is all about learning and improving and looking to get better and better – and ultimately picking up titles.
"This week we're just concentrating on getting the victory and if we do that then we are three from five and we give ourselves an opportunity to finish as high up as we possibly can.
"But we want to win titles and this time last week we were very much in the situation where we could do that. So we viewed the Ireland game as a semi-final and, unfortunately, we came up just short."
For Hogg, it doesn't look like this will be a third successive campaign in which he wins player of the tournament, but he loves it just as much as ever.
He continued, "I've maybe not made the breaks that everyone's used to, so people say I'm having a stinker! But I'm fairly happy with the way I'm playing – I've done what I have to do in the games.
"Obviously, I'd love to be making these clean breaks but Huw Jones seems to be stealing them all off me this year!
"But seriously I'm loving it. The boys are playing incredibly well and Gregor is very much attack focussed. We analyse teams on opportunities we get in attack and you'll see that in the set-piece plays we try to execute – getting our fast guys on the ball with time and space.
"And you can see that we can get ourselves out of tricky situations as well. Huw's second try against England, there was a third phase part to that play but he's executed it so incredibly well in second phase he managed to go on and score."
Hogg is also involved much more in the game's more prosaic duties and – even though he's still just 25 – a leadership role.
"Gregor made me a vice captain and then dropped me from it," he laughed. "But I'm very much part of the leadership group and helping make on-field decisions.
"Everybody has a lot of experience within the squad now – you only need to look at Finn and Greig at half-back.
"I've also been doing more kicking to touch, it gets me involved in the game and takes a little bit pressure off Finn.
"The kicking game is a real strength of mine so I want to put myself forward to help out the team. I'm enjoying the responsibility and hopefully it continues."
Leadership and more gambreakers around him means Hoggy is more circumspect about taking on opposition defences and not trying to win it all by himself.
"I think you can see that in my performance when I have not had the ball for a while and they kick to me," he said. "It is not trying to get an absolute belter of a line-break or a try – it is doing the correct thing for the team.
"That is something I've learned over the last few years – there is a time or a place. Trying to keep the ball in play as much as I can is all well and good, but the boys up-front might be knackered so it is sometimes about getting the carrot in front of the donkey with a clever kicking game.
"It is about being mature."
Scotland have won nine out of the last ten games against the Italians, scoring at nearly 30 points a game in that run, so has the fear of being sucked into their physical game like in the past now receded?
"When we get our things right – our set-piece going forward and execute our plays well – we are going to pick up points," said Hogg. "We're more than capable of keeping that scoreboard ticking over, so, if we can execute everything and defend well then I think we are going to be in a good place.
"Against Italy Ireland took every single opportunity to score but then switched off a bit and allowed Italy to play a little bit in the second half and they scored three cracking tries.
"They are a fantastic team with fantastic individuals so we are going to have to be on our A game to get a good victory.
"It's a hostile atmosphere. If we sit back and let them play then that will bring the crowd into it, and they are very vocal. It is always difficult playing away from home in that kind of situation
"If we don't get our things right then we are going to get beaten, and that would be the worst thing which could possibly happen.
"We don't want to finish off like that. We've enjoyed each other's company over the last few weeks and we want to go out on a high with a couple of quiet beers on Saturday night to celebrate."