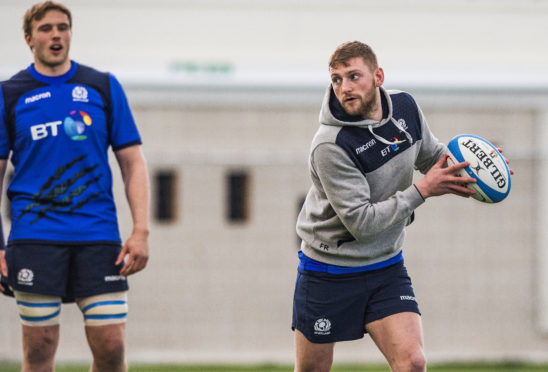 Finn Russell doesn't feel the extra responsibility as he looks to take on a bigger leadership role with one of his "wingmen" absent in Rome tomorrow.
The Scotland stand-off has been helped through the last three games with Peter Horne at inside centre helping with communication and organisation but his Glasgow Warriors team-mate has dropped to the bench with another Warrior, the more direct Nick Grigg, preferred for the tactical challenge of the Italians.
Russell still has Grieg Laidlaw on his inside to guide him but he admits that Horne's presence does take the pressure off.
"It does help me having Horney as a 10-stroke-12 outside me in terms of managing the game," he said. "Nick is a different  kind of player, Horney's distribution is a bit better but Nick brings physicality, ball-carrying and tackling.
"I've played with him quite a bit at Glasgow. He is a very good ball carrier, a bit like a pinball at times when he bounces off a few tacklers to make extra yards, which is great to have. On defence he is great at the low chop (tackle) getting them to ground.
"(The change) won't affect me personally. I will be on to Swigsy all week and chatting to him a lot. He has not played that much for Scotland yet but having Horney there on the bench to guide him will help him as well."
Russell has quite happily surrendered some of the responsibilities, however, giving Stuart Hogg the line-kicking duties.
"It doesn't bother me, in fact look how (Hogg) kicked against Ireland," he continued. "He spiralled one kick 60 metres. There is no point me kicking 30 metres when he can kick 60!"
There will be no compromise of Scotland's style despite the loss in Ireland, where so many chances were made and missed.
"Oh, we are definitely going to stick with this style of rugby," continued Russell. "We have had a couple of great wins and against Ireland we created a lot of chances that we probably should have finished.
"The style of play is working, we are scoring some great tries, we are playing good rugby and we are definitely going to stick with that. It doesn't matter who you are playing against or what kind of tournament it is, you want to try to win. We won't be going into our shells because we got beaten last week."
The difference is improving accuracy and discipline, he continued.
"We gave them a lot of penalties, similar to the numbers they gave us, but we gave them away in crucial positions, about three in their 22," he said.
"Obviously the last ball not going to hand didn't help either. Other days these balls go to hand and we are up there competing against anyone."
There's also no question of underestimating Italy, despite the Scots recent solid record against them – 9 wins in their last 10 meetings – and the Italians staring down another whitewash and wooden spoon.
"I don't think their record is a true reflection of how Italy have played," he said.
"We have to play at our best to beat them and stick to our structures. We can't afford to make silly mistakes against them. They are an international team. They are a dangerous team in defence and attack.
"They come out with different strategies to catch you off guard. We need to be ready for anything as well as playing our best to take them on and beat them.
"But the way the team has played against Italy the last couple of times has been great, and this is the last game of the tournament and we want to finish on a high."