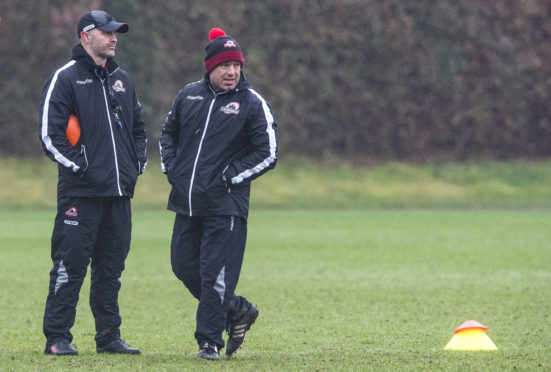 Flush with confidence on an unbeaten run and poised for knockout rugby on two fronts just two weeks ago, Edinburgh are in a "must-win" situation when Scarlets come to BT Murrayfield in the penultimate conference game in the Guinness PRO14, believes head coach Richard Cockerill.
The capital side still need five points from their final two games to clinch an unexpected playoff place, but against what Cockerill calls "the best two sides in the competition", with the European Champions Cup semi-finalists here this week and Glasgow Warriors in the regular season finale two weeks after that.
"I've tried to keep the pressure off the team around performing, but the reality is that we have to win (against Scarlets), because we're running out of games," he said.
"We've had a tough run and it's a tough couple to finish off, the champions and then Glasgow – the two best sides, probably barring Leinster, in the competition.
"We need to get it right. We need to be motivated. And I've put the pressure on the players that we have to perform. At some point we have to realise that it's a professional game and we have to deal under pressure.
"Some of our guys aren't used to it. I'm pretty much used to it. We have to win."
The successive home defeats to Cardiff and Ulster has taken the wind out of Edinburgh's sails at the crucial point in the season, Cockerill is only too aware the chance they could be left short at the death.
"One game was a blip, and that was Cardiff. Twice is not a blip," he said. "We have to look at some of our fundamentals. We have to understand what playing in essentially knock-out games is like.
"For example, against Ulster we're five points behind with five minutes left in the game, they have a speculative cross kick, regather the ball, we miss tackles, then miss tackles on the goal line, they take five points from the game and we take nothing.
"If it stayed at 4-1 points-wise, it's a 10-point difference in the conference between us and them instead of eight. That's not good enough, we need to manage the game better."
Expectation had grown from the long unbeaten run from January through March, he suggested, and the team hadn't dealt with it very well.
"We're still learning," he continued. "We're nine months into trying to turn this team around and suddenly everyone expects us to start competing for the league because we've had a half decent season.
"The truth is we've still got a long way to go, but we've got a position where I'd expect us to be better, and if we'd have played anyway near as well as we can we would have been able to win the game on Friday."
Perhaps the players did think they'd "cracked it" during the run since the New Year, he admitted.
"Maybe that's the case," he agreed. "The games we've won by close margins, we've worked bloody hard the whole time and when the whistle's gone, the scoreboard's in our favour.
"Maybe (in the last two games) we're just waiting for someone else to do it because the stakes are a bit higher.
"When you're underdog and nobody expects you to get the result, it's a bit easier, isn't it? And sometimes the luck goes against you."
Scarlets may not travel north with their best team given they have the European semi-final in Bordeaux next week, but Edinburgh's attitude should not change, added Cockerill.
"They're six points ahead of us, so whatever happens with this result they'll still be ahead of us and they've got Dragons to play," he pointed out.
"But whatever team they pick, they'll be good. They're champions, they've got a strong squad, and maybe they'll pick a more motivated team than the one that's coming here the weekend before the semis.
"We still have to get our stuff right. It's a very dangerous thing hoping they'll bring a second team and hoping they won't play very well and maybe they'll be a bit sh**ter than us.
"I'd rather concentrate on us playing well and focus on that. If they bring a full side, great, we'll play against a full side. If they don't, it doesn't matter, because they're still good players."