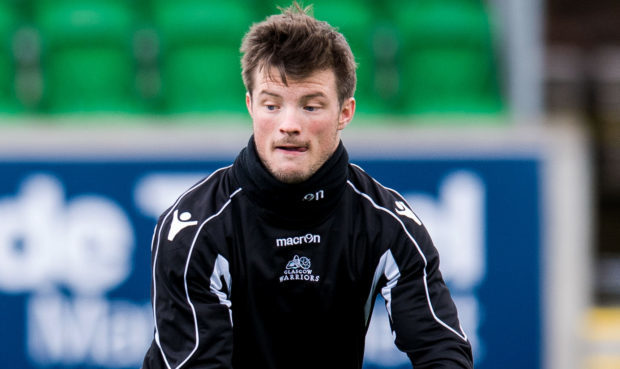 Dave Rennie's favourite "freak" George Horne and half-back partner Adam Hastings get the first look for the Glasgow Warriors in Connacht as the Guinness PRO14 season starts with orders to reproduce their form of last season.
The youngsters impressed in their first season and they get the first use of the shirts at the Galway Sportsground, the starting point for the Warriors season for the third year in succession.
Glasgow won both those games and indeed haven't lost to the western Irish province since the play-off semi-final three years ago at the Sportsground.
Hastings played in the wind and rain last year but Horne has kept impressing Rennie after his summer spent with the Scotland squad on tour in the Americas.
"George's a bit of a freak when it comes to his aerobic and anaerobic capacity," said the coach. "He came back from the tour and did another PB on his Bronco Test, so he's as sharp as you'd expect."
The Bronco Test – pioneered by the Brisbane Rugby League variety – is a speed and endurance test running between 20, 40 and 60 metre distances against the clock and without rest. A good time is below five minutes, and George's best of 4.14 is "world-class" according to Rennie.
"He had a good season last year and he's keen to build on that," continued the coach. "He had a good season last year and he's keen to build on that.
"If you go away with the international team and you're playing with the best guys in the country, and a quality coaching group, then get an opportunity against the States and Argentina, there's no doubt he's more confident. Hopefully we'll see the benefit of that."
Rennie is happy how Hastings has gone at 10 in pre-season, and Peter Horne will line up a 12 for extra assurance and organisation.
"Peter will help Adam," continued the coach. "He had an excellent international season himself last year and played a lot at 12, but he just wants to play, he doesn't care whether it's at 10 or 12.
"He'll play a fair bit of ten for us as well, but we're very happy with how Adam's gone so far. It'll be another test for him tomorrow."
A backline packed with international class is expected from Glasgow, but it's the forwards where the big improvement is required.
"What we learned last year is that it doesn't matter how well you start, it's how you finish," continued Rennie. "That doesn't mean we don't want to start well, because you've got to do so in this competition, but we got ourselves in a good spot last year and didn't finish off.
"We've got to make sure we've got a full squad to choose from, that we've got competition for places and that we're really fresh and enthusiastic in the latter part of the year."
A full season of big men like Oli Kebble, starting at loose head, and Brian Alainu'uese, who is returning from injury soon, would be a help, agreed the coach.
"Oli's a big man, very powerful, a very strong scrummager, and we didn't get an enormous amount out of him last season because of injury, so we're excited," said Rennie.
"There are a few big men in our squad who we probably didn't get a lot of game time from last year, guys like Brian and Oli is one of those as well. He's got himself in good nick so were looking for a lot from him.
"We've had a look at the footage from Connacht's previous two or three games. Pre-season has gone well for them, they'll use what's a pretty impressive back line, and they've stressed opponents so far.
"We'll give them some respect because we're aware of their threats, but we think there are a couple of places where we can target them. It's a challenging place to come to in round one but we're ready to go. It's been a long time preparing for this."
Glasgow (vs Connacht, Guinness PRO14, Galway Sportsground, ko 3pm live on Premier Sports): Stuart Hogg; Tommy Seymour, Nick Grigg, Peter Horne, DTH van der Merwe; Adam hastings,m George Horne; Oli Kebble, George Turner, Zander Fagerson; Scott Cumming, Jonny Gray; Rob Harley, Callum Gibbins, Ryan Wilson.
Replacements: Fraser Brown, Alex Allan, D'Arcy Rae, Adam Ashe, Chris Fusaro, Nick Frisby, Alex Dunbar, Niko Matawalu.