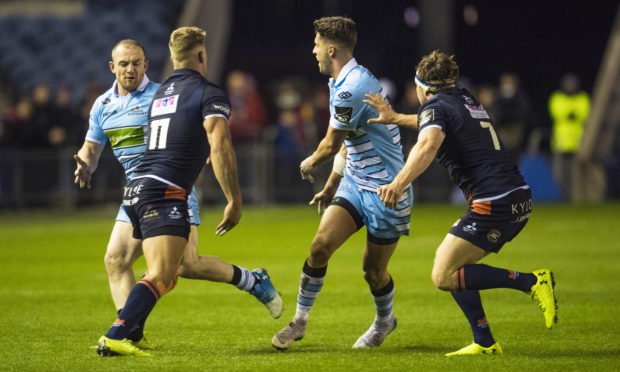 Richard Cockerill still won't relinquish tag of underdogs going into the second game of the 1872 Cup despite Edinburgh's reasonably comprehensive win in Saturday night's opener and the growing evidence that they have the number of the Glasgow Warriors.
The Edinburgh head coach manfully resisted the urge to appear too pleased with himself after the 23-7 win at Murrayfield just about ticked off every one of his pre-match jibes about the high-flying Warriors and their "pinup" players.
An little aside at the end of his Friday press conference, noting that Adam Hastings had told the BBC in an interview that Glasgow were targeting 10 points from the two festive derbies, turned out the most productive of all.
The young playmaker's brilliant season so far stalled on a dreadful day, having two of his passes intercepted for tries by Duhan van der Merwe, effectively good for 14 points on the night, and being pressured and hurried for the hour he endured before being hooked.
It was Edinburgh's seventh win in the last eight meetings of the teams at BT Murrayfield, their sixth win in the last nine clashes anywhere – not even Leinster give the Warriors so many problems as their inter-city rivals.
Despite all the evidence, Cockerill is determined to cling on to the impression that his team are a mere bunch of doughty overachievers compared to the superstars of the Warriors.
"One hundred per cent," he said when asked he could play the underdog card again. "They're are top of their pool, they've got a stellar squad of big names in that backline.
"We are Edinburgh and we do what we do; we haven't got the depth that they have. The sum of our parts is the key for us, the bit that is really important.
"We rely on team spirit and good cohesion and good strategy. We don't rely on giving it to a bit of stardust to give us some magic because we don't have it.
"They are at home (this week). They have all the national players."
Uncharacteristically, Cockerill did blow the trumpet for his team – and his job in the last 18 months – while still stressing they had some way to go.
"For me, it's not about being favourites or not. it's about making sure we are consistent," he said. "When I arrived 18 months ago, this team was a bottom-four team that nobody respected. 18 months later we are a team that has some cohesion.
"We are working hard and (have) bloody good players. Give it another 24 or 36 months, who knows?
"I said at last year, we ain't going away. We're going to stay here for a long time and were going to get better."
Cockerill does believe that Scotstoun this week will be a different contest, given Glasgow's home record is every bit as good as Edinburgh's.
"They are a good side and this will be another game, another opportunity," he said. "We had a bit of luck tonight; we forced things with our defence, they made some errors and we scored off intercepts. That's unlikely to happen next week.
"We've got a huge amount of respect for them. But we play how we play, we do what we do, and will see where we get to."
Dave Rennie thought the game "had shades of last year, to be honest"  but apart from a quibble about scrum interpretation, he accepted Edinburgh deserved their win.
For Hastings, Rennie has no doubt that he has the confidence to bounce right back.
"He is a young man who is desperate to perform well," said the coach. "Yes, he made a couple of errors tonight, on the big stage in front of the whole Scottish public, but he is a good kid and a good player and he'll learn from that."
Glasgow captain Callum Gibbins also pledged his support for his young stand-off.
"We're not too worried," he said. "It's a loss and it's obviously disappointing, but we'll sit down afterwards and have a look at things.
"We'll talk about the areas we need to improve and it's probably going to come down to us big boys up front.
"Adam will be alright, he's a man. He's a grown-up – he'll look at his game and know where he went wrong, and we'll help him along.
"I've got to look at my game, too. If someone wants to give me feedback, then I've got to look at that and take it onboard."
The philosophy is the club would mean there probably will be changes for the return game at Scotstoun, he agreed.
"I wouldn't be surprised if there were a few changes next week, Rens picks his team on form," he continued.
"If you get a shot to perform, then you better make sure you go and perform. If not, then you're probably out."