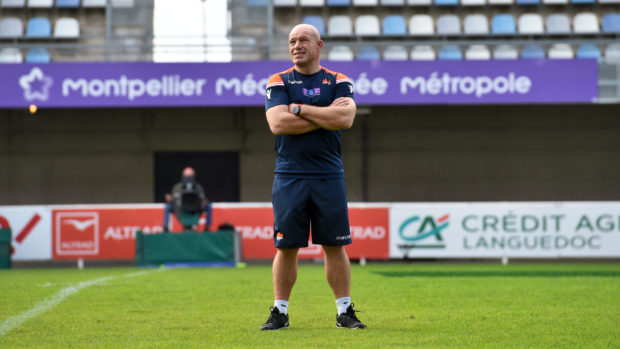 Edinburgh are a better team than last year and a better team than when they played Montpellier only three months ago as they head for Friday's group-winning contest against the French side at BT Murrayfield, believes Richard Cockerill.
The head coach is still fighting to maintain underdog status as his team carry all before them, the latest being the stunning victory away at Toulon on Saturday, describing Vern Cotter's team as "A listers", but there is a definite expectation growing that the capital side's collective can take them to win on Friday and clinch Pool 5 in the Heineken Champions Cup.
"Coping with expectation is the next step, isn't it?" he said of Edinburgh now coping with expectation. "But we're a better team than last year – I think we're a better team than when we played Montpellier in the first round.
"We went with optimism to Toulon, but did people really think we could go and win there? I'm not so sure. But we believe in ourselves and the players did themselves proud at the weekend.
"Do we expect to win (on Friday)? Do people expect us to win? I'm not sure. But we've got respect from the competition, we're under pressure and I want to see how we react to that, because it's the only way for us to learn.
"We might fall flat on our faces at the weekend and we might lose, but that's sport, that happens. The only way for us to develop as a team and learn as individuals and for young players to get experience is to do these things."
Montpellier's stellar squad barely got over the line at home against Edinburgh, but they've got back much of their best players and the winner of Friday's game could get the ultimate prize of a home quarter-final.
"We still are underdogs, look at our squad and theirs," insisted Cockerill. "I am not sure we are meant to win, but we will go out there, gumshields in, sleeves rolled up and we are going to get into the middle of it and see where we get to.
"People will come and watch and be really interested because we don't know what is going to happen. I am the coach and I don't know what is going to happen!
"Let's enjoy it and go and have a crack. Their squad list is pretty impressive, but I like to think when you look at our squad list, we get the best out of them and there are some good players there, I want to back our guys and we are playing to win."
Toulon is already history as far as he's concerned.
"It's the job in hand we're thinking about," he continued."We have a really good opportunity to qualify top of the group and have a home quarterfinal so that's our ambition.
"I don't want us to be congratulating ourselves too much because we've actually achieved nothing yet. We can still not qualify, or we could end up somewhere very, very hard in the quarter-final.
"Getting to the quarter finals would be a great achievement for us but we've given ourselves the opportunity to beat home and finish top of the group, so I want us to take that.
"Reflecting is for retirement. It was a great win and the players should take credit for that, but now I want to win on Friday and I want a home quarter-final."
It could still come down to "tiny moments" because they'd already had a huge effect, added the coach.
"At the end of the first game (against Montpellier), they intercepted and Chris Dean and Darcy Graham tackled (Louis) Picamoles on the line, which actually saved us the bonus point," he pointed out. "That bonus point has turned out to be quite important, hasn't it? So it's all small margins.
"They've won one of their last 13 European games away, and that was at Glasgow. They've got some world class players, they've got good staff, they're a good club but we're going to do everything to win on Friday night and I believe we can do it if we get it right."