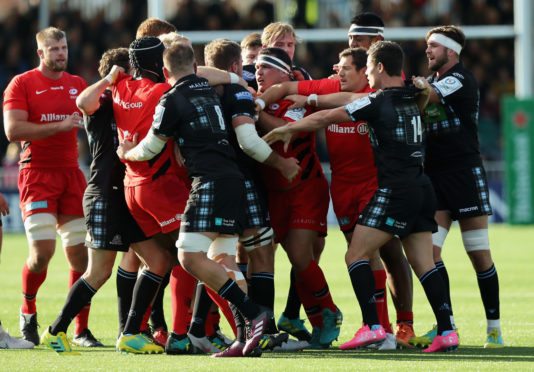 Ryan Wilson claims to be an innocent bystander when the pushing and shoving starts but he'll not back down an inch at Saracens this weekend in the return of October's bad-tempered Heineken Champions Cup clash.
The discipline of both sides was on the edge at Scotstoun with a lot of afters going on, Maro Itoje taunting Glasgow players "celebrating" a try that was not given, and Wilson was right in the thick of it, as usual.
"You must think that because I'm mostly involved in it, but maybe that's because I am provoked," he said with just the suggestion of a smile. "They come up against us and say: 'he's the guy who is mostly involved in it, so let's get stuck into him'."
"But yes, I enjoy it. It almost became a bit of a joke at the end in that game here, because it must have been every five minutes play stopped because of pushing and shoving.
"We know that they are going to be physical, and they are probably one of the worst teams for mouthing off and celebrating in your face, so we're going to go down there and embrace it, and we'll see how we deal with it on Saturday."
Another scrap between the two sides in the quarter-final two years ago saw Saracens – the eventual champions that year – wear down the Warriors with power, but Wilson agreed it was because too much focus was on the English team and not enough on themselves.
"I think that week we changed quite a lot, which was quite strange because when you get to a quarter-final you want to try and play the way that got you there," he recalled.
"So that's something we've learned from – we've said we want to go down there and play the game we want to play, stick to our systems and don't change anything for them.
"This time our destiny is in our own hands. It was when we played Cardiff to get the bonus point, and we achieved that, so it is the same this week that we have no other outlook than to go down and get the win."
The game in October, won 13-3 by Saracens, was one of missed chances for Glasgow which they can't afford to repeat at Allianz Park.
"The game came down to those two or three key chances that we should have taken, and we didn't, so we've got to be clinical and make sure we come away with points every time we get into their 22," he said.
"On the defensive side of things we need to make sure that we are on-point because they've got a dangerous attack, and they've got a brilliant kick-chase, so they will be looking to put pressure on us there.
"There is no better time to ramp the physicality back up when you are going to the two times champions of Europe. We have taken December as a lesson in what we needed to change and it acted almost like a kick up the backside.
"I don't think we got too comfortable, but we just needed something to help us refocus. So, it might be a good thing, we'll see on Saturday.
"When we are under pressure we are probably better, and we've got it all to play for."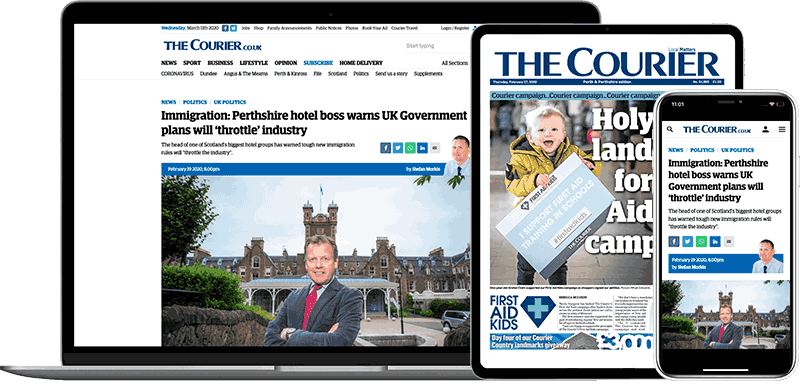 Help support quality local journalism … become a digital subscriber to The Courier
For as little as £5.99 a month you can access all of our content, including Premium articles.
Subscribe