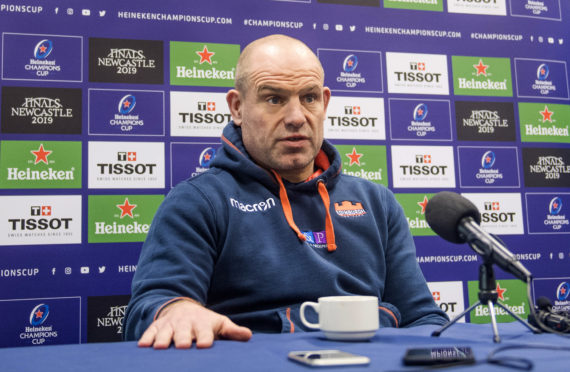 The "quieter" fans of Edinburgh are stirring, and Richard Cockerill doesn't want his team to let them down with their big chance for a home Heineken Champions' Cup quarter-final at BT Murrayfield tonight.
The head coach has named an unchanged team for the game that will decide the winner of Pool 5 against former Scotland head coach Vern Cotter's Montpellier, who themselves have named a powerful side with as many as nine South Africans in their starting XV.
Already 9000 tickets have been sold for the game – roughly double Edinburgh's regular home attendance – and with a wet and sleety night forecast, Cockerill wants a hostile atmosphere for the French side.
"There is a lot of rugby support in the city," he said. "They want to support a winning team and we are getting that for them. The supporters are just a little bit quieter than others and I'm learning that is different Leicester and Toulon or other places.
"People who came to watch us in Toulon had a very positive experience. When I arrived I said I wasn't surprised that people didn't come and watch because we weren't a very good team.
"Now, we are a good team, we're doing some good things and I'd really like as many people as possible to come and support their city team because the lads are doing the job.
"They are a team to be proud of, a team to come and watch, a team to be associated with because of what they're doing. It's going to be dark and it's going to be cold and a bit wet, but I hope the crowd comes out in force to support their city and their team."
Cockerill has a lot of respect for Cotter, who he locked swords with when the Englishman was at Leicester and the New Zealander at Clermont.
"He is a very good coach," continued Cockerill. "Last year they were the best team in France by far and they just weren't very good for one game, which unfortunately was the final.
"He did a quality job at Clermont, a very good job here in Scotland. By their standards, and with the squad they have Montpellier are probably not doing as well as they would like.
"But Vern is a good rugby man who knows the game very well and he coaches his teams very well. I look forward to the coaching challenge as much as anyone else."
Montpellier come to Murrayfield awash with Springboks and their strongest side on paper, but they have a lamentable away record in the competition, with just one win in 13 games on their travels.
"It's a very strong team, 9, 10 and 12 are all Springboks, There's another at 15, there's the du Plessis brothers and and (Louis) Picamoles has unbelievable quality," said Cockerill.
"However, we feel that the sum of our parts is just as strong. Their individuals might be very strong but the weather's going to be cold, and the sleet and the rain coming down."
Discipline has been a key for Edinburgh in this European campaign – no yellow cards and just six penalties conceded in each of the last three games – and it will be crucial again, he added.
"They've got a very big pack and if you invite them into your half of the field easily they will cause you problems," he continued.
"So discipline is always important and we've been disciplined because we want to win; we don't want to give anyone opportunities for free."
Cockerill feels his team are ready to grasp the chance they've made for themselves.
"We probably never thought that we'd be in this position at the start of the pool stage, but we've worked hard and we've got the results, and now we want the home quarter-final," he said.
"It was a big ask for us to go and win last week but we did it and we deserved to win. It's going to be a really tough game against Montpellier and it's a game we could easily lose, I'm very aware of that.
"But it's also a game we could easily win. There are some games you just need to win, and this is one of them."
Edinburgh (v Montpellier, Champions Cup, Murrayfield, 7.45pm): B Kinghorn; D Graham, J Johnstone, C Dean, D van der Merwe; J van der Walt, H Pyrgos; P Schoeman, S McInally (capt), WP Nel, B Toolis, G Gilchrist, J Ritchie, H Watson, B Mata. Replacements: D Cherry, A Dell, S Berghan, F McKenzie, L Crosbie, N Fowles, S Hickey, JP Socino.
Montpellier: F Steyn; T Nagusa, A Vincent, J Serfontein, H Immelman; J Goosen, R Pienaar; G Fichten, B Du Plessis, J Du Plessis, N Janse van Rensburg, J Du Plessis, F Ouedraogo, Y Camara, L Picamoles (capt). Replacements: V Giudicelli, U Tcheisvhili, L Chilachava, K Galletier, Y Reilhac, B Paillaugue, V Martin, P Willemse.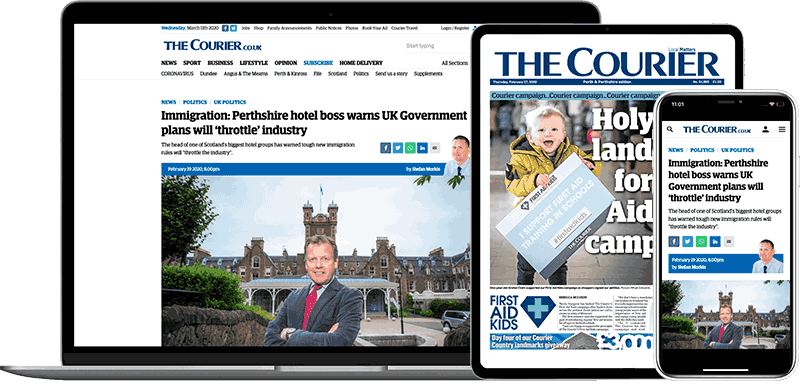 Help support quality local journalism … become a digital subscriber to The Courier
For as little as £5.99 a month you can access all of our content, including Premium articles.
Subscribe