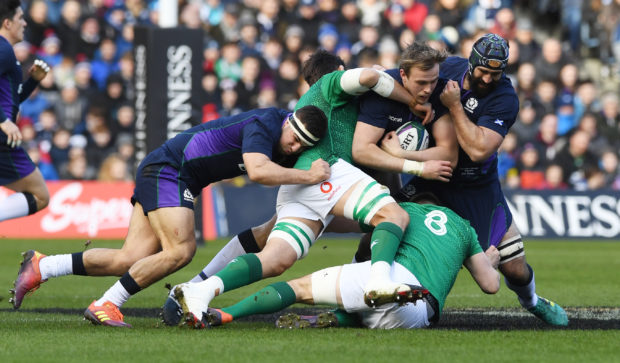 Here's Scotland's second half performance against Ireland in their 22-13 Guinness 6 Nations defeat laid out in the simplest terms.
Penalty against, knock on, forward pass, tactical kick in play, knock on, penalty kicked for three points, tactical kick to touch, penalty against, lineout lost.
Those were Scotland's nine possessions – that is, when they had hands on the ball – in Ireland's half during the second 40 minutes on Saturday. Only one of the nine, the penalty kicked by Greig Laidlaw when Josh Strauss had carried strongly after a turnover by Jamie Ritchie, was inside the Irish 22. All but two others were barely over the halfway line.
"You don't become a bad team overnight" was last week's cliché of choice, used to suggest Ireland would be back after their sobering mugging by England. But of course you can – you can actually become a bad team at half-time, as France proved in week one of the 6 Nations and Scotland did their best to emulate on Saturday.
They weren't exactly faultless in the first half, but one least had the impression that the Irish were under pressure and there seemed to be something building. But the litany of simple errors gifted the Irish all their points, and similar mistakes on Scotland's own ball on the second half, however, meant the whole thing fizzled out like a leaky balloon.
Ireland, who might have been struggling if Scotland had got into any kind of lead – especially after being two tries to the good in the first quarter and being hauled back – instead got off the hook.
Murrayfield was left with that empty feeling of missed opportunity which is so familiar to regular attenders there. Even the pre-match East Stand display – not sure what it was meant to be but one suspects a certain beer sponsor will be hugely disappointed – was a half-hearted affair, not nearly enough fans holding up their coloured cards to make anything remotely legible.
The second half of the actual match was grim fare compared to the frenetic nature of the first, but this was exactly as Ireland wanted it. As Gregor Townsend bemoaned later, simple errors on first or second phase ball stopped Scotland from the controlled chaos they desired, and which had been reasonably effective during the first half.
At 12-10 down at the break, the Scots had every right to be optimistic. The mistakes that led to Ireland's two tries and the loss of Stuart Hogg had been shrugged off, and if there was any momentum in Storm Erik swirling around Murrayfield, they had it.
A penalty or drop goal in two prolonged series of attacks within the Irish 22 in the last ten minutes of the half, and the Scots would actually have led at the break.
But Scotland were listless after half-time. It started with Jonny Gray penalised for a clearout beyond the ball – harsh, thought Townsend, but justifiable despite Sean O'Brien's histrionics – and then every set play seemed to break down.
The decisive moment to the match was Ireland scoring to increase their lead off their own mistake, Joey Carbery recovering a wild pass and going through a double tackle from Allan Dell and Rob Harley.
Townsend thought this was "an unlucky collision" but when two forwards get their hands on a rangy but slight stand-off, he clearly has to be stopped. Carbery didn't have the pace to finish his break but found Keith Earls with the scoring pass.
Still, after Laidlaw's penalty on Scotland's only second half sojourn into the Irish 22, at 19-13 it certainly wasn't cut and dried. Then Blair Kinghorn, who actually did really well in place of Hogg, spilled a catch under no pressure.
27 Irish phases later, a tiring Josh Strauss didn't roll away and Carbery closed the deal for Ireland with the penalty.
In the final quarter, Scotland's lack of depth off the bench with the current long list of injured came to the fore again. Glasgow's front row reserves and Harley, no matter how talismanic he is for Glasgow, are simply not of the standard required at this lofty level.
Fraser Brown and Peter Horne, the two subs fielded of some test quality, hadn't played for more than a month. Ben Toolis, who had been excellent against Italy and has been consistently good for Edinburgh, inexplicably sat on the bench for the whole 80.
Scotland's frustrations boiled over with some – notably Laidlaw – pointing the finger at Romain Poite, and as usual there will be this pointless and largely inaccurate rant at the referee.
We'd be howling and accusing the Irish of another silly conspiracy theory – like the perennial lateness of their team bus and Scots "targeting" Jonny Sexton – if the incident involving Stuart Hogg's shoulder injury had occurred the other way around and been penalised.
Peter O'Mahony, although a profoundly irritating opponent who plays on the edge of legality, did not blatantly obstruct the full-back.
Some have made a career in the media out of referee baiting, but the for the rest of us there should be acceptance that we're not going to get Nigel Owens or Wayne Barnes or Jerome Garces all the time, and Scotland's ills were, as always, entirely their own doing.
Of course one half doesn't really make Scotland a bad team. But it certainly should disabuse them that they are nearly the finished article: this game was a huge examination on that, and unquestionably failed.
The next examination, in Paris against a French team in disarray, will ultimately decide whether this 6 Nations is continued progress or a huge step back.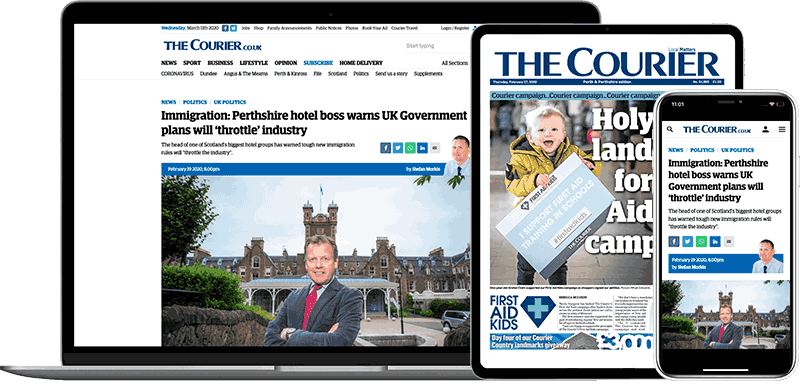 Help support quality local journalism … become a digital subscriber to The Courier
For as little as £5.99 a month you can access all of our content, including Premium articles.
Subscribe