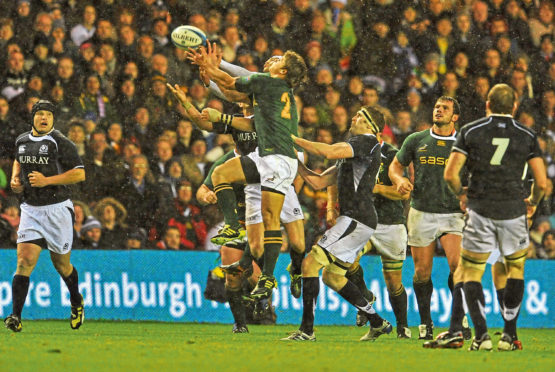 Taking a breath from the all-encompassing tension that is the modern Guinness 6 Nations, let's go back in time to when rugby was truly great.
Actually, let's just go back in time. Shortly before Scotland played South Africa in November, your correspondent looked up the last time the Springboks had suffered defeat to the Thistle, just to jog the memory because I couldn't recall a damn thing about the game.
It was in 2010, not that far back. Scotland won 21-17, and you'd think a rare victory over one of the Southern hemisphere's big three would have stayed clearly in the mind.
But as the entire game unfolded on Youtube, it became perfectly clear why I hadn't remembered much about it.
Because it was awful. Dreadful. 80 minutes of pure, unadulterated, boring guff. One line break made in the whole game as far as I could see – by Richie Vernon, who was a replacement that day.
Balls dropped, lineouts missed, and silly penalties conceded. Granted, it was the way Scotland played in those times under Andy Robinson; defence, setpiece, grunt and Dan Parks' boot. But I was amazed at how terrible it was.
The writer Michael Aylwin did some even more deep research on rugby past, opting to watch, in full, the second and fourth tests of the British Lions triumphal 1971 tour to New Zealand; you know, two of the most legendary rugby games in the history of these Isles.
You've have seen bits of these games before, if you're half-interested in rugby; Gerald Davies scampering away, the legendary Barry John cutting an arc to the posts at pace, the great All Black captain Ian Kirkpatrick on the charge, JPR Williams dropping a goal from halfway.
But you've probably not watched all of it. Aylwin did, for the Sport500 website, and took notes. There were 48 scrums in the second test, he notes, and 52 in the fourth. There were well over 50 lineouts in both matches.
100 setpieces a game. Saturday's game between Scotland and Ireland was pretty setpiece-heavy for rugby in the 21st century yet had just 35, 14 scrums and 21 lineouts.
The difference is obvious: the players were amateurs, and there were many, many more mistakes in the game in 1971, and many, many more kicks to touch. But as Aylwin pointed out, it is now excruciating to watch for anyone who has become accustomed to the modern form of rugby.
These columns have often railed against the sepia-tinted notions of rugby past; specifically in Scotland, were there are a number of downright myths accepted as gospel truths about our rugby history.
Scotland had a very good team in the 1920s and 1930s, and again from around 1984 to about 1999. The current team are fairly good as well; the first Scotland team to run a positive record (ie win more than lose) since rugby went pro.
At all other times, especially the 1950s, 1960s and 1970s, and the 21st century right up until Vern Cotter came along, we've been fairly rubbish, sometimes appallingly so.
Generally, when rugby wasn't very good, Scotland were even worse. Now it's a fairly competent sport in terms of execution while, in my opinion, retaining most of the ability to excite in terms of flair. Scotland, although still short of the goal as Saturday proved, are at least among the better of nations at present.
It's not nearly golden age stuff yet, to match the inter-war years or the Grand Slam years of 1984 and 1990. But there's at least the potential threat at a time when the sport is being played at a better and more entertaining level than at any time in its history.
And don't let the sepia-tinted mythmakers tell you otherwise.
On the other hand…
Here's a short list of things I absolutely loathe about 21st century rugby.
*Backs, especially wings, running 50 metres to hug and slap props and locks on the back when they've "won" a scrum penalty or a maul.
Please. You have no idea how this has happened – even the ref probably has his doubts – and you had nothing to with it. Stay away.
*Replacements warming up in the in-goal area joining in the mass-hug celebrations of a try.
Honestly, a try-scorer rises to his feet to be greeted with a team-mate in a bib 80 per cent of the time these days. You're not on the pitch yet, so don't get involved.
*Self-righteous supporters demanding you "respect the kicker" or risk excommunication, or something.
Listen, Munster fans, it's great that this is your thing. But not everybody has to do it.
Give me France, where at least they're barefaced and honest; they want the opposition guy to miss.
*The crossing penalty. Literally seven times out of ten this is a timing mistake, and even if it's not, the "obstruction" is at least an attempt to be positive against swamping defences.
It's a cheat, yes, but it's a small cheat and rugby is chock full of cheating anyway; you know, the stuff people call being "streetwise".
The punishment – probably facing a defensive lineout in your own half – doesn't fit the crime. A free kick should suffice.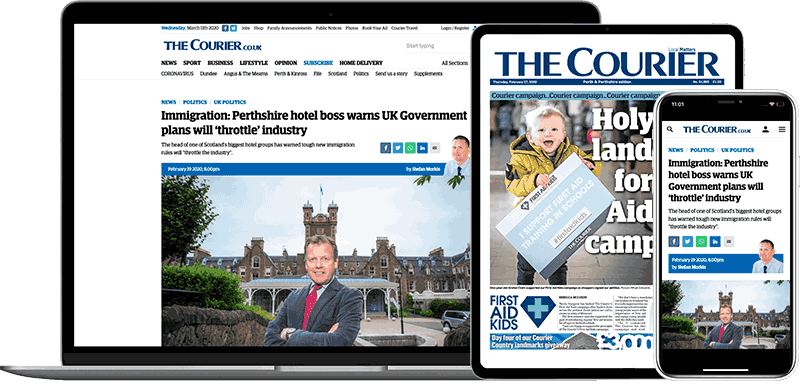 Help support quality local journalism … become a digital subscriber to The Courier
For as little as £5.99 a month you can access all of our content, including Premium articles.
Subscribe