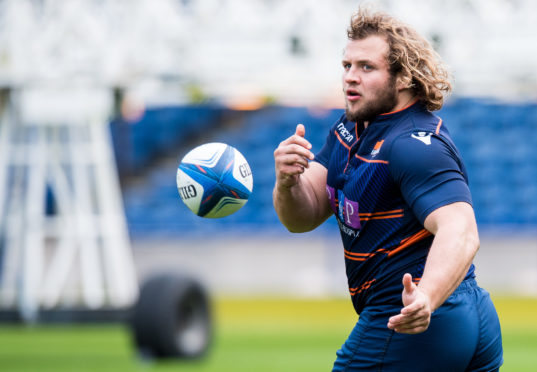 Edinburgh's Pierre Schoeman couldn't resist a little dig at his countryman Johaan van Graan ahead of the Heineken Cup quarter-final at Murrayfield this weekend.
The Munster head coach was with the Bulls and the South African national team before he succeeded Rassie Erasmus at the twice-European champions, while Schoeman also played for the Bulls at both Super Rugby and Currie Cup level.
"I know Johaan's dad Barend quite well, he was CEO at the Bulls when I was there," said the prop. "Johaan's mentality is the same as it was at the Bulls, all about a big forward pack, dominance and physicality at setpiece, scrums and mauls, that clinical sort of stuff.
"The usual way used to be "two pods, two pods and then give it to the backline". It seems like now it's "two pods, two pods, then an up and under"! I think Duhan (Edinburgh wing van der Merwe) is going to have a stiff neck from looking up all the time after this game."
Edinburgh play much the same style themselves, of course, and Schoeman is relishing the two big packs coming together in a proper physical contest.
"Coach Cockers has done some work already in the past two days in preparation, and there's some battered bodies already," he said.
"You can't take the foot off the pedal in games like this. You've even got to go twice as hard. I know you've got to be wise as well, but they manage us very nicely.
"Coach Cockers has been through a lot of similar situations as a player and a coach, so he knows what it's about. There's a big focus on the scrums and set-piece and the only thing about that is you you have to walk the walk, you have to train it. There's no other way."
Schoeman knows Munster's Arno Botha and Chris Cloete well but just missed CJ Stander before he left for Ireland, and he knows they're all attuned to the big match atmosphere expected this weekend, with the record crowd for a UK Heineken quarter-final expected at Murrayfield.
"Playing Super Rugby in South Africa and Currie Cup semi-finals and finals in stadiums with thirty or forty thousand sold out, we're all used to that," he said. "But I must say, playing with my Edinburgh brothers here in Scotland, it's going to be nice.
"This is the sort of game I came here for.  It's going to be almost like a test match for the fans and for us. It's great to have the international guys back as well, taking the leadership roles and the building composure in the team for the big match games we have now like Munster this weekend.
"It gives me a taste of what the Six Nations was like. I watched most of the Scotland games at Murrayfield, and I'd like to play in front of those kinds of fans. Being watched by 60,000 people, going into Edinburgh city centre after the game and just enjoying the whole thing with the fans."
Schoeman has quickly become a fan favourite and a key figure with the club, but he feels he's still learning about things in his first season.
"I'm very pleased to have settled in, but I must give credit to coach Cockers and the management, as well as my team mates.
"You learn a lot from guys like Ross Ford, Stuart McInally, WP Nel and Allan Dell, guys that have been there in international rugby, not only club rugby.
"Guys like Fraser McKenzie who have been here decades. You learn a lot from them not only about the culture, but about discipline, how you go about big games like this."