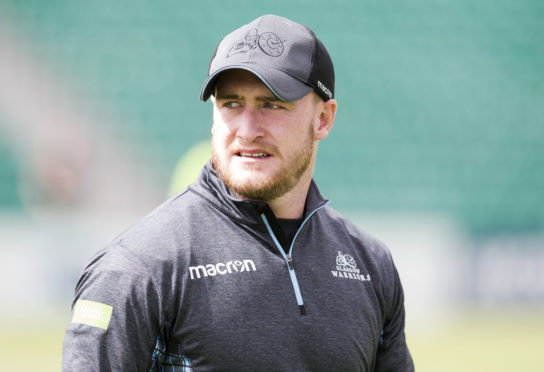 Stuart Hogg says the crushing disappointment of the Heineken Cup loss at Saracens has motivated him and the squad to get one more piece of silverware before this era is done.
The full-back leaves the Warriors at the end of this term and Friday's Guinness PRO14 play-off semi-final against Ulster will be his final home game at Scotstoun, where the club have finally found a home during his time.
"I had two seasons at Firhill, I'm older than I look," he joked. "But this place means a great deal to me.
"Since a large majority of the squad came in 2010, we've been growing ever since, and it's a special place to play. If I get the opportunity to play at the weekend, I'll relish it, and hopefully use it as a chance to thank the fans with my performances over the next couple of games, and hopefully we can win some silverware.
"The main focus is to get into that final, it is going to be an enormous task for us but one we can hopefully go out there and grab with both hands."
But it was the defeat at Saracens that has changed Glasgow's attitude towards the final stretch of the season, he agreed.
"That was a great opportunity for us to do something special in Europe, but in trems of what has happened since it was probably a good thing to happen to us at that stage of the season.
"It was the manner we were beaten – we didn't front-up, we didn't take our opportunities apart from in the first minute, and we got schooled. It gave us the rocket up the backside we probably needed and it's put us in a good place now.
"We said after the game that if we keep playing like that then we're going to win absolutely nothing. Everyone saw in our performance the week after against Ulster that there was a huge shift in the way we played.
"We're in a great place. The last few games three has been a real clinical edge in our attacking game and taken our opportunities when they have been on offer.
"We'll just keep working hard this week and start getting excited. It is a huge task for us but one that we are excited for. We believe we can win."
Ulster lost 30-7 at Scotstun just a few weeks back, but there is plenty to convince that it's going to be much closer this time.
"I think the last time we had low possession stats, so we'll be aiming to look after the ball a lot more," he pointed out. "If you look at the two scores that Tommy (Seymour) saved for us, it would have been a completely different ball game if they'd got them.
"We'll have to be defensively solid throughout, and get into their key threats so they don't build any momentum.
Hogg will come up against fellow Lions Rory Best and Iain Henderson, who both missed that match a month ago.
"Rory Best has been a great servant to ulster and Irish rugby. He's going to be coming here ready to rock and roll and he'll have their boys fired up, but we'll meet fire with fire and see what they've got to offer.
"Rory's somebody I've got a huge amount of respect for – the guy is an absolute legend. So, we'll be respectful in the way we approach him, but hopefully we can spoil the party by getting the win for ourselves.
"They've got some cracking individual players and they really have a good collective team spirit. They are going to be sending off a couple of club legends so they're going to be up for it.
"For us, it is probably the perfect week to concentrate on ourselves. We need to be solid in defence and clinical in attack like we have been the last couple of weeks. It is knock-out rugby now, so if we mess it up then we're done."