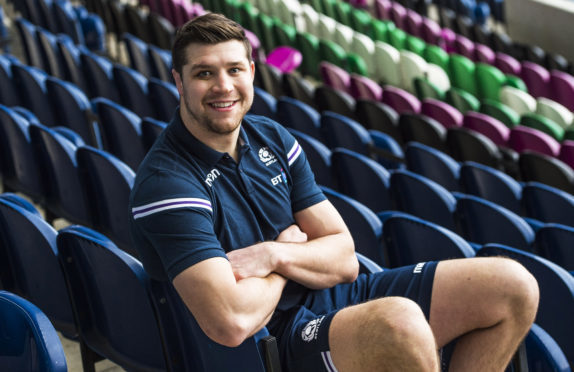 The Scotland fan reaction to this World Cup seems to be more acute depending on where you are.
The messages we're getting from back home, the comments on website posts and the declarations on social media have been downright furious about the opening game, with the general perception that the team are getting it too easy and there's not nearly enough passion.
It's an easy assumption to make after the Ireland game, where Scotland looked so off the pace. But even when we've spoken with the likes of Grant Gilchrist and Finn Russell in the aftermath, they've given the mea culpa and fully accepted responsibility, the furious reaction on twitter and fan websites continues.
The intervention of the SRU's "independent commentator" on their website this week suggesting that Scottish fans should have understood that losing to the Irish was likely and should just accept it has, understandably, hardly helped matters.
Yes, Scotland have only beaten Ireland twice in something like ten years, but the idea that defeat to them should just be accepted or even expected is ludicrous. Rather like Ireland were ranked as World No 1 just a week and a half after they shopped 50 points to England was ludicrous.
But the "commentator" got almost unanimous rage to the tenor of his piece. Quite what the SRU were thinking of in commissioning it, presenting it as "independent" and how many heads nodded it through to publication, one can only wonder, with some amusement.
But our various attempts to find Scotland fans in Japan who share the home-based fury have proved largely fruitless. Most of them share the general wide-eyed wonder of being in this country, and this appears even to have dimmed the despair of the thousands spent coming here to see the Scots.
The majority of the fans here – not all – seem to be very much of the "our brave boys" faction, who are a lot more forgiving than most. You get a lot of them at Murrayfield these days.
It's great that they're having a good time, and they obviously are intent on getting their money's worth. But one imagines that if the news from Kobe Misaki Stadium on Monday is not good, then even their sunny dispositions might be changed.
Contrasting Japan
One of the hardest things to get to grips with in Japan is the contrasts. For example, it's totally frowned upon to blow your nose in public, pretty much as you'd expect, which makes it fairly difficult for hay fever sufferers like your correspondent.
However it appears perfectly acceptable to clear your throat vocally – very loudly – in public, which to western ears sounds far more disgusting.
Equally contrasting – and I hesitate to go back to this subject again – are the toilets. Literally, it's pot(ty) luck – you can get one of the super high-tech models which does everything you can possibly imagine to leave you feeling fresh and ready to go back into the world again, or sometimes it's basically a hole in the floor.
The men's loos in the ultra-posh Scotland team hotel in Kobe has both versions, which suggests that it's all a matter of personal preference for the locals.
But the most irritating contrast in Japan is that everything comes with multiple layers of packaging, and there's absolutely nowhere to put it.
I understand that keeping the streets litter-free is a big thing for the Japanese, and they largely do this by holding on to their litter and taking it home. There are very few bins on the street, and those are for recycling the millions of plastic bottles that come out of the hundreds of vending machines.
But everything you get from the convenience stores has at least two layers of plastic and probably one of little silica sachets designed to stop the contents drying out.
You'd think that Japan, with its love of technology, would have figured out an easier way to stop creating so much waste that they then feel obliged to hide.