 Plans are afoot to pay tribute to St Johnstone in a roundabout way.
We have all the latest as councillors discuss the best way to mark St Johnstone's cup heroics. And its appears renaming the Broxden roundabout is a hot favourite. We have all the latest.
Still on a distinctly sporting theme, Wednesday was an important day for those keen to snap up Commonwealth Games tickets.
Who doesn't love a pair of briefs? Our man Jack McKeown certainly does. After last week's problems with sales, find out how he got on in his tireless quest to snap up a pair of tickets for the ladies hockey.
Prince Charles seems to have found himself in a modicum of hot water regarding some comments he made about Vladimir Putin. And Adolf Hitler. Something of a row has ensued. We have all the very latest.
However, if it is upbeat and happy news you are after, perhaps I can tempt you with the eye-opening tale of a Fife firm confident they are about to save millions of children in developing countries from going blind. Terrific stuff, and most encouraging.
It is somewhat worrisome, is it not, when a fellow motorist drives too closely behind you? Tailgating if you will (or even if you won't). We have details of a startling survey which reveals most people do it. Even though they hate it when other people do it back. A rather selfish attitude and lots of organisations are joining forces to really quite firmly say "down with this kind of thing". Or words to that effect in any case.
In sport, off course news is the talk of the course again this year at Wentworth for the BMW PGA. Of course it is.
Sergio Garcia has kept his mouth shut, but this time Rory McIlroy has called off his engagement.
Our golf writer Steve Scott previews the European Tour's most prestigious event.
There's also the latest news from around our local football clubs, and there's a stronger than expected Scottish rugby 7s squad for the Commonwealth Games. Good.
A fab Thursday is guaranteed for our readers so please do ensure you are among them. Alternatively, why not try our digital edition?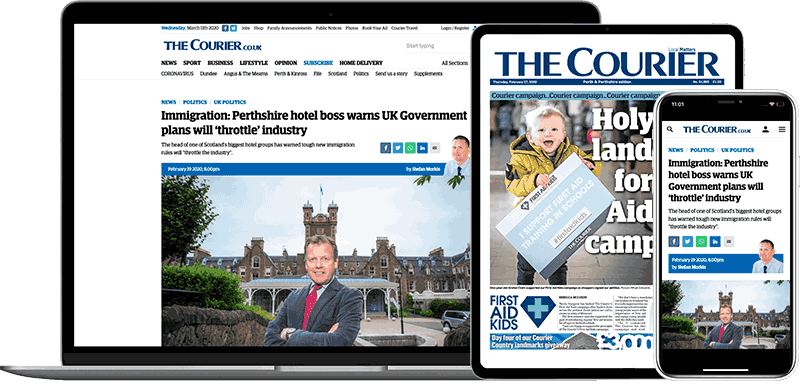 Help support quality local journalism … become a digital subscriber to The Courier
For as little as £5.99 a month you can access all of our content, including Premium articles.
Subscribe