 Oor Wullie's Bucket Trail, the biggest mass participation public art event ever seen in Courier Country, is the perfect opportunity for businesses to help create a lasting legacy for the region by sponsoring an Oor Wullie sculpture.
Organised by The Archie Foundation, DC Thomson and Wild in Art, more than 50 individually designed Oor Wullie sculptures will be decorated by local and national artists, once they have been sponsored.
And after 10 weeks, each Oor Wullie sculpture will be sold at a special auction in Dundee.
All the proceeds will go to The Archie Foundation's Tayside Appeal to raise funds to create a new twin theatre suite for the Tayside Children's Hospital at Ninewells.
There are many ways businesses and organisations can get involved.
As well as giant Oor Wullie sculptures being available to sponsor, schools can receive "mini" Oor Wullies for pupils to design, paint and display.
Cassie Thompson, head of fundraising at The Archie Foundation, explains: "This is a unique opportunity for businesses, community organisations and schools to be part of something incredibly special and engaging for people in Dundee and across Scotland.
"We hope our fleet of Oor Wullies will capture the public's imagination and create a buzz around the city and surrounding areas.
"We're not solely looking for financial sponsorship.
"We want to welcome as many organisations as we can to join in the project and there may be opportunities for businesses to contribute through their services as well.
"In any partnership there is a healthy balance of give and take and we want businesses of all shapes and sizes to be part of our summer to remember."
A range of businesses have already signed up to sponsor an Oor Wullie statue, including John Clark Motor Group and Dundee's Apex hotel.
Brett Davidge, general manager of Apex Dundee, says: "Having seen projects similar to this, when the Archie Foundation approached us it was a very easy decision and we had no hesitation in supporting the event.
"The Archie Foundation is doing some excellent work which we are delighted to be part of.
"The Oor Wullie Bucket Trail is a very exciting project for the city and is not only very much a part of Dundee and Scotland but popular nationally and internationally. We're sure it will increase visitor numbers to Dundee."
Brett has a simple message to businesses thinking about sponsoring a sculpture. "Don't think about it, just do it!" he urges.
"Businesses large and small, groups, schools and associations should look at ways they can sponsor a sculpture. It is a superb opportunity for them, a brilliant charity to support and excellent for Dundee."
And Clare Clark, director of marketing and communications at John Clark Motor Group, adds: "Supporting Archie is extremely important to all of us at the John Clark Motor Group.
"The Oor Wullie Sculpture programme is something we are all very excited about as Oor Wullie is obviously iconic in this area.
"But it is also a very fun and interesting way to get people engaged with The Archie Foundation, hopefully increasing the funds in the piggy bank and support more children, as well as their families, for the future."
Garreth Wood, chairman of hospitality business The Speratus Group and a patron for The Archie Foundation, knows first-hand that supporting a project like the Oor Wullie Bucket Trail is a no brainer.
"We sponsored the dolphin trail in Aberdeen in summer 2014 it was a huge success and brought the whole community together.
"So it was a very easy decision to want to continue our support for Archie by sponsoring one of the Oor Wullie sculptures this year.
"Both parents and children will massively benefit from the plans Archie has for Tayside Children's Hospital."
Renowned Scottish landscape artist John Lowry Morrison (Jolomo) is one of the artists signed up to paint a sculpture.
"It's such a privilege and I feel really honoured," he says. "I've supported The Archie Foundation for a long time and I love what Archie is doing making the difference for local children who are sick."
John hasn't decided how he's going to paint his sculpture but he reveals it will be in "Jolomo colours" lots of blues and yellows.
And Oor Wullie has a special place in his heart: "My parents got the Sunday Post and I've read Oor Wullie and The Broons for as long as I can remember," he says.
"Our Wullie is in everyone's psyche he's more Scottish than whisky and shortbread!"
To discuss sponsorship, contact Neil Cooney on 07960 162 223 or email neil@Archiefoundation.org.uk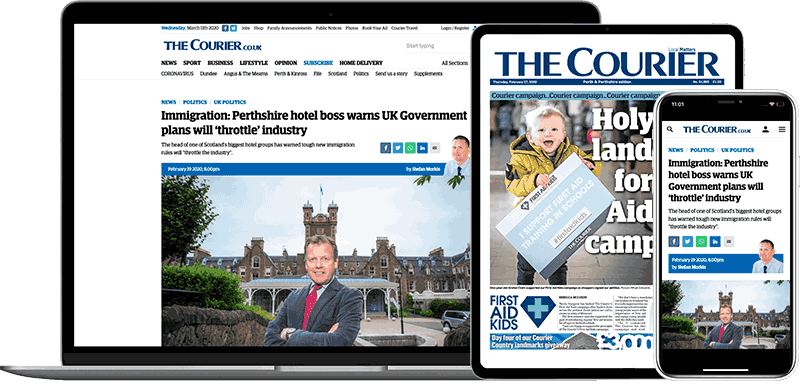 Help support quality local journalism … become a digital subscriber to The Courier
For as little as £5.99 a month you can access all of our content, including Premium articles.
Subscribe