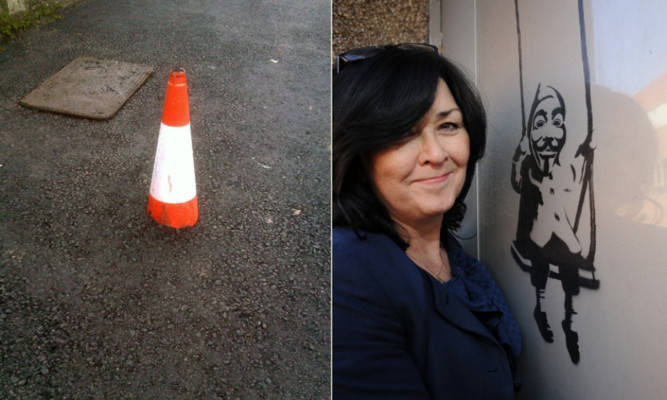 Contractors have provided a simple explanation for a partially buried traffic cone, quashing speculation that it could be an example of street art by Banksy.
The single cone was seen sticking out of a pavement at the junction of Glamis Road and Blackness Road on March 7.
Bristol-born Banksy has built up a reputation for subversive street art, including a series of traffic cones partially buried in a street in the south of England.
As we reported, the cone was photographed a week after a striking spray-painted image of a small figure on a swing another of Banksy's trademarks appeared on a door at Dundee charity the Brittle Bone Society.
But Tayside Contracts, which is upgrading pavements for the council, said the cone is not a Banksy.
Deputy director Richard Cranney told The Courier: "Regretfully, it appears that the cone is not a work of art but a means of locating a cover to a service box.
"We are reconstructing the footpath and to ensure that we did not 'lose' the service box the cone was placed over the top when surfacing was undertaken.
"The following day the cone was excavated and the service box brought up to level."
Mr Cranney added: "I'm sorry to provide such a mundane explanation. The Banksy work of art would have been a much better story."