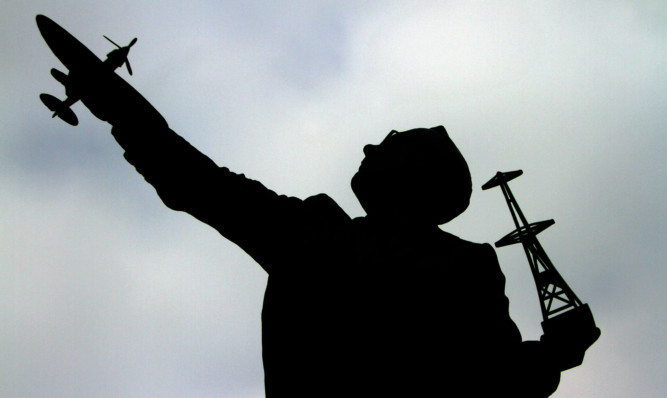 A tribute to an Angus inventor who helped win the Battle of Britain has been given royal approval.
Princess Anne officially unveiled a statue to "father of radar" Sir Robert Watson-Watt in Brechin, before crowds of residents, schoolchildren and invited guests.
Sir Robert led the team of scientists who gave the Royal Air Force a fighting chance against the Luftwaffe during the Second World War.
After years of planning and fund-raising by the Watson-Watt Society for Brechin's first public statue, the town finally has a "fitting" tribute to one of its famed sons.
Robert Watson-Watt Society chairman Stewart Hill spoke to attendees before the Princess Royal unveiled a plaque at the statue's base on Wednesday.
He said: "Today is exactly 75 years to the day that Britain declared war on Nazi Germany.
"It's then fitting, if perhaps a few years late, that we are gathered here together to unveil a memorial to a son of Brechin who contributed so much to preventing an invasion of Britain in the early days of the Second World War."
One of Watson-Watt's descendants, great-nephew Kaleem Haquani from St Andrews, was impressed by the statue and joked how he always thought of his relative as an "evil genius".
Sculptor Alan Herriot designed the statue with the pioneer's wartime achievements in mind, with Watson-Watt depicted holding a radar tower and a Spitfire plane.
He said: "I was honoured to be asked to work on this project and I hope the people of Brechin enjoy the statue as much as I have when working on it."
https://youtube.com/watch?v=iQfd1iVZM6s%3Frel%3D0
Society chairman Brian Mitchell said raising the money for the statue was "the biggest hurdle".
He added: "But we did it and we really appreciate efforts of people, not just from Brechin or Angus, but from all over Scotland, England and indeed a few from America.
"Alan actually went out and bought a suit from the period, and asked one of his neighbours to model in it.
"There was a slight breeze that day and you can see that detail on the statue."
It took the society eight years to raise the funds for the statue, which is the only memorial to Watson-Watt aside from a plaque near Daventry marking the first successful radar test.eeeeeRobert Watson-Watt, a descendant of James Watt, the Scottish engineer who invented the steam engine, was born in Brechin in 1892. After graduating from Dundee University he became a meteorologist at the Royal Aircraft Factory in Farnborough where he proposed the term "ionosphere" for the upper layers of earth's atmosphere.
Four years before the outbreak of the Second World War, Watson-Watt produced a report entitled "The Detection of Aircraft by Radio Methods" which led to the first successful trial in which shortwave radio was used to detect a bomber.
He was then appointed superintendent of a newly-formed top secret research establishment controlled by the Air Ministry the Bawdsey Research Station near Felixstowe.
The work done by Watson-Watt and his team at Bawdsey led to the creation of a chain of radar stations on the English coast known as Chain Home and Chain Home Low which played a vital role in the fight against the Luftwaffe during the Battle of Britain.
In 1940 Watson-Watt also invented the cavity magnetron which produced a compact source of short-wave radio waves and allowed Fighter Command to detect incoming enemy planes from a much greater distance than ever before. Today, magnetrons are used as the source of heat in microwave ovens.
Watson-Watt was knighted in 1942 and 10 years later was awarded £52,000 by the British government for services to his country. He was also awarded the US Medal for Merit
After the war, Watson-Watt moved to Canada, where he is said to have been later caught in a radar trap and fined for speeding. After being pulled over he told the policeman toting the radar gun: "Had I known what you were going to do with it I would never have invented it."
He died in Inverness in 1973 and is buried in Holy Trinity Churchyard at Pitlochry in Perthshire.