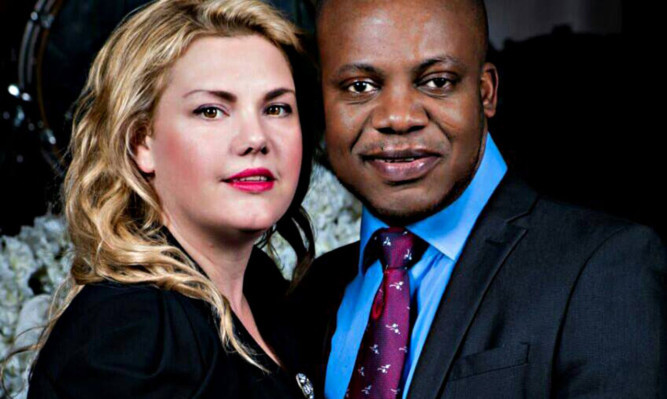 The man suspected of killing a Tayside woman in Ghana demanded her family pay money to bring her body home, it has been claimed.
Charmain Adusah, formerly Speirs, was discovered dead in a bathtub by hotel workers on March 20. However, the 41-year-old's body remains in Africa more than two months later.
Her husband Eric, who is a pastor with the Global Light Revival Ministries, was charged with her murder.
Adusah was released on bail last month which required him to post the equivalent of £32,000 and Charmain's family in Arbroath claim he contacted them through the British Embassy to suggest they split the charge to have her body repatriated.
Although desperate for Charmain's body to come back to Scotland, her mother Linda immediately refused the offer and told him to pay the costs.
"We were absolutely shocked when he made that request, especially since we knew how much money he put up so that he was released on bail," she said. "I said: 'I don't think so if you've got enough money to get out on bail, then you can afford to bring my daughter back here'.
"I don't know how much it's costing to keep her out there every day, but the bill could run into several thousand pounds.
"He is the one who took his pregnant wife to Ghana and we know he has the money to bring her back here."
The family were informed last week that Eric has now agreed to cover the costs of transporting Charmain's body. However, the body will not be released until his court case in Ghana's capital, Accra, is concluded, which could take several months.
Linda said Adusah wants to bring Charmain's body back to Britainhimself but his bail conditions do not allow him to leave the country.
"I've told him that she has to be buried in Arbroath, her home town, where she grew up," Linda added. "I'm just getting so annoyed that she's lying out there in a place she wouldn't have wanted to be.
"I want Charmain's body back here so I can give her a decent burial."
A petition asking for the BritishGovernment to become involved in the criminal case and to intervene inbringing her body back to Britain has attracted more than 600 signatures since being set up a fortnight ago.
Prosecutors in the court case have been told that they have to conclude their investigation into Mr Adusah by the next hearing, due on June 17.
Last month the country's attorney general advised the court that police had not uncovered sufficient evidence to hold him liable for Charmain's death.