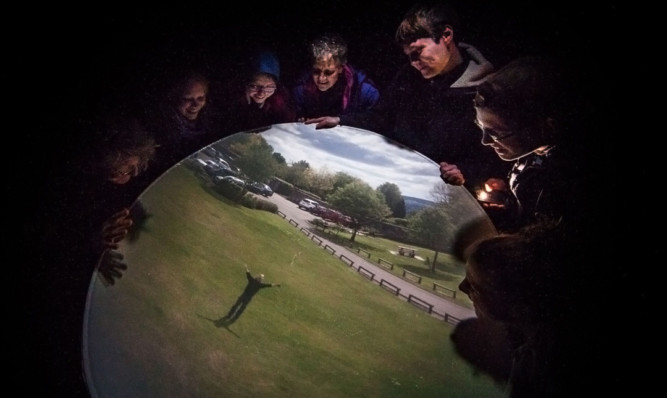 A community group is celebrating saving the Angus legacy of Peter Pan creator JM Barrie.
The Camera Obscura in Kirriemuir closed exactly 85 years on from the day it was created by the famous author, following months of public concern.
The final straw came when Angus Council was unable to pay the National Trust for Scotland £10,000 to operate the building.
However, Kirriemuir Regeneration Group was quickly formed and established a service level agreement with the council and on Sunday the pavilion reopened to the public.
They invited as many people as possible to have their say on future developments.
Secretary Elaine Findlay said there was a "fantastic buzz" among volunteers turning out to promote Barrie's legacy and Kirriemuir.
"The camera is working today, it's just the operators who are novices but we're getting there," she said.
"We've had lots of people signing up to volunteer and we are going to look at that tonight.
"We've also taken over the public toilets and that will give us a few pounds towards the caf."
Proposals to keep the building alive have been brought to the table.
So far they include a cricket museum and a room telling the story of the pavilion, the author and Kirriemuir.
There are also plans for a caf and souvenir shop.
Keen cricketer Barrie funded the construction of the pavilion housing the camera obscura, one of only three in Scotland.
Visitors to the open day were greeted with food and drink prepared in the kitchens of the nearby Woodville Inn, and a hog roast was popular in a marquee put up by the Scout group, while adult volunteers were joined by Webster's High School pupils.
Among the furthest-travelled visitors were a group of photography students from Southern Illinois University, led by Professor Daniel Overturf.
Elaine said the group are confident their efforts will develop the building and its surroundings to the benefit of Kirriemuir.
"Kirrie Hill's such a fantastic spot, between the view and the Neverland Playpark," she said.
"Today's 85 years since Barrie opened the building to the public and there were 5,000 people on the hill that day. It's important we preserve that."