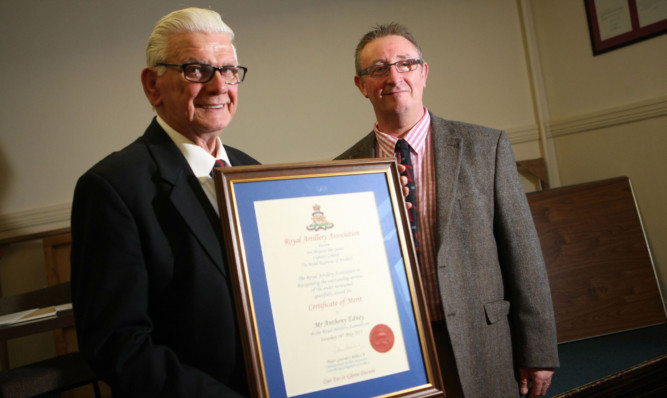 A Tayside man has been given a national honour marking almost five decades of service to the UK armed forces.
Tony Edney from Arbroath joined the Royal Artillery in 1953 and began a 47-year career with the Royal Regiment and the Territorial Army, and was the catalyst for the formation of the Royal Artillery Association's Tayside branch.
The 79-year-old said he was "greatly honoured" to receive the Royal Artillery Certificate of Merit at the weekend, which was presented by branch chairman Major Dave Findlay.
He said: "Tony Edney is a lifelong gunner who embraces the regimental motto 'ubique' everywhere.
"His selfless fundraising has helped the Tayside Branch of the Royal Artillery Association not only to grow but remain firmly in the hearts and minds of the local community."
The citation for the award stated: "When the idea of a local Tayside branch of the RAA was mooted, Tony was instrumental in its conception and its formation.
"It was his drive and determination that saw it succeed in such a short time frame.
"For the last 25 years, Tony has been one of the most stalwart branch members in Tayside."
Mr Edney joined the Royal Artillery (RA) in 1953 and started a 22-year regular career with 73 Heavy Regiment RA, 26 Regiment RA, where he saw service in Cyprus, Borneo, Malaysia, Northern Ireland, Germany and the UK.
He ultimately came to 102 (Ulster & Scottish) Regiment RA (Volunteers) as permanent staff instructor, based in Arbroath with 212 (Highland) Battery RA (Volunteers), a position he held for nine years before ending his regular service with 105 (Scottish & Ulster) Regiment RA (Volunteers).
Having completed his regular service he set down his roots in Arbroath, devoting a further 16 years to the Territorial Army as the battery quartermaster sergeant and at the same time being employed in the civilian post of senior storeman.
Mr Edney also devoted a large part of his free time as an adult instructor with the local RA Army Cadet Force detachment in Arbroath imparting his knowledge and wisdom to the local youngsters.