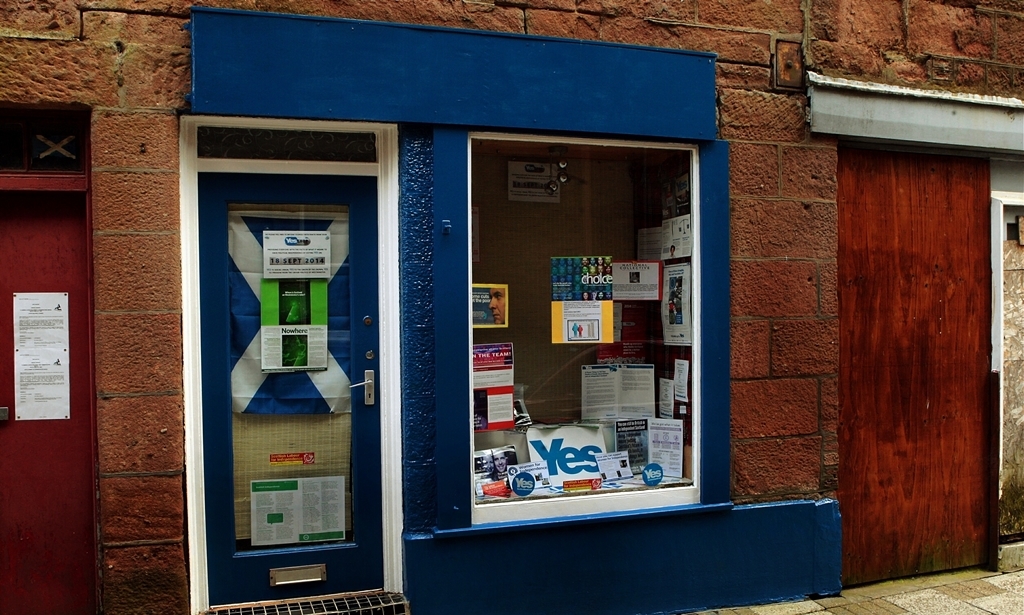 Members of the Yes campaign have been left red-faced after an Angus listed building was painted blue and white without consent.
The group's premises in Kirriemuir may have to be returned to its original state after its use was changed from a shop to an office and a banner put up without permission from Angus Council.
Retired SNP councillor John Henderson, 66, helped set up the base in the Roods to promote the party's independence campaign, with the help of Labour for Independence, Women for Independence and the Green Party.
He claimed a "local busybody" reported the unlicensed changes, prompting an investigation into whether retrospective permission for change of use and colour scheme is required.
A council spokeswoman confirmed that Kirriemuir town centre is a designated conservation zone featuring areas of "special architectural or historic interest, the character or appearance of which it is desirable to preserve or enhance".
She added: "We can confirm that there has been a complaint made to the council about a property in Kirriemuir which we are currently investigating."
It is understood the building is owned by a couple who are SNP members and have a row of shops with storage above.
They gave their personal permission for the site to be used in the run-up to next year's referendum while plans to renovate the properties are processed.
Mr Henderson said it could cost up to £300 to apply for council approval and confirmed the Yes banner has been removed.
He added: "We may have the shops for a couple of months. They have to get permission from the council to change them from storage to flats."
"The shop was a dull maroon so we repainted it blue and white. It's bright, it's clean and it's cheerful," Mr Henderson said.
"The area is a conservation area but the other shops are derelict. They look awful. The couple who own the properties have never had complaints about former tenants repainting a shop before.
"It's been empty for quite a while, so I think it is bureaucratic nonsense. The shop looks better now than it did and my colleagues and I think we should fight back against this."
North-east Conservative MSP Alex Johnstone said: "The fact is that anyone opening up premises must comply with relevant legislation and the fact that Yes Scotland appear to be under the impression that they are above the law speaks volumes about their campaign, which is hallmarked by unbridled arrogance and contempt for those who don't share their narrow-minded views."
Angus Council leader Iain Gaul, an SNP member, confirmed a complaint had been made about the Yes shop.
"The gentleman who complained is a Unionist," he said. "He's not for independence, which is the basis for his complaint. However, that is neither here nor there and the grounds may be weak but it has to be addressed.
"There are 7,500 people living in the town and we have only had one complaint but we have to address it."
A Yes Scotland spokesman said: "We have been aware of this and steps are being taken to reach an amicable solution."