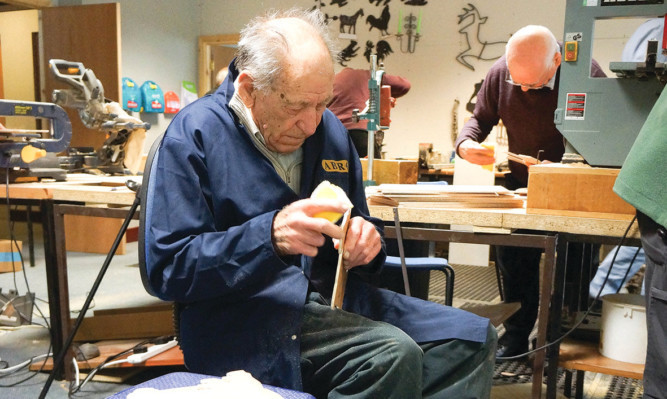 At 93 years of age, Broughty Ferry man Bob Morrison could be forgiven for preferring to put his feet up.
However, the nonagenarian refuses to let even a stroke get in his way and has just been welcomed as the 50th member of the Carse of Gowrie and District Men's Shed.
Bob retired in 1987 following a career as an area control engineer with the Hydro Board based at Mid Craigie, Dundee.
He was unable to keep up his main passion of gardening following a small stroke earlier this year and so joined Men's Shed as a way of keeping active.
He said: "They are a great bunch of guys who have made me feel very welcome. I look forward to my weekly visit and enjoy the chat."
Secretary Derek Keiller said: "Bob is incredible. He is still quite nimble and throws himself with great gusto into a variety of activities including the manufacture of house signs and other wood-related items we sell to raise funds.
"He is very keen to try his hand at woodturning on one of our lathes and he cannot wait to start turning mushrooms, bowls, fruit and platters."
Carse of Gowrie and District Men's Shed was formed two years ago following a swap between Tayside Health Care and the Australian Health authority.
Men's Shed provides a place for men to meet and learn new skills. The group is holding an open day at Swan House, Technology Park, Dundee, on Saturday.
See more at carseofgowriemensshed.webs.com.