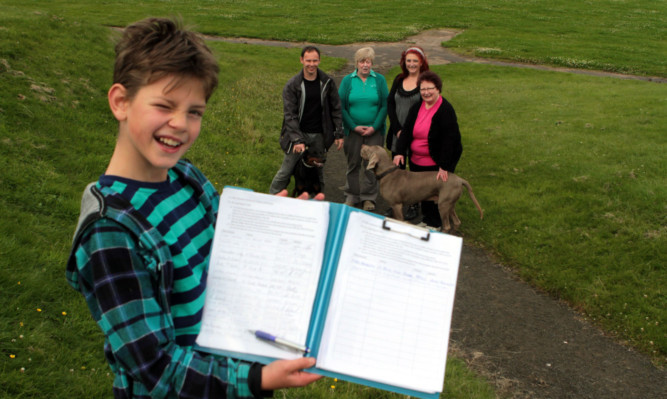 A furious dog walker has hit out at Dundee City Council over the lack of greenbelt land within the city.
Dog owner Graham Low, 40, slammed the authority over their plans to redevelop the former site of Kingspark School, which the council claim would leave the public with 25% of available land.
Mr Low accused the council of "insulting" local people and claimed that if the current planning brief is successful, the damage to the local area would be devastating.
He said: "The council claim there is adequate parkland in the area, so where? Caird Park is close, but it is covered by a golf course so unusable by day, and you wouldn't want to walk there at night.
"Fairmuir has a host of problems, not least being on the other side of a dual carriageway.
"The suggestion that we will be left 25% of Kingspark for community use is nothing short of insulting and quite ridiculous.
"They are doing their best to make our once beautifully kept park look like wasteland.
"We cannot let this be the case with the Kingspark site. The loss to the community would be great."
Mr Low decided to speak out after reading about details of the authority's latest suggestion in The Courier.
The council's latest planning brief for the site insists that just 25% of the land will be kept for public use, with the rest being dedicated to private development.
He believes this to be a clear contradiction of previous agreements and accused the council of only being motivated by money.
He said: "There were three playing fields in this area. The planners were granted permission to build the new school on two of these fields on the condition that the third, Kingspark, was kept as greenspace.
"Now, a few years on, this seems to have been swept under the carpet when someone flashes a cheque book at them."
Campaigning local Lynn Watson,48, has fought tirelessly to protect the land and feels badly let down by the latest announcement.
She said: "I'm very annoyed because we are always told by the council to get outside and enjoy the green space, but all of this seems to change the moment city development get involved.
"If they think it's OK to do that here, where else will they do it?"
A council spokesperson denied Mr Low's allegations and claimed that plans would go ahead and that locals were included in discussions.
He said: "As part of the consultation process on the draft site planning brief earlier this year, an invitation to comment was posted to 86 residents who share a boundary with the site."
Mr Low has now started a petition to save the Kingspark land from development.