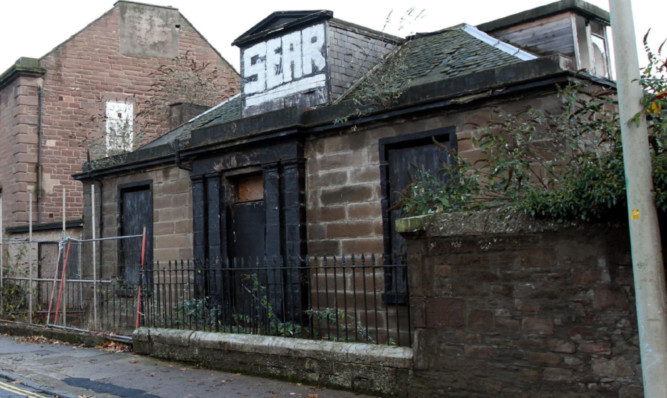 A derelict West End house could be removed from its owner after more than a decade of neglect.
Compulsory purchase order proceedings have begun by Dundee City Council for 28 Roseangle, a listed building which is in need of repair.
The fire ravaged building has been a source of concern for years and in November the council served owner John Cape with a repairs notice, saying he had two months to restore the property or it would be seized.
However when no repairs began, the council took the decision to move ahead with plans to forcibly purchase the building.
Convener of the council's city development committee Will Dawson said: "The owner has not done any repairs.
"The state of the building has long been a social concern for residents."
Local councillor Fraser Macpherson said he had received more complaints about the building than any other in his West End ward over the years.
He said: "One of our residents has been especially tenacious over this issue.
"It has been left in poor condition. It is very sad it has come to this situation.
"I'm just glad the city council has progressed this further."
A council officer told the committee the "patience had been lost" with the owner.
Mr Cape had applied for permission to turn the building into a hotel and build an extension, but this was refused by Dundee City Council.
An appeal against the listed building consent refusal is currently being considered by the Scottish Government's planning directorate of planning and environmental appeals.
A spokeswoman said: "The appeal is at an early stage. The council's decision to begin compulsory purchase procedures is a matter for them at this stage and will not impact on the determination of the appeal."
A spokesman for Dundee City Council said: "The city development committee approved the promotion of a compulsory purchase order (CPO).
"The next step is to seek the approval of a meeting of the full council to serve the order.
"Once that order is served anyone with an interest in the building can apply to a sheriff within 28 days for an order prohibiting further proceedings.
"The sheriff will then take a decision which can only be appealed to the Court of Session on a question of law."
The agent for Mr Cape, architect Peter Inglis, said he had "no comment".