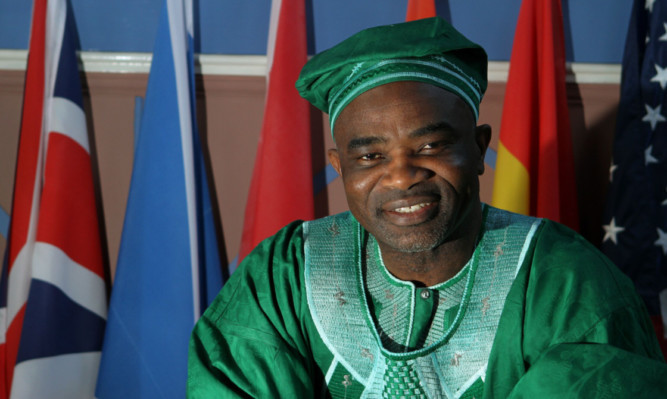 A Fife preacher has been criticised after claiming the Scottish Government's legalisation of gay marriage will have "Biblical consequences".
Pastor Joe Nwokoye, of Kirkcaldy, previously attracted controversy when he blamed gay marriage for the country's floods and economic problems.
He also claimed it was to blame for fires and people going missing. And he called for gay men and lesbians to be thrown in prison for homosexual acts.
His views were expressed after laws came into force in England and Wales in March allowing same-sex marriages. Scotland passed its own gay marriage bill the previous month.
Now, ahead of the first same-sex partners being able to tie the knot in marriage ceremonies from midnight tonight, Mr Nwokoye has warned that "judgment" will come to Scotland and everyone will suffer for it.
However, his latest claims have been dismissed as nonsense.
Retired Church of Scotland minister, the Rev Dr John Cameron, of St Andrews, said: "Joe Nwokoye is just cherry-picking phrases from the Old Testament to suit his prejudices and prophecies of plagues of frogs or the like are just embarrassing nonsense."
In a letter to The Courier, Nwokoye, 55, said: "Scotland, the land of the book, has made an irreparable mistake by making a gay marriage legal in Scotland.
"I must communicate the Bible opinion to the public whether it is accepted or not. Please remember that every action of a man on this earth attracts a consequence.
"If this goes ahead on December 31 as announced, there will be Biblical consequences. "
Dr Cameron, who was a minister in Broughty Ferry, told The Courier: "As far as I am concerned the passage of the marriage equality bill is not only a huge victory for gay rights it is also a significant step forward for the nation as a whole.
"It is clear that most people in this country are no longer prepared to have fellow citizens told they have no right to partake in a basic human ritual because of their sexual orientation.
"One can only hope that it will hasten the arrival of that moment when this dispute which seems jarringly ridiculous even today will be relegated to the dustbin of history."
The Scottish Government would not comment on Mr Nwokoye's remarks but instead referred to its previous announcement that the first same-sex marriage ceremonies in Scotland are expected to go ahead from Wednesday.