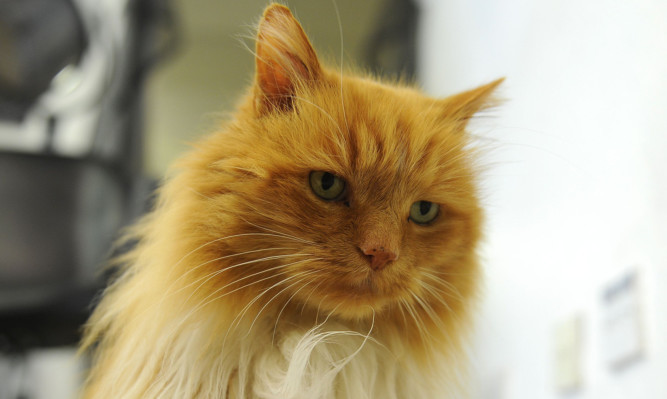 St Andrews' much-loved cat Hamish McHamish has died.
For years the fluffy ginger cat has freely roamed the streets of the historic Fife town, becoming a local celebrity in the process.
It has been confirmed that the feline passed away this morning. Hamishwas 15 years old and died after battling a chest infection.
Hamish's Facebook page broke the news, posting that he died "peacefully, and with his Mum Marianne by his side" early on Thursday morning.
"In the end, the chest infection that he had been battling proved too much for him and the kindest thing to do was to let him go." the post added.
"Thank you Hamish for the years of joy you've given us and for letting us all be part of your life. May your remarkable spirit live on forever in the town you loved…and ruled! Here's to you, old chum."
Despite belonging to Marianne Baird, Mr McHamish adopted a nomadic life. He was indeed a remarkable cat who stalked the auld grey toon of St Andrews with majesty and pride.
He had many homes, from student flats to shop windows. His ginger fur could be witnessed on coats across the town with many visitors, students and residents stopping to give the tom cat a cuddle.
In April a statue was unveiled in his honour by provost of Fife Jim Leishman.
It stands in the town's Church Square and has been compared to Edinburgh's Greyfriars Bobby dog. It was realised after editor of the St Andrews' Focus, Flora Selwyn, launched a bid to raise funds in 2013.
https://youtube.com/watch?v=RGceochQUh8%3Frel%3D0
At the unveiling, Hamish arrived in true inimitable style in a BMW car.
He was brought to meet Mr Leishman by a mystery chaperone before trotting off with an air of indifference.
"I knew as soon as I started speaking he would go away," joked the provost.
Hamish's death is the second piece of bad news for local cat lovers in as many days.
On Wednesday, the Glenturret Distillery announced that its new "mouser" Peat the kitten had been killed on the road.