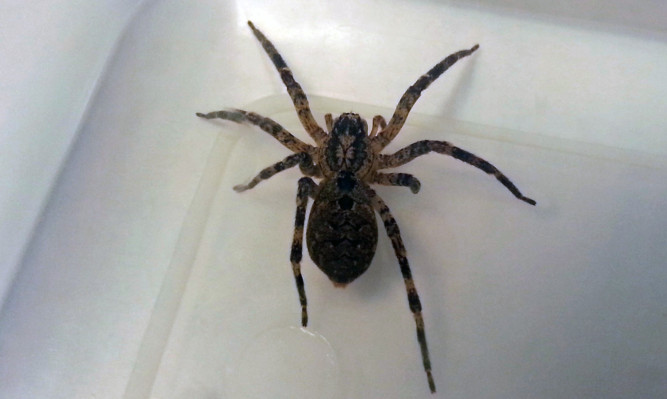 A Fife man has described how his wife "screamed" when she found an exotic spider in their fridge.
David and Beverley Cooper, from Glenrothes, called the Scottish SPCA when they found the creepy crawly lurking on the wall of the fridge last Wednesday. It is thought it may have travelled from India in a box of grapes.
Mr Cooper said: "I heard my wife screaming and when I went to see what was wrong I discovered the spider sitting on the wall of the fridge. It was odd looking and I immediately knew it wasn't a normal house spider.
"I think being in the cold had slowed it down as it wasn't moving very quickly and was relatively easy to catch.
The spider is now being cared for at Edinburgh Butterfly and Insect World, where staff identified it as being from the wolf spider family.
Mr Cooper said: "I'm really glad the spider has found a new home as it's certainly been through quite a journey, wherever it came from."
Kieran Smart, animal rescue officer with Scottish SPCA, said: "The spider was found in the fridge, next to a box of grapes which originated from India, so the chances are it has come home in the Cooper's shopping.
"Apparently Mrs Cooper was absolutely terrified when she spotted it but her cool-headed husband managed to contain the spider until we arrived.
"This spider could give a nasty bite but thankfully no one was harmed. Mr Cooper was quick thinking and did the right thing by containing it safely and calling us for help."
Kevin Thom, from Edinburgh Butterfly and Insect World, said: "This spider isn't deadly but if (someone was) bitten, it would leave a real sting. Although it's not much bigger than the average house spider, it definitely isn't from Britain.
"It has different markings and, unlike house spiders, its eyes are at the front of its head, helping it to hunt and escape danger."
Earlier this month, a terrified Dumfries shopper got more than she bargained for when she returned home from the supermarket to find a scorpion in her groceries.